16 Poems About Self-Love to Celebrate Your Magic
Let yourself love yourself.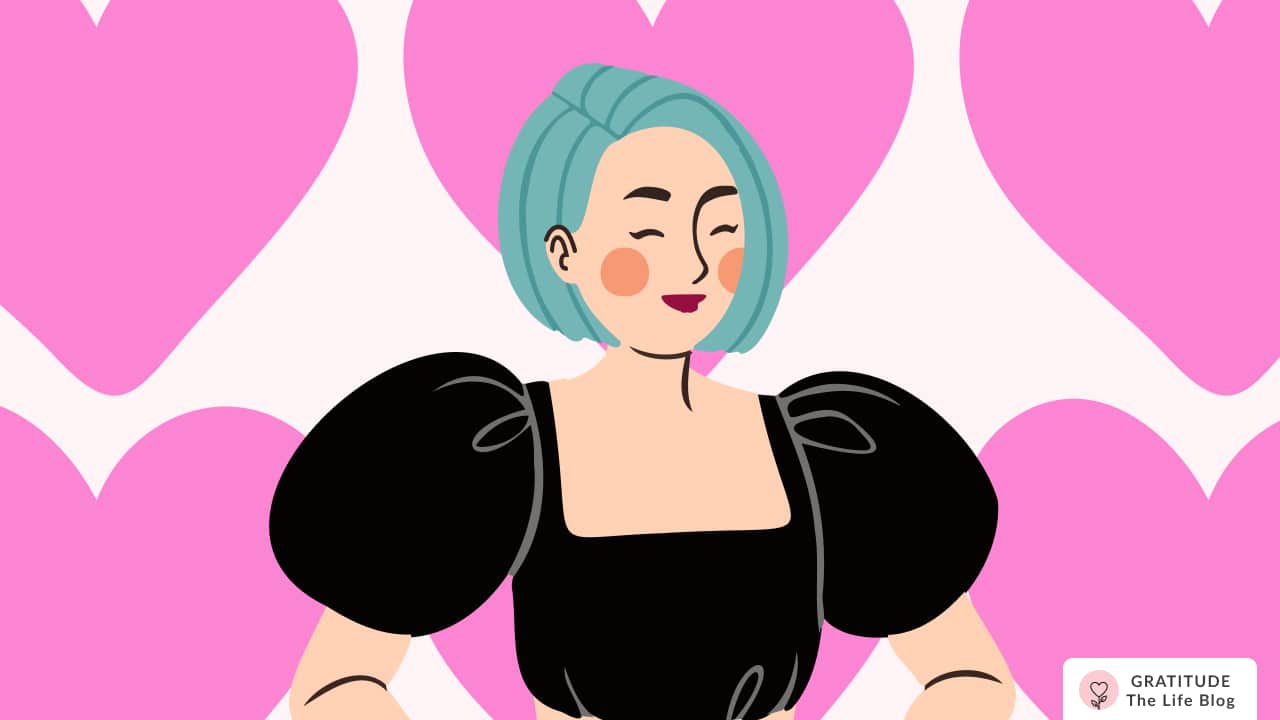 Ahh, poetry! I love it! The last time I brought poems for you in this blog were gratitude poems. Now, it's time for some poems about self-love.
What a blessing it is to read words that glow like fireflies on a night after rain, words that sound like the brushing of leaves, the sincere birds, and the fresh breeze. Poets are masters. It really gives me incredible joy to read such stellar works of art.
Today let's revel in the beauty of their words and let them help us practice more self-love. These poems will empower you, comfort you, and may even make you cry. Here you go:
Poems about Self-Love
1. Rhapsody by Florence Earle Coates
As the mother bird to the waiting nest,
As the regnant moon to the sea,
As joy to the heart that hath first been blest—
So is my love to me.

Sweet as the song of the lark that soars
From the net of the fowler free,
Sweet as the morning that song adores—
So is my love to me!

As the rose that blossoms in matchless grace
Where the canker may not be,
As the well that springs in a desert place—
So is my love to me.
2. Phenomenal Woman by Maya Angelou
Pretty women wonder where my secret lies.
I'm not cute or built to suit a fashion model's size  
But when I start to tell them,
They think I'm telling lies.
I say,
It's in the reach of my arms,
The span of my hips,  
The stride of my step,  
The curl of my lips.  
I'm a woman
Phenomenally.
Phenomenal woman,  
That's me.

I walk into a room
Just as cool as you please,  
And to a man,
The fellows stand or
Fall down on their knees.  
Then they swarm around me,
A hive of honey bees.  
I say,
It's the fire in my eyes,  
And the flash of my teeth,  
The swing in my waist,  
And the joy in my feet.  
I'm a woman
Phenomenally.

Phenomenal woman,
That's me.

Men themselves have wondered  
What they see in me.
They try so much
But they can't touch
My inner mystery.
When I try to show them,  
They say they still can't see.  
I say,
It's in the arch of my back,  
The sun of my smile,
The ride of my breasts,
The grace of my style.
I'm a woman
Phenomenally.
Phenomenal woman,
That's me.

Now you understand
Just why my head's not bowed.  
I don't shout or jump about
Or have to talk real loud.  
When you see me passing,
It ought to make you proud.
I say,
It's in the click of my heels,  
The bend of my hair,  
the palm of my hand,  
The need for my care.  
'Cause I'm a woman
Phenomenally.
Phenomenal woman,
That's me.
3. Love After Love by Derek Walcott
The time will come
when, with elation
you will greet yourself arriving
at your own door, in your own mirror
and each will smile at the other's welcome,

and say, sit here. Eat.
You will love again the stranger who was your self.
Give wine. Give bread. Give back your heart
to itself, to the stranger who has loved you

all your life, whom you ignored
for another, who knows you by heart.
Take down the love letters from the bookshelf,

the photographs, the desperate notes,
peel your own image from the mirror.
Sit. Feast on your life.
4. The Invitation by Oriah Mountain Dreamer
It doesn't interest me what you do for a living. I want to know what you ache for and if you dare to dream of meeting your heart's longing.
It doesn't interest me how old you are. I want to know if you will risk looking like a fool for love, for your dream, for the adventure of being alive.
It doesn't interest me what planets are squaring your moon.
I want to know if you have touched the centre of your own sorrow, if you have been opened by life's betrayals or have become shrivelled and closed from fear of further pain.
I want to know if you can sit with pain, mine or your own, without moving to hide it, or fade it, or fix it.
I want to know if you can be with joy, mine or your own; if you can dance with wildness and let the ecstasy fill you to the tips of your fingers and toes without cautioning us to be careful, be realistic, remember the limitations of being human.
It doesn't interest me if the story you are telling me is true
I want to know if you can disappoint another to be true to yourself. If you can bear the accusation of betrayal and not betray your own soul.
If you can be faithless and therefore trustworthy.
I want to know if you can see Beauty even when it is not pretty every day. And if you can source your own life from its presence.
I want to know if you can live with failure, yours and mine, and still stand at the edge of the lake and shout to the silver of the full moon, 'Yes.'
It doesn't interest me to know where you live or how much money you have.
I want to know if you can get up after the night of grief and despair, weary and bruised to the bone and do what needs to be done to feed the children.
It doesn't interest me who you know or how you came to be here.
I want to know if you will stand in the centre of the fire with me and not shrink back.
It doesn't interest me where or what or with whom you have studied.
I want to know what sustains you from the inside when all else falls away.
I want to know if you can be alone with yourself and if you truly like the company you keep in the empty moments.
5. Self by James Oppenheim
Once I freed myself of my duties to tasks and people and went down to the cleansing sea...
The air was like wine to my spirit,
The sky bathed my eyes with infinity,
The sun followed me, casting golden snares on the tide,
And the ocean—masses of molten surfaces, faintly gray-blue—sang to my heart...
Then I found myself, all here in the body and brain, and all there on the shore:
Content to be myself: free, and strong, and enlarged:
Then I knew the depths of myself were the depths of space.
And all living beings were of those depths (my brothers and sisters)
And that by going inward and away from duties, cities, street-cars and greetings,
I was dipping behind all surfaces, piercing cities and people,
And entering in and possessing them, more than a brother,
The surge of all life in them and in me...
So I swore I would be myself (there by the ocean)
And I swore I would cease to neglect myself, but would take myself as my mate,
Solemn marriage and deep: midnights of thought to be:
Long mornings of sacred communion, and twilights of talk,
Myself and I, long parted, clasping and married till death.
6. The Poet and His Song by Paul Laurence Dunbar
A song is but a little thing,
And yet what joy it is to sing!
In hours of toil it gives me zest,
And when at eve I long for rest;
When cows come home along the bars,
And in the fold I hear the bell,
As Night, the shepherd, herds his stars,
I sing my song, and all is well.
There are no ears to hear my lays,
No lips to lift a word of praise;
But still, with faith unfaltering,
I live and laugh and love and sing.
What matters yon unheeding throng?
They cannot feel my spirit's spell,
Since life is sweet and love is long,
I sing my song, and all is well.
My days are never days of ease;
I till my ground and prune my trees.
When ripened gold is all the plain,
I put my sickle to the grain.
I labor hard, and toil and sweat,
While others dream within the dell;
But even while my brow is wet,
I sing my song, and all is well.
Sometimes the sun, unkindly hot,
My garden makes a desert spot;
Sometimes a blight upon the tree
Takes all my fruit away from me;
And then with throes of bitter pain
Rebellious passions rise and swell;
But—life is more than fruit or grain,
And so I sing, and all is well.
7. Myself by Edgar Albert Guest
I have to live with myself and so
I want to be fit for myself to know.
I want to be able as days go by,
always to look myself straight in the eye;
I don't want to stand with the setting sun
and hate myself for the things I have done.
I don't want to keep on a closet shelf
a lot of secrets about myself
and fool myself as I come and go
into thinking no one else will ever know
the kind of person I really am,
I don't want to dress up myself in sham.
I want to go out with my head erect
I want to deserve all men's respect;
but here in the struggle for fame and wealth
I want to be able to like myself.
I don't want to look at myself and know that
I am bluster and bluff and empty show.
I never can hide myself from me;
I see what others may never see;
I know what others may never know,
I never can fool myself and so,
whatever happens I want to be
self respecting and conscience free.
8. Wild Geese by Mary Oliver
You do not have to be good.
You do not have to walk on your knees
For a hundred miles through the desert, repenting.
You only have to let the soft animal of your body
love what it loves.
Tell me about despair, yours, and I will tell you mine.
Meanwhile the world goes on.
Meanwhile the sun and the clear pebbles of the rain
are moving across the landscapes,
over the prairies and the deep trees,
the mountains and the rivers.
Meanwhile the wild geese, high in the clean blue air,
are heading home again.
Whoever you are, no matter how lonely,
the world offers itself to your imagination,
calls to you like the wild geese, harsh and exciting —
over and over announcing your place
in the family of things.
9. Invictus by William Ernest Henley
Out of the night that covers me,
     Black as the pit from pole to pole,
I thank whatever gods may be
     For my unconquerable soul.

In the fell clutch of circumstance
     I have not winced nor cried aloud.
Under the bludgeonings of chance
     My head is bloody, but unbowed.

Beyond this place of wrath and tears
     Looms but the Horror of the shade,
And yet the menace of the years
     Finds and shall find me unafraid.

It matters not how strait the gate,
     How charged with punishments the scroll,
I am the master of my fate,
     I am the captain of my soul.
10. My darling by Nikita Gill
You are not small.
You are not unworthy.
You are not insignificant.
The universe wove you from a constellation,
just so atom, every fibre in you comes from
a different star.
Together, you are bound by stardust , altogether
spectacularly created by the energy of the
universe itself.
And that, my darling,
is the poetry of physics,
the poetry of you.
11. I Know My Soul by Claude McKay
I plucked my soul out of its secret place,
And held it to the mirror of my eye,
To see it like a star against the sky,
A twitching body quivering in space,
A spark of passion shining on my face.
And I explored it to determine why
This awful key to my infinity
Conspires to rob me of sweet joy and grace.
And if the sign may not be fully read,
If I can comprehend but not control,
I need not gloom my days with futile dread,
Because I see a part and not the whole.
Contemplating the strange, I'm comforted
By this narcotic thought: I know my soul.
12. Envy by Mary Lamb
This rose-tree is not made to bear
The violet blue, nor lily fair,
  Nor the sweet mignionet:
And if this tree were discontent,
Or wished to change its natural bent,
  It all in vain would fret.

And should it fret, you would suppose
It ne'er had seen its own red rose,
  Nor after gentle shower
Had ever smelled its rose's scent,
Or it could ne'er be discontent
  With its own pretty flower.

Like such a blind and senseless tree
As I've imagined this to be,
  All envious persons are:
With care and culture all may find
Some pretty flower in their own mind,
  Some talent that is rare.
13. Today by Billy Collins
If ever there were a spring day so perfect,
so uplifted by a warm intermittent breeze

that it made you want to throw
open all the windows in the house

and unlatch the door to the canary's cage,
indeed, rip the little door from its jamb,

a day when the cool brick paths
and the garden bursting with peonies

seemed so etched in sunlight
that you felt like taking

a hammer to the glass paperweight
on the living room end table,

releasing the inhabitants
from their snow-covered cottage

so they could walk out,
holding hands and squinting

into this larger dome of blue and white,
well, today is just that kind of day.
14. The Journey by Mary Oliver
One day you finally knew
what you had to do, and began,
though the voices around you
kept shouting
their bad advice—
though the whole house
began to tremble
and you felt the old tug
at your ankles.
"Mend my life!"
each voice cried.
But you didn't stop.
You knew what you had to do,
though the wind pried
with its stiff fingers
at the very foundations,
though their melancholy
was terrible.
It was already late
enough, and a wild night,
and the road full of fallen
branches and stones.
But little by little,
as you left their voices behind,
the stars began to burn
through the sheets of clouds,
and there was a new voice
which you slowly
recognized as your own,
that kept you company
as you strode deeper and deeper
into the world,
determined to do
the only thing you could do—
determined to save
the only life you could save.
15. Song of the Soul by Kahlil Gibran
In the depth of my soul there is
A wordless song - a song that lives
In the seed of my heart.
It refuses to melt with ink on
Parchment; it engulfs my affection
In a transparent cloak and flows,
But not upon my lips.
How can I sigh it? I fear it may
Mingle with earthly ether;
To whom shall I sing it? It dwells
In the house of my soul, in fear of
Harsh ears.
When I look into my inner eyes
I see the shadow of its shadow;
When I touch my fingertips
I feel its vibrations.
The deeds of my hands heed its
Presence as a lake must reflect
The glittering stars; my tears
Reveal it, as bright drops of dew
Reveal the secret of a withering rose.
It is a song composed by contemplation,
And published by silence,
And shunned by clamor,
And folded by truth,
And repeated by dreams,
And understood by love,
And hidden by awakening,
And sung by the soul.
It is the song of love;
What Cain or Esau could sing it?
It is more fragrant than jasmine;
What voice could enslave it?
It is heartbound, as a virgin's secret;
What string could quiver it?
Who dares unite the roar of the sea
And the singing of the nightingale?
Who dares compare the shrieking tempest
To the sigh of an infant?
Who dares speak aloud the words
Intended for the heart to speak?
What human dares sing in voice
The song of God?
16. To You by Walt Whitman
Whoever you are, I fear you are walking the walks of dreams,
I fear these supposed realities are to melt from under your feet and hands
Even now your features, joys, speech, house, trade, manners, troubles, follies, costume, crimes, dissipate away from you,
Your true soul and body appear before me,
They stand forth out of affairs, out of commerce, shops, work, farms, clothes, the house, buying, selling, eating, drinking, suffering, dying.
Whoever you are, now I place my hand upon you, that you be my poem,
I whisper with my lips close to your ear,
I have loved many women and men, but I love none better than you.
O I have been dilatory and dumb,
I should have made my way straight to you long ago,
I should have blabb'd nothing but you, I should have chanted nothing but you.
I will leave all and come and make the hymns of you,
None has understood you, but I understand you,
None has done justice to you, you have not done justice to yourself
None but has found you imperfect, I only find no imperfection in you,
None but would subordinate you, I only am he who will never consent to subordinate you,
I only am he who places over you no master, owner, better, God, beyond what waits intrinsically in yourself.
 
Painters have painted their swarming groups and the centre-figure of all,
From the head of the centre-figure spreading a nimbus of gold-color'd light,
But I paint myriads of heads, but paint no head without its nimbus of gold-color'd light,
From my hand from the brain of every man and woman it streams, effulgently flowing forever.
O I could sing such grandeurs and glories about you!
You have not known what you are, you have slumber'd upon yourself all your life,
Your eyelids have been the same as closed most of the time,
What you have done returns already in mockeries,
Your thrift, knowledge, prayers, if they do not return in mockeries, what is their return?)
The mockeries are not you,
Underneath them and within them I see you lurk,
I pursue you where none else has pursued you,
Silence, the desk, the flippant expression, the night, the accustom'd routine, if these conceal you from others or from yourself, they do not conceal you from me,
The shaved face, the unsteady eye, the impure complexion, if these balk others they do not balk me,
The pert apparel, the deform'd attitude, drunkenness, greed, premature death, all these I part aside
There is no endowment in man or woman that is not tallied in you,
There is no virtue, no beauty in man or woman, but as good is in you,
No pluck, no endurance in others, but as good is in you,
No pleasure waiting for others, but an equal pleasure waits for you.
As for me, I give nothing to any one except I give the like carefully to you,
I sing the songs of the glory of none, not God, sooner than I sing the songs of the glory of you.
Whoever you are! claim your own at any hazard!
These shows of the East and West are tame compared to you,
These immense meadows, these interminable rivers, you are immense and interminable as they,
These furies, elements, storms, motions of Nature, throes of apparent dissolution, you are he or she who is master or mistress over them,
Master or mistress in your own right over Nature, elements, pain, passion, dissolution.
The hopples fall from your ankles, you find an unfailing sufficiency,
Old or young, male or female, rude, low, rejected by the rest, whatever you are promulges itself,
Through birth, life, death, burial, the means are provided, nothing is scanted,
Through angers, losses, ambition, ignorance, ennui, what you are picks its way.
Continue Reading: 25 Self-Love Songs to Celebrate Who You Are
Take the 21-day Happiness Challenge