30 Best March Quotes to Enjoy Your Time
Welcome the new month with joy and gratitude!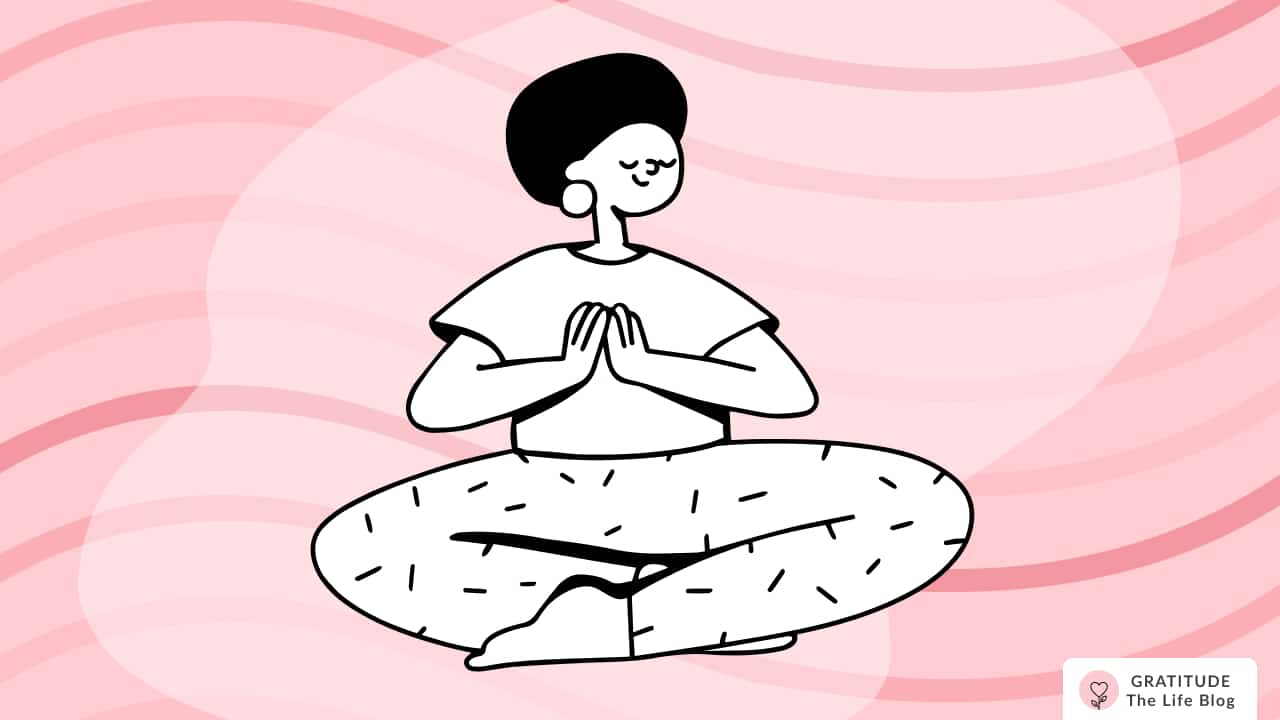 Ah, the sound of March. I feel a sense of hopefulness and I leave the hand winter and come back home to spring.
This month brings the most awaited days of the year - the last day of winter. I am excited about it and today I bring to you March quotes to help you get into the mood of spring too.
The month of March represents new growth and its flower symbol is Daffodil – which represents forgiveness, trust, honesty, and true love.
I hope that in March, you will have a lot of happiness in little moments and discover more about yourself.
And, with that, here are March quotes for you:
March Quotes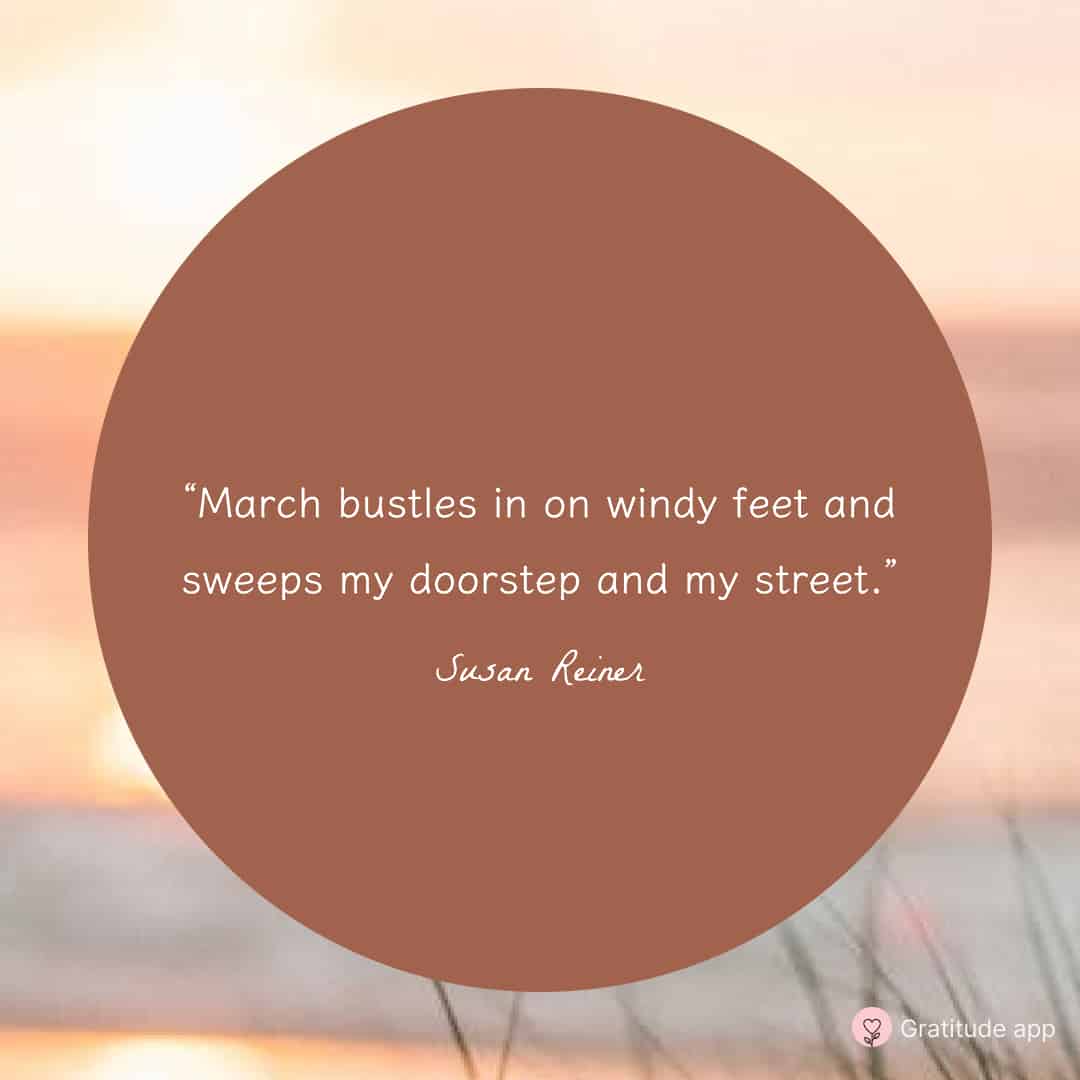 "March bustles in on windy feet and sweeps my doorstep and my street."
― Susan Reiner
"It was one of those March days when the sun shines hot and the wind blows cold: when it is summer in the light, and winter in the shade."
― Charles Dickens
"March, when days are getting long,
Let thy growing hours be strong to set right some wintry wrong."
― Caroline May
"March came in that winter like the meekest and mildest of lambs, bringing days that were crisp and golden and tingling, each followed by a frosty pink twilight which gradually lost itself in an elfland of moonshine."
― L.M. Montgomery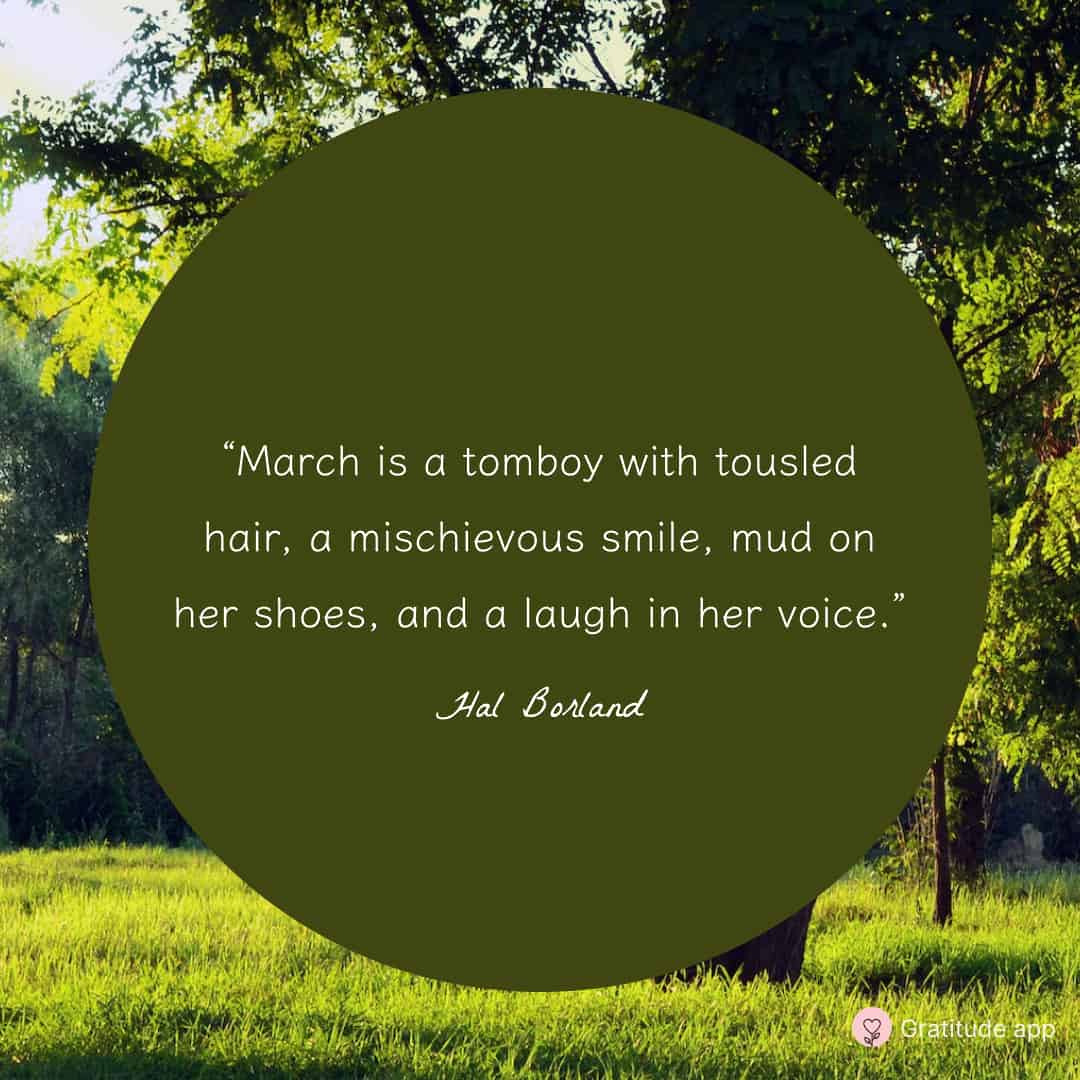 "March is a tomboy with tousled hair, a mischievous smile, mud on her shoes, and a laugh in her voice."
― Hal Borland
"Spring is nature's way of saying, 'Let's party!'"
― Robin Williams
Celebrate March by listening to these new month affirmations:
"You are reborn with the roses, in every spring."
― Juan Ramón Jiménez
"Our life is March weather, savage and serene in one hour."
― Ralph Waldo Emerson
Welcome to March Quotes
"To welcome her the Spring breath's forth Elysian sweets; March strews the Earth With violets and posies."
― Edmund Waller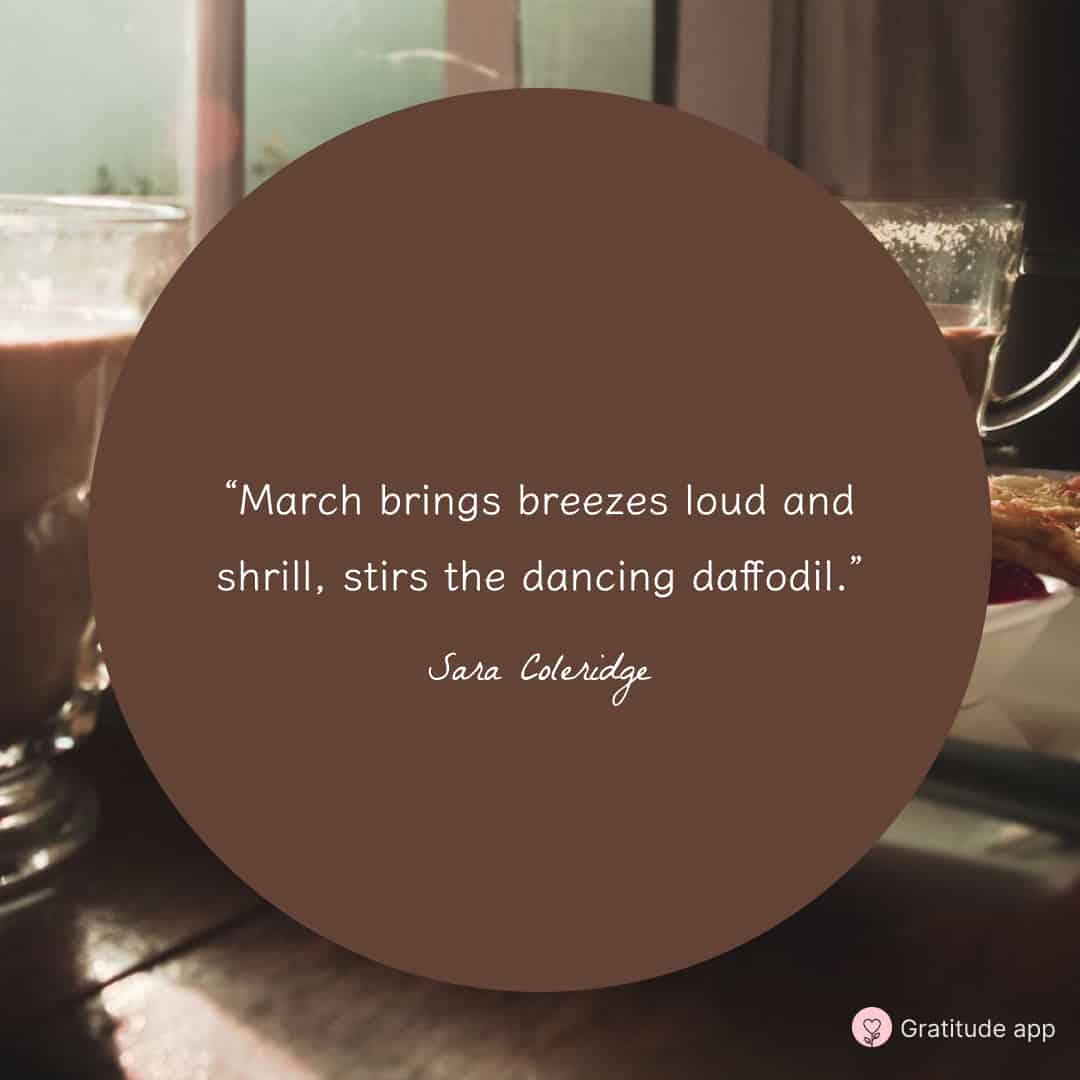 "March brings breezes loud and shrill, stirs the dancing daffodil."
― Sara Coleridge
"In March winter is holding back and spring is pulling forward. Something holds and something pulls inside of us too."
― Jean Hersey
"You are beautiful when you are happy."
― Oscar Wilde
"March is when some days are winter and some days are spring, but it's not a smooth gradient from the beginning of the month to the end. Good thing my ducks love the merging of the two seasons."
― Jarod Kintz
"I love March as it gives me hope that new beginnings are always beautiful."
― Anamika Mishra
"A cloud comes over the sunlit arch, a wind comes off a frozen peak, and you're two months back in the middle of March."
―  Robert Frost
"March winds and April showers bring forth May flowers."
― English Proverb
Happy March Quotes
"Springtime is the land awakening. The March winds are the morning yawn."
―  Lewis Grizzard
"March is the month of expectation, the things we do not know, The persons of prognostication are coming now. We try to sham becoming firmness, But pompous joy betrays us, as his first betrothal betrays a boy."
― Emily Dickinson
"In March the soft rains continued, and each storm waited courteously until its predecessor sunk beneath the ground."
― John Steinbeck
"Daffodils,
That come before the swallow dares, and take
The winds of March with beauty."
― William Shakespeare
"That's the trouble with March—the warmth never lasts. There's that narrow stretch when it parades as spring, just enough for you to thaw if you're sitting in the sun, but then it's gone."
― V. E. Schwab
"Only those with tenacity can march forward in March."
― Ernest Agyemang Yeboah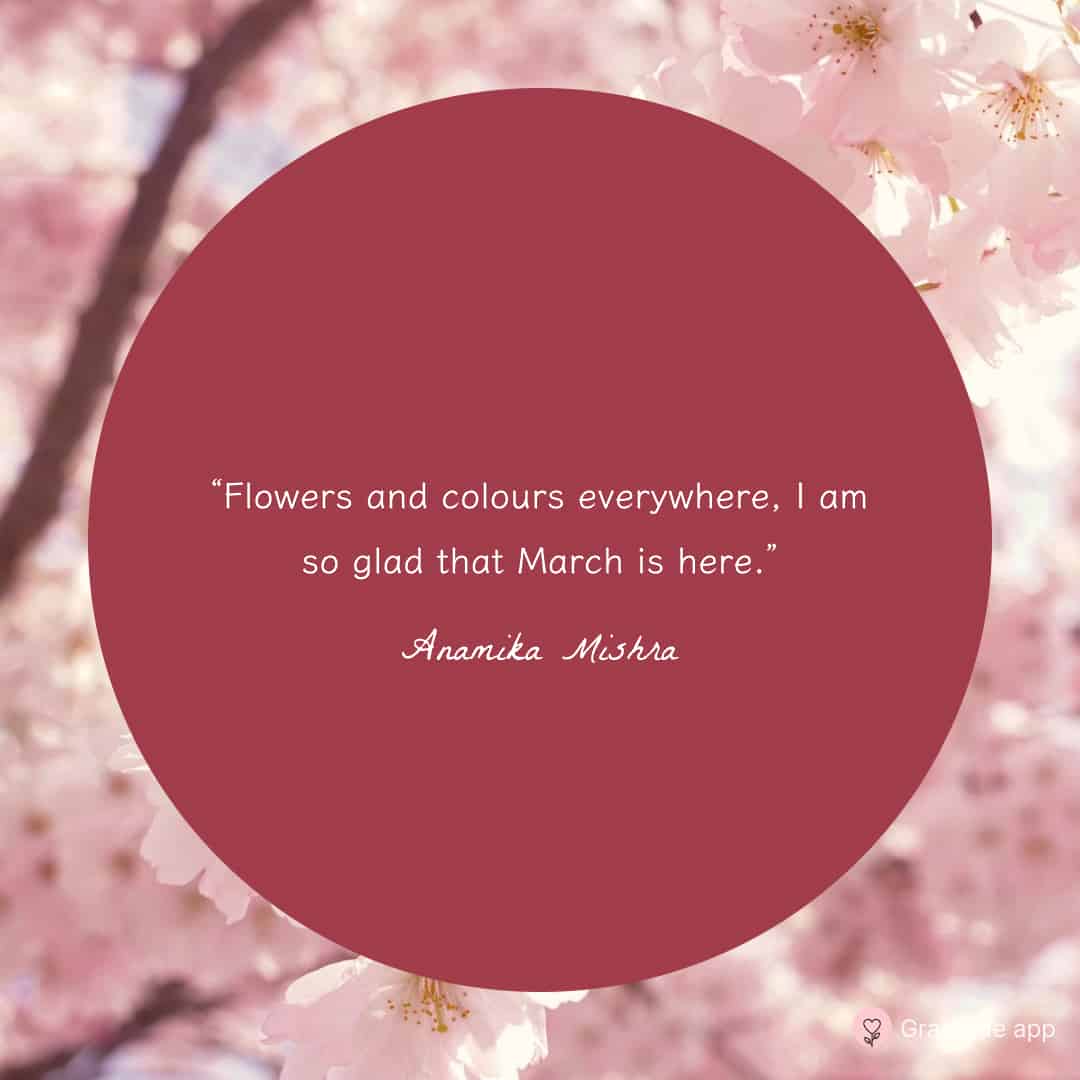 "Flowers and colours everywhere, I am so glad that March is here."
― Anamika Mishra
"Despite March's windy reputation, winter isn't really blown away; it is washed away. It flows down all the hills, goes swirling down the valleys and spills out to sea. Like so many of this earth's elements, winter itself is soluble in water…"
― The New York Times
"March was an unpredictable month, when it was never clear what might happen. Warm days raised hopes until ice and grey skies shut over the town again."
― Tracy Chevalier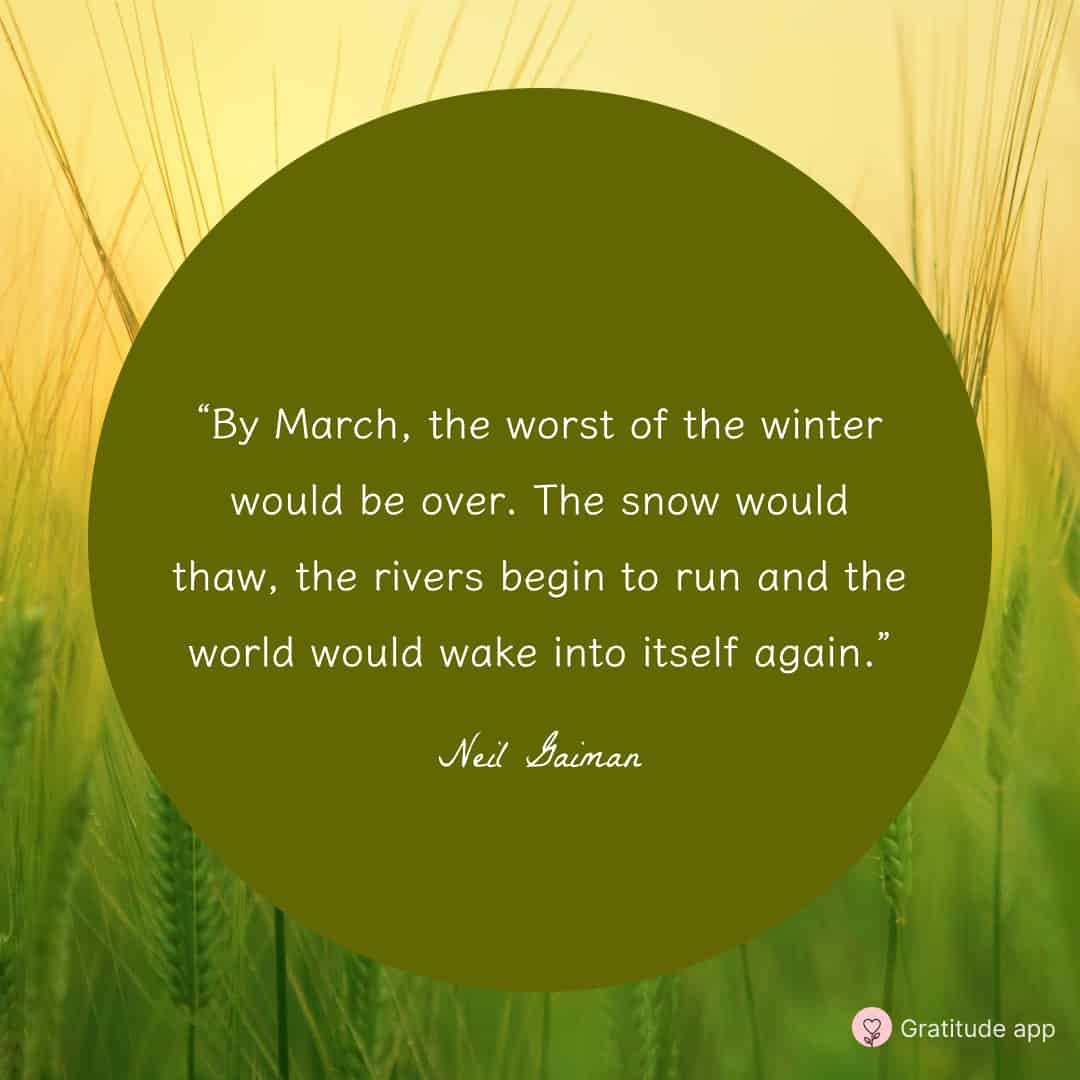 "By March, the worst of the winter would be over. The snow would thaw, the rivers begin to run and the world would wake into itself again."
― Neil Gaiman
"March comes in with an adder's head, and goes out with a peacock's tail."
― Richard Lawson Gales
"The stormy March has come at last,
With winds and clouds and changing skies;
I hear the rushing of the blast
That through the snowy valley flies."
― William C. Bryant
"One Christmas, my father kept our tree up till March. He hated to see it go. I loved that."
― Mo Rocca
"This is the perfume of March: rain, loam, feathers, mint."
― Lisa Kleypas
Continue Reading: 60+ Spring Quotes to Welcome The Season of Blossoms
Take the 21-day Happiness Challenge