50+ Beautiful True Love Quotes to Appreciate Love In All Of Its Forms
Let's sprinkle the magic of love on our hearts.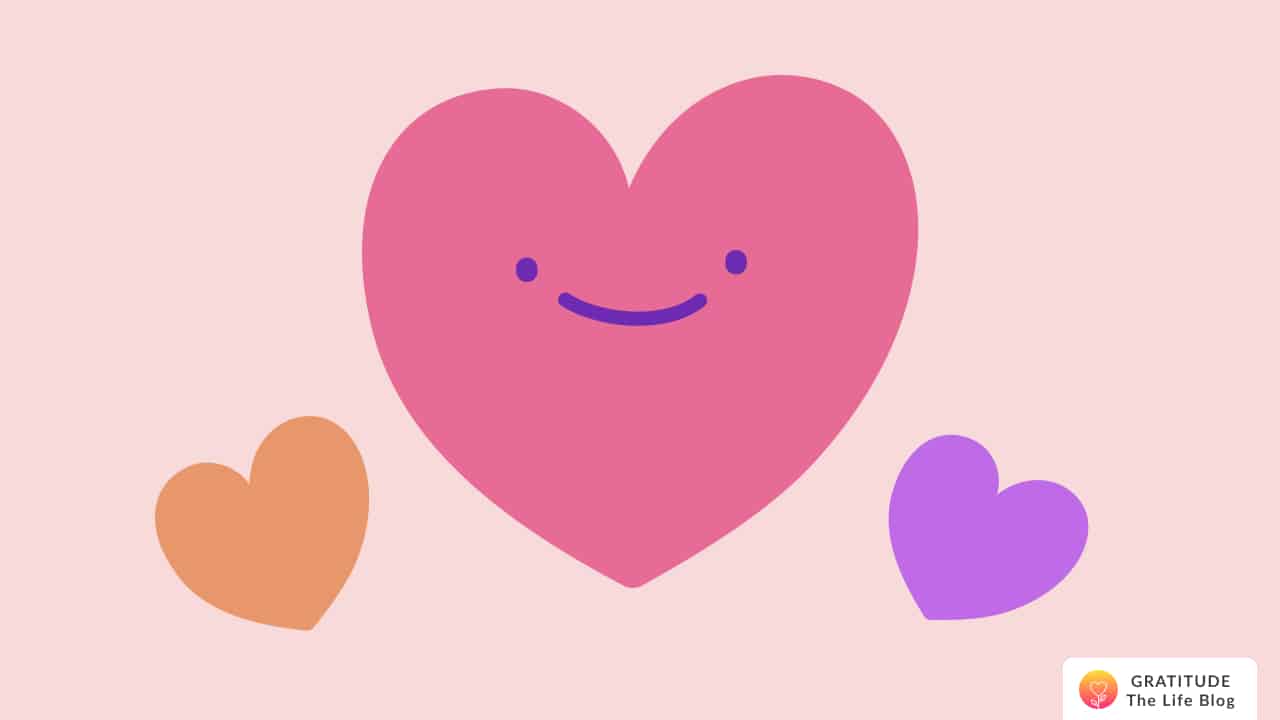 To love is strength. To be loved is a gift. And to have them both is paradise.
Today, with these handpicked true love quotes, let's become aware of how strongly our hearts can love, and how this immense love can indeed change the world.
Let's show our loved ones how much they mean to us, and let's celebrate all the different relationships that we are lucky to have.
Here are your true love quotes:
True Love Quotes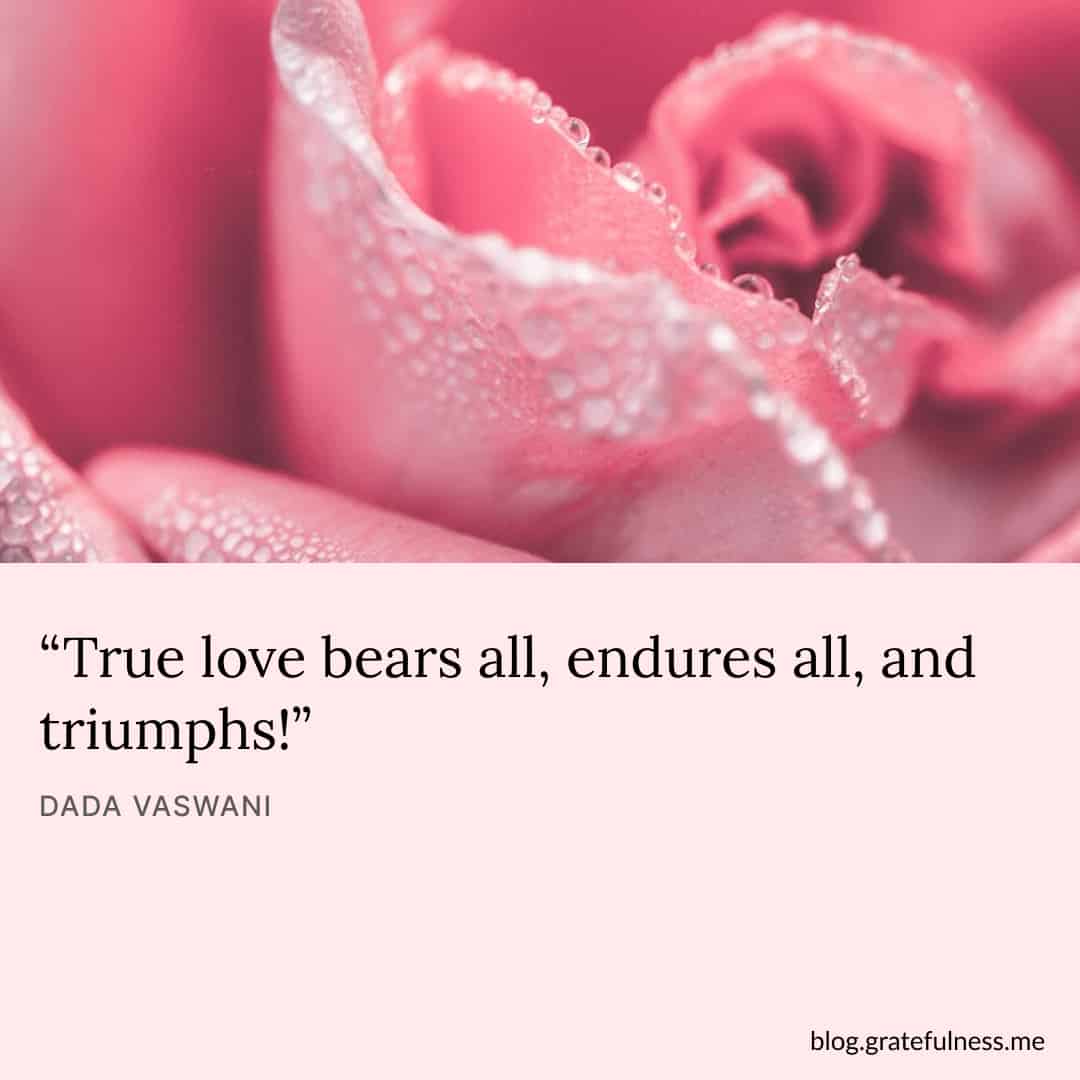 "True love bears all, endures all, and triumphs!"
― Dada Vaswani
"Love is pure and true; love knows no gender."
― Tori Spelling
"True love is not a strong, fiery, impetuous passion. It is, on the contrary, an element calm and deep. It looks beyond mere externals, and is attracted by qualities alone. It is wise and discriminating, and its devotion is real and abiding."
― Ellen G. White
"A good friend is like a four-leaf clover; hard to find and lucky to have."
— Irish Proverb
"Rare as is true love, true friendship is rarer."
― Jean de La Fontaine
"You've gotta dance like there's nobody watching,
Love like you'll never be hurt,
Sing like there's nobody listening,
And live like it's heaven on earth."
― William W. Purkey
Make yourself ready for love to overflow in your life with these love affirmations:
"There is never a time or place for true love. It happens accidentally, in a heartbeat, in a single flashing, throbbing moment."
― Sarah Dessen
"You know it's love when all you want is for that person to be happy, even if you're not part of their happiness."
— Julia Roberts
"When someone else's happiness is your happiness, that is love."
― Lana Del Rey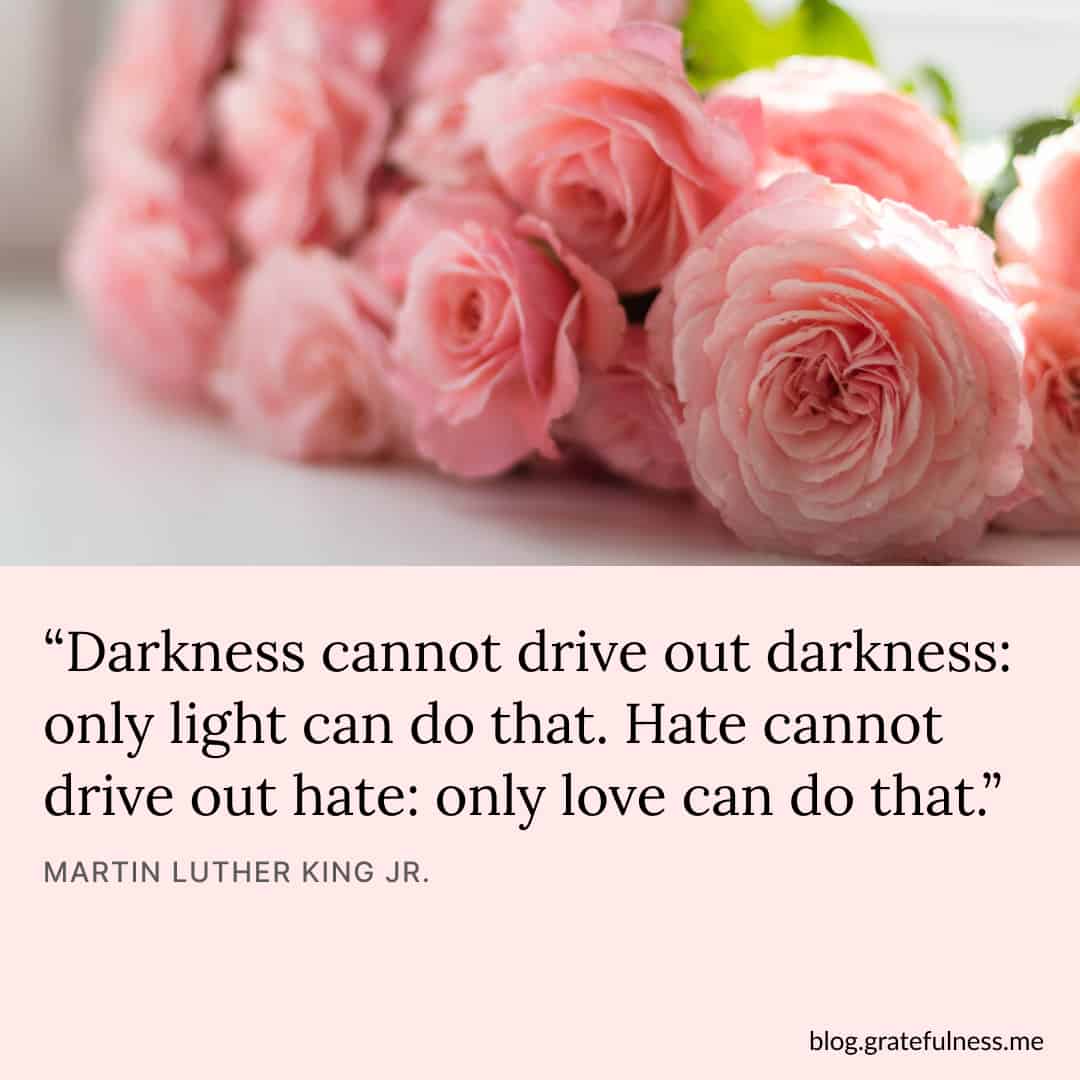 "Darkness cannot drive out darkness: only light can do that. Hate cannot drive out hate: only love can do that."
― Martin Luther King Jr.
"The way happiness works is that it creates the condition for love to flourish and you cannot have one without the other, they are two sides of a coin."
― Unknown
"Happiness is the nectar, love is the Bee."
― Unknown
"I find the best way to love someone is not to change them, but instead, help them reveal the greatest version of themselves."
― Steve Maraboli
"Folks are usually about as happy as they make their minds up to be."
― Abraham Lincoln
"Happiness is holding someone in your arms and knowing you hold the whole world."
― Orhan Pamuk
"The greatest happiness of life is the conviction that we are loved — loved for ourselves, or rather, loved in spite of ourselves."
― Victor Hugo
"The more the heart is nourished with happiness, the more it is insatiable."
― Gabrielle Roy
"The heart that gives thanks is a happy one, for we cannot feel thankful and unhappy at the same time."
― Douglas Wood
"Happiness is a perfume you cannot pour on others without getting some on yourself."
― Ralph Waldo Emerson
"Love means to see the one you love happy."
― Nicholas Sparks
"Let us be grateful to the people who make us happy; they are the charming gardeners who make our souls blossom."
— Marcel Proust
"Love is when the other person's happiness is more important than your own."
— H. Jackson Brown Jr.
"Love recognizes no barriers. It jumps hurdles, leaps fences, penetrates walls to arrive at its destination full of hope."
— Maya Angelou
"If you live to be a hundred, I want to live to be a hundred minus one day, so I never have to live without you."
— A.A. Milne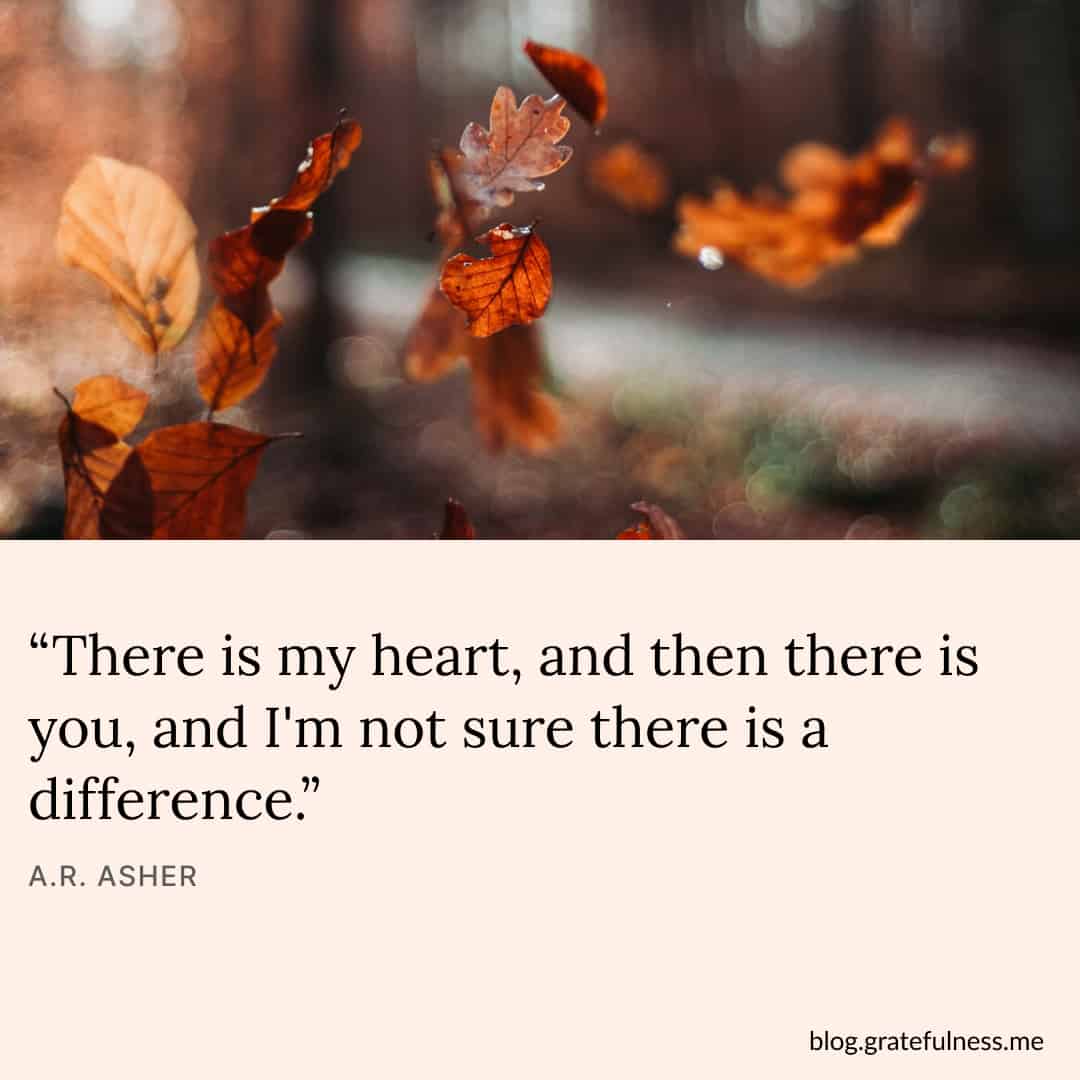 "There is my heart, and then there is you, and I'm not sure there is a difference."
— A.R. Asher
"You are the one girl that made me risk everything for a future worth having."
— Simone Elkeles
"Distance means so little when someone means so much."
— Tom McNeal
"I love that you are my person and I am yours, that whatever door we come to, we will open it together."
— A.R. Asher
"Love is not an emotion, it is your very existence."
— Rumi
"When someone loves you, the way they say your name is different. You know that your name is safe in their mouth."
— Jess C. Scott
"You can't blame gravity for falling in love."
— Albert Einstein
"Lost with you, in you, and without you."
— K. Towne Jr.
"For you see, each day I love you more, today more than yesterday and less than tomorrow."
— Rosemonde Gerard
"I still haven't figured out how to sit across from you, and not be madly in love with everything you do."
— William C. Hannan
"I love you without knowing how, or when, or from where. I love you simply, without problems or pride: I love you in this way because I do not know any other way of loving but this, in which there is no I or you, so intimate that your hand upon my chest is my hand, so intimate that when I fall asleep your eyes close."
— Pablo Neruda
"And now here is my secret, a very simple secret; it is only with the heart that one can see rightly, what is essential is invisible to the eye."
— Antoine de Saint Exupery
"He's more myself than I am. Whatever our souls are made of. His and mine are the same."
— Emily Brontë
"I know no ways to mince it in love, but directly to say — I love you."
— William Shakespeare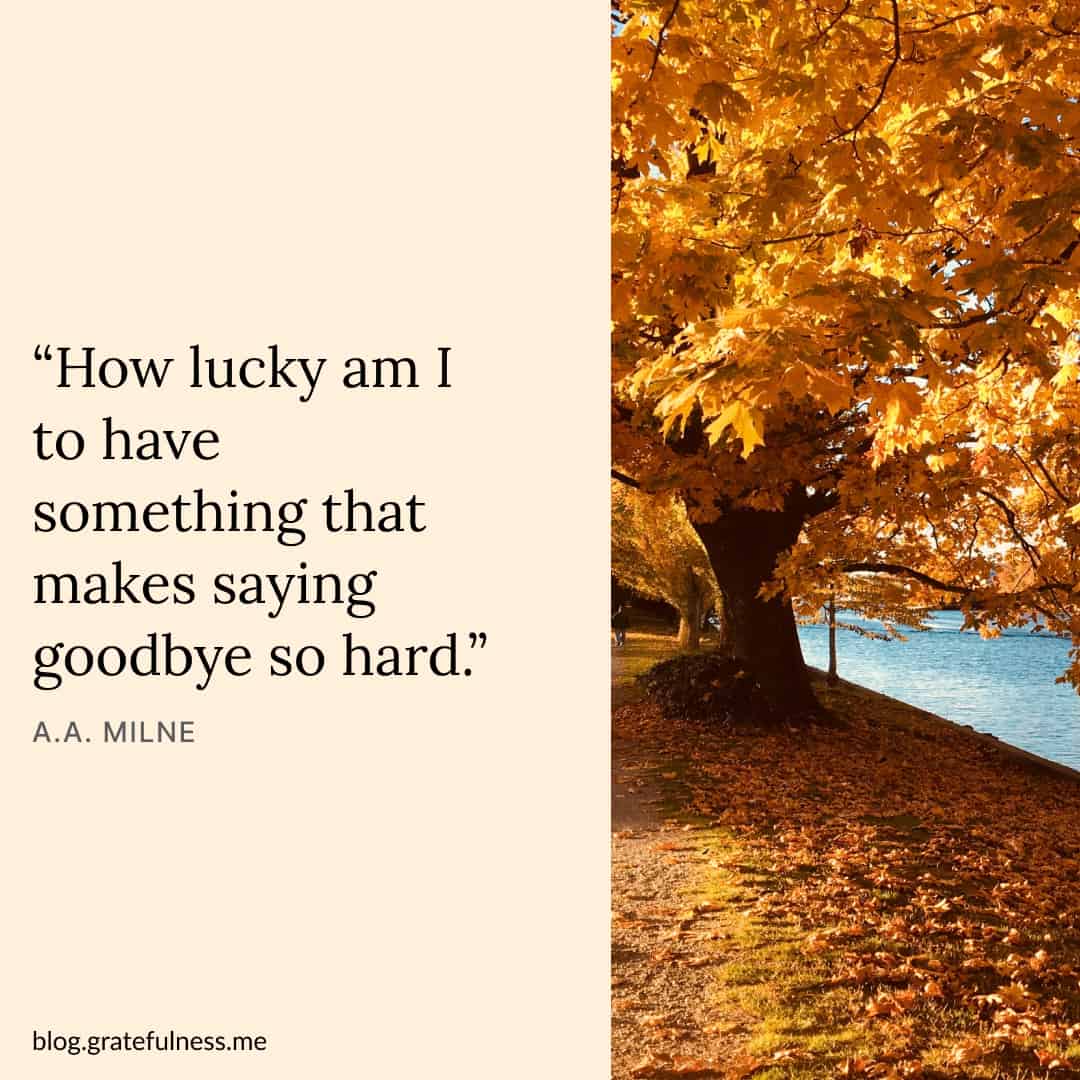 "How lucky am I to have something that makes saying goodbye so hard."
— A.A. Milne
"Some people come into our lives, leave footprints on our hearts, and we are never the same."
― Frans Schubert
"Neither a lofty degree of intelligence nor imagination nor both together go to the making of genius. Love, love, love, that is the soul of genius."
― Wolfgang Amadeus Mozart
"A very small degree of hope is sufficient to cause the birth of love."
― Henry David Thoreau
"We've got this gift of love, but love is like a precious plant. You can't just accept it and leave it in the cupboard or just think it's going to get on by itself. You've got to keep watering it. You've got to really look after it and nurture it."
― John Lennon
"Passion makes the world go round. Love just makes it a safer place."
― Ice-T
"Love has nothing to do with what you are expecting to get, only with what you are expecting to give - which is everything."
― Katharine Hepburn
"Lots of people want to ride with you in the limo. But you want someone who'll help you catch the bus."
― Oprah Winfrey
"True love is singing karaoke 'Under Pressure' and letting the other person sing the Freddie Mercury part."
― Mindy Kaling
"When you're lucky enough to meet your one person, then life takes a turn for the best. It can't get better than that."
― John Krasinski
"I like not only to be loved but also to be told I am loved."
― George Eliot
"A loving heart is the truest wisdom."
― Charles Dickens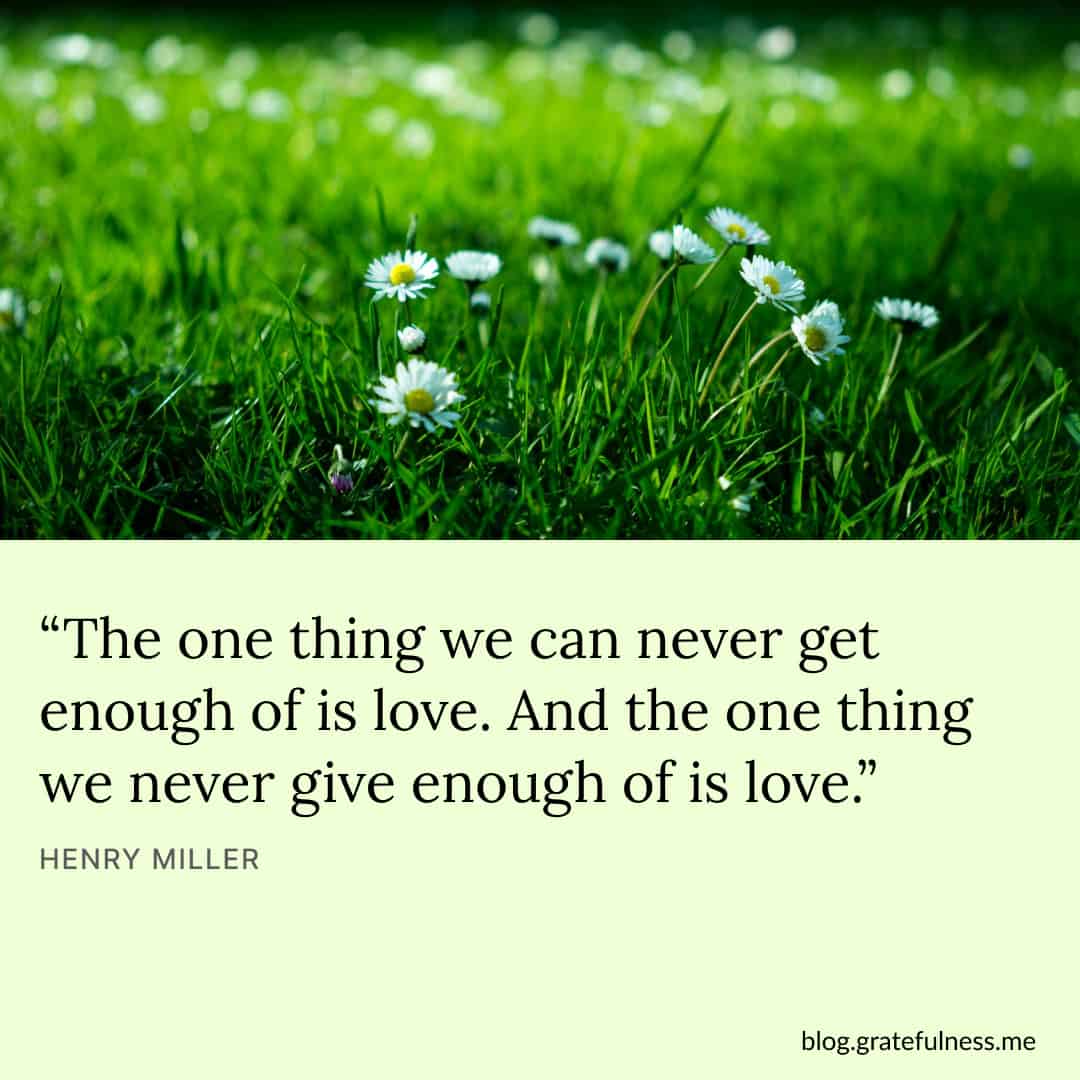 "The one thing we can never get enough of is love. And the one thing we never give enough of is love."
― Henry Miller
"When you are missing someone, time seems to move slower, and when I'm falling in love with someone, time seems to be moving faster."
― Taylor Swift
"It seems right now that all I've ever done in my life is making my way here to you."
— The Bridges of Madison County
"You don't love someone for their looks, or their clothes, or for their fancy car, but because they sing a song only you can hear."
— Oscar Wilde
"To be fully seen by somebody, then, and be loved anyhow — this is a human offering that can border on miraculous."
— Elizabeth Gilbert
"Love is when he gives you a piece of your soul, that you never knew was missing."
— Torquato Tasso
"Only once in your life, I truly believe, you find someone who can completely turn your world around."
— Bob Marley
"Animals are a gift from above for they truly define the words unconditional love."
― Heather Wolf
👉 Continue Reading: 70+ Thankful Quotes to Bring The Light of Thankfulness Into Your Life
Take the 21-day Happiness Challenge