60+ Happy Sunday Quotes to Enjoy Rest & Relaxation
Let's lazily celebrate this day of rest :)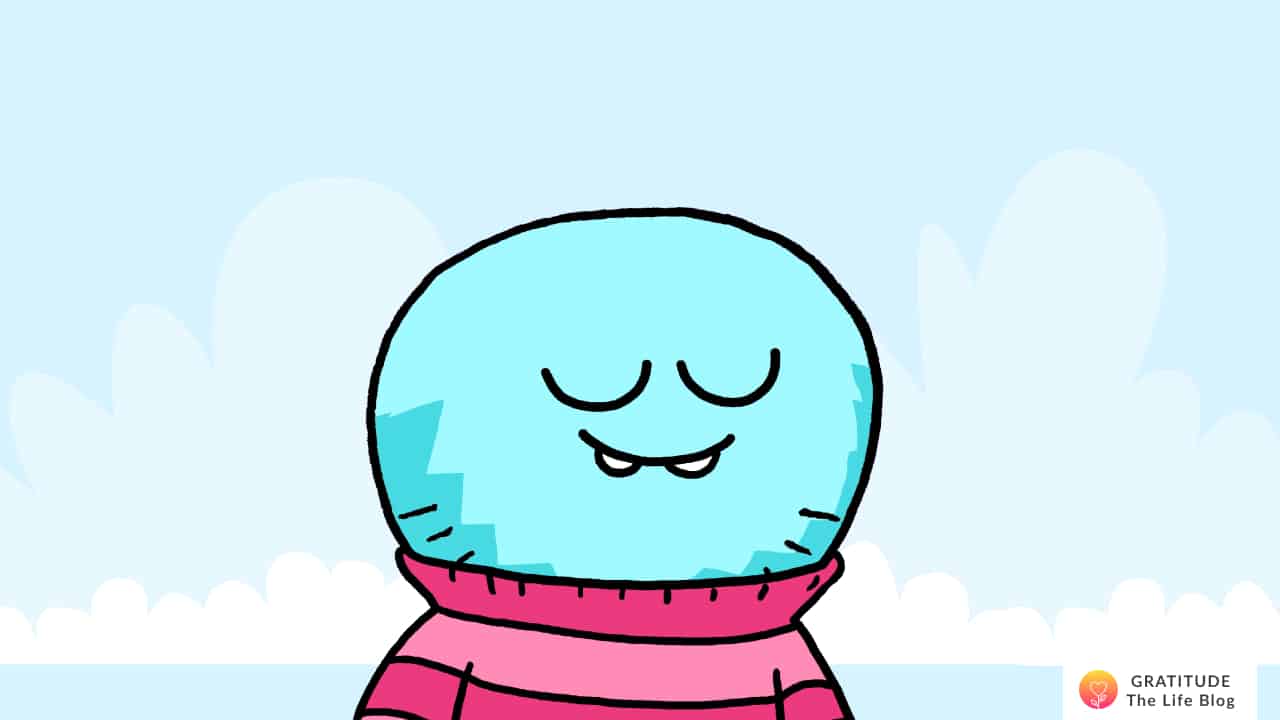 Welcome to our latest blog post on Sunday quotes!
Sunday is often seen as the most relaxing and happy day of the week, a time to unwind and enjoy the simple pleasures in life.
Whether you spend your Sunday lounging at home, going for a walk in nature, or spending time with loved ones, it's a day to recharge and prepare for the week ahead.
In this post, we've gathered a collection of uplifting and joyful Sunday quotes to help you embrace the laid-back vibes of the day.
From the words of famous writers and thinkers to the wisdom of everyday people, these quotes will remind you to savor the present moment and find joy in the simple things.
So sit back, relax, and let these Sunday quotes bring a smile to your face as you enjoy your day of rest.
Sunday Quotes
Sunday Morning Quotes
"On Sundays, the world is as bright and empty as a balloon."
— Joseph Roth
"The goal of Sunday is to leave my home as little as possible."
— Mark Morris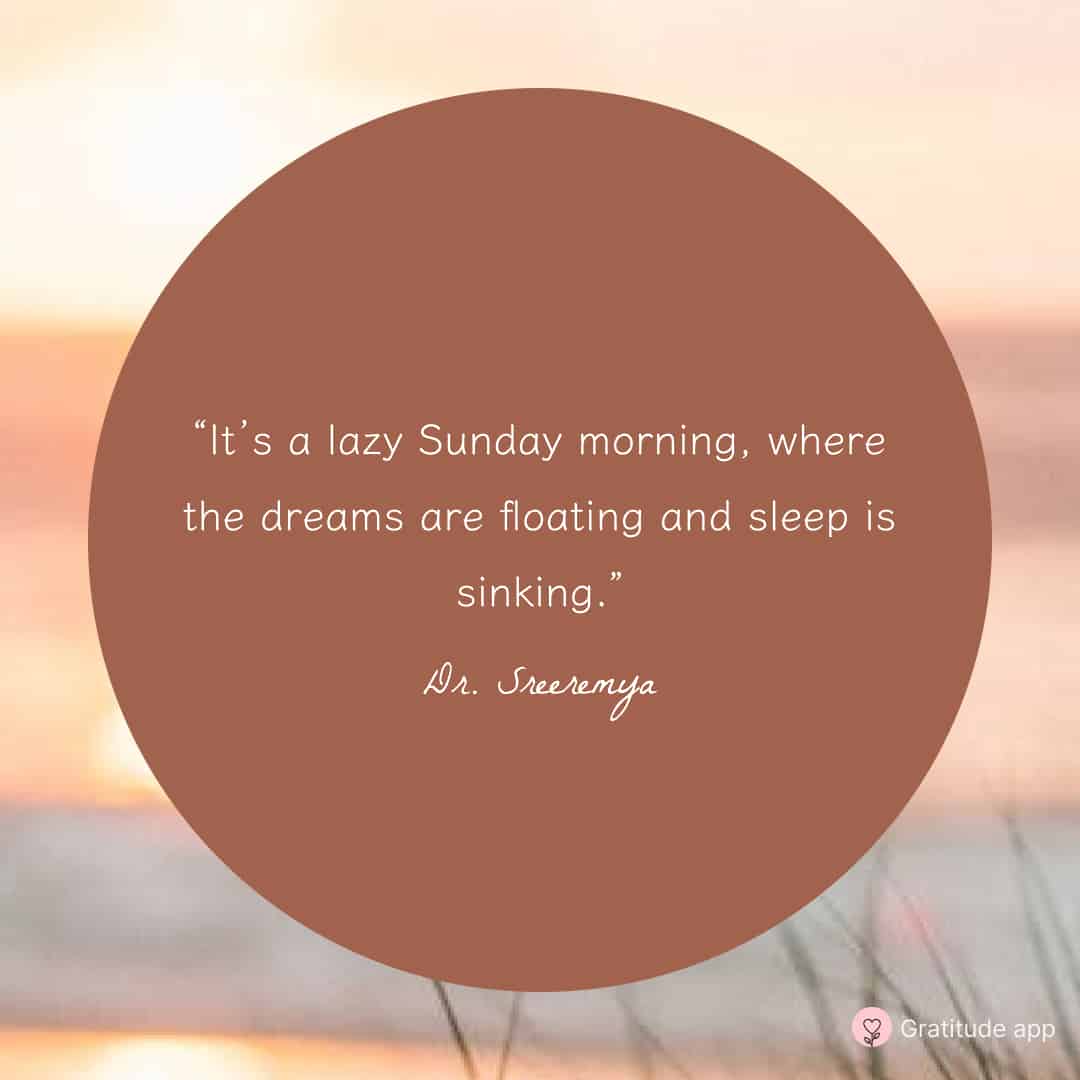 "It's a lazy Sunday morning, where the dreams are floating and sleep is sinking."
— Dr. Sreeremya
"Weekends don't count unless you spend them doing something completely pointless."
— Bill Watterson
"Time flows in a strange way on Sundays."
— Haruki Murakami
"I'm easy like Sunday morning."
— Commodores
"Sunday is a good day to save the world in one's pajamas."
— Adrienne Posey
Here are some relaxing morning affirmations for a wonderful Sunday:
"My Sunday is a leisure day in which I encourage myself to forget the responsibilities of my workdays and engage honestly with my friends and loved ones."
— Srinivas Mishra
"This Sunday morning is here for you with a promise of a brand-new beginning in life. Embrace it and be grateful for this beautiful life!"
— Unknown
Happy Sunday Quotes
"Sunday, the day for the language of leisure."
— Elfriede Jelinek
"SUNDAY. The day… I planned a lot, but actually do nothing."
— Anonymous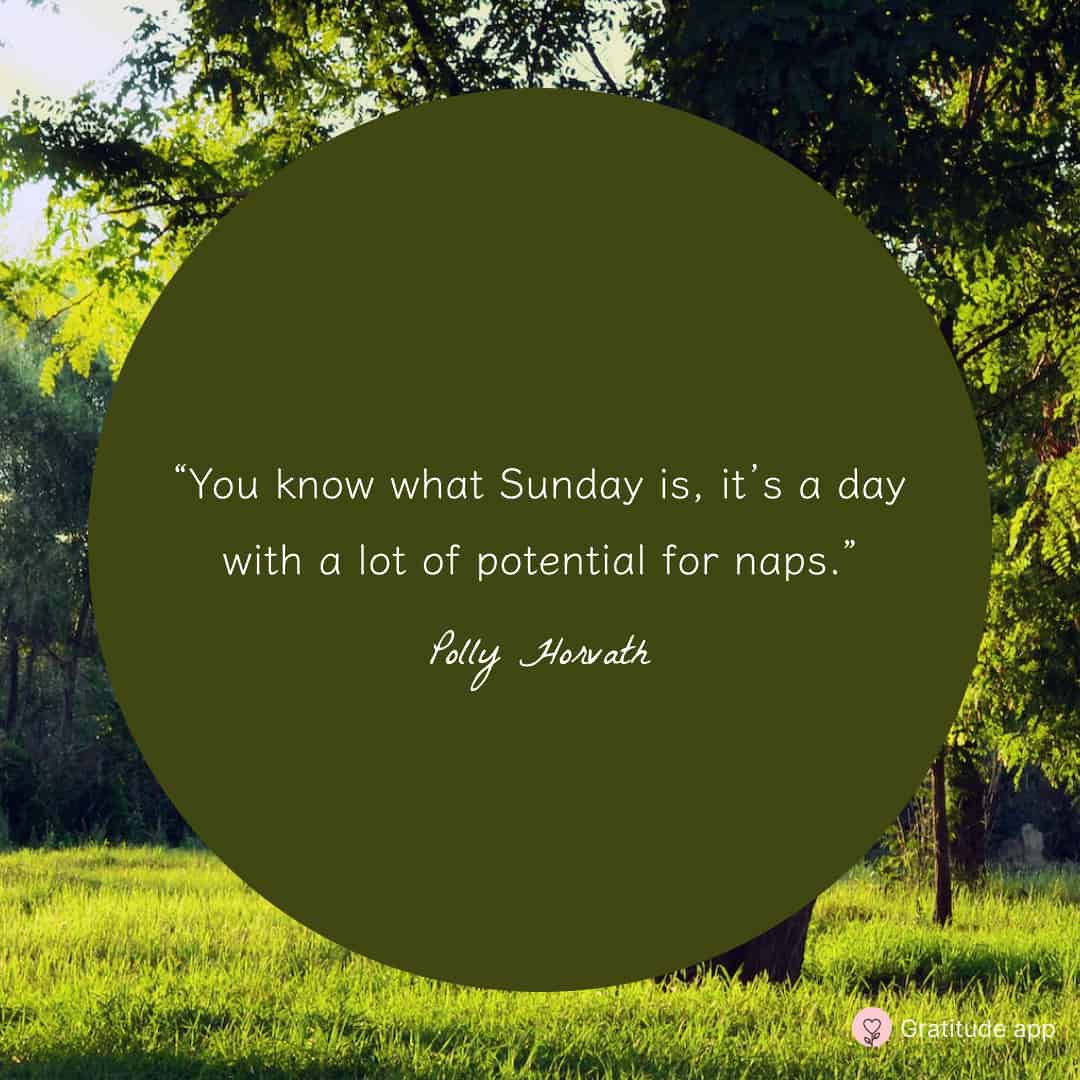 "You know what Sunday is, it's a day with a lot of potential for naps."
— Polly Horvath
"Although I understand that all days are equal with 24 hours each, most of us agree that Friday is the longest day of the week and Sunday the shortest!"
— D.S. Mixell
"Happiness is a hot bath on a Sunday afternoon."
— A.D. Posey
"Poetry is truth in its Sunday clothes."
— Philibert Joseph Roux
"Sunday is the day when I prepare for the week ahead by making improbable To-Do lists and browsing Pinterest for ideas on how to decorate my imaginary mansion."
— Nanea Hoffman
"Sometimes I have loved the peacefulness of an ordinary Sunday. It is like standing in a newly planted garden after a warm rain. You can feel the silent and invisible life."
— Marilynne Robinson
"Happy Sunday. Spread love. Show kindness. Live life in the present."
— Independent Zen
Blessed Sunday Quotes
"Sunday is my favorite day."
— Emma Caulfield
"Sunday! A family day with a touch of weekend thrown in for good measure."
— Anthony T. Hincks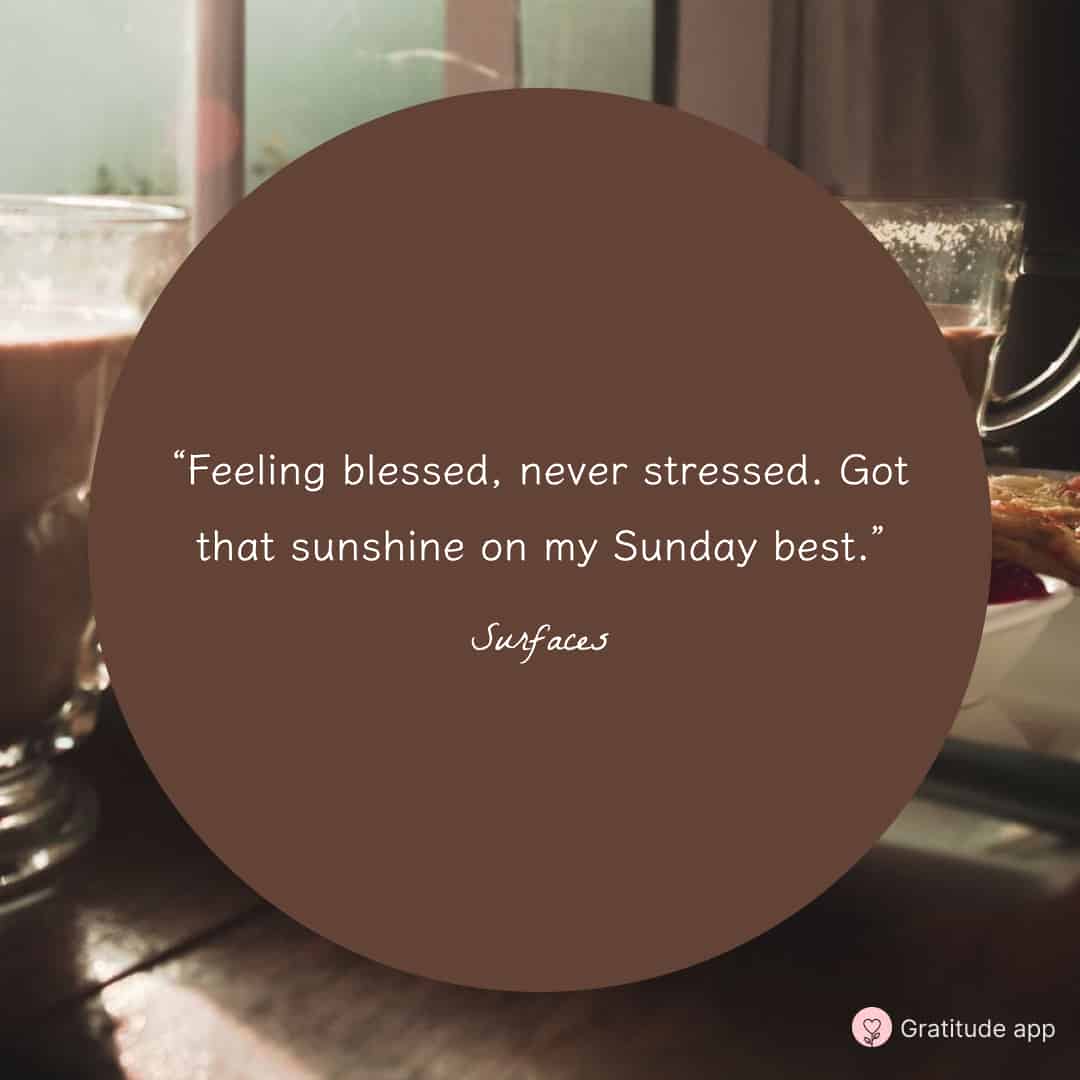 "Feeling blessed, never stressed. Got that sunshine on my Sunday best."
— Surfaces
"There's nothing better than putting your feet up on a Sunday afternoon and grabbing a good book."
— Chris Klein
"The city takes a breath on Sunday. Of all that's lost with the pursuit of what's next, I hope we don't lose that…"
— Hawksley Workman
"Sunday is the Lord's Day. Let us find time to be with him."
— Pope Francis
"A Sunday well spent brings a week of content."
— Proverb
"Without Sunday, I wouldn't know when to put on the brakes of a hurtling life."
— Byron Pulsifer
"May your Sunday be full of fun and laughter."
— Kate Summers
"Sunday brings along memories of childhood when I used to wake up to go to church. Then when I would return home there would be something special for breakfast. I miss those days."
— Quincy Latte
"Sunday was always the best of days for being the self you had intended to be, but were not, for one reason or another."
— Jesse Ball
"Live forgiveness every day rather than just talking about it on Sunday."
— Wayne Dyer
Sunday Vibes Quotes
"Sundays tend to be a day where just I do nothing but visit people. It's kind of like trick-or-treating."
— Chuck Palahniuk
"It's Sunday, therefore I am 100% motivated to do nothing today!"
— Unknown
"Don't judge men's wealth or godliness by their Sunday appearance."
— Benjamin Franklin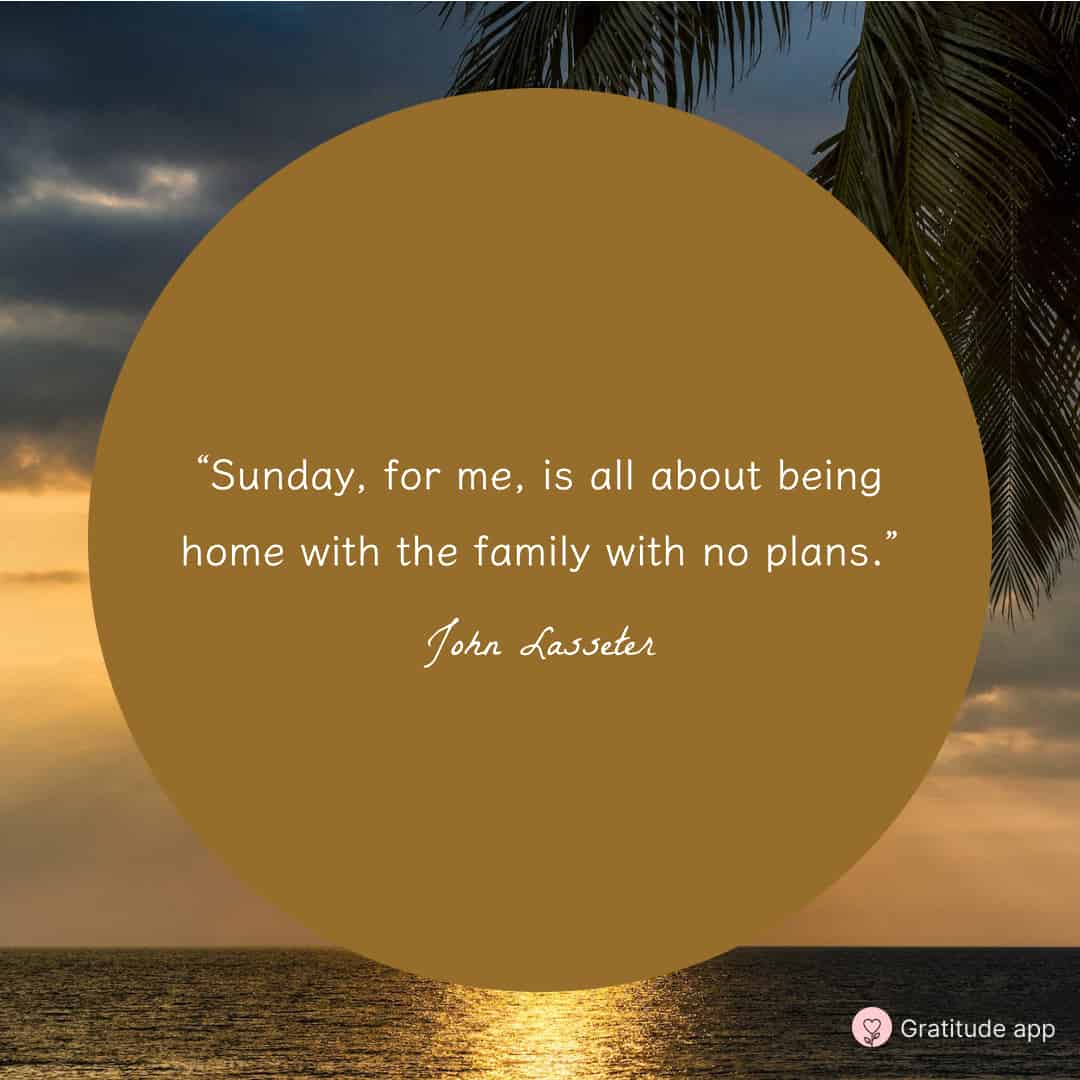 "Sunday, for me, is all about being home with the family with no plans."
— John Lasseter
"I have to be alone very often. I'd be quite happy if I spent from Saturday night until Monday morning alone in my apartment. That's how I refuel."
— Audrey Hepburn
"Today is Sunday, so please conduct yourself accordingly.  Sleep in, sip tea, lay around in your pajamas, listen to good music, and indulge yourself in an afternoon nap."
— Unknown
"Sundays should come with a pause button."
— Unknown
Sunday Motivational Quotes
"Sunday is the day of the week when I am most likely to take the road less traveled."
— Robert Frost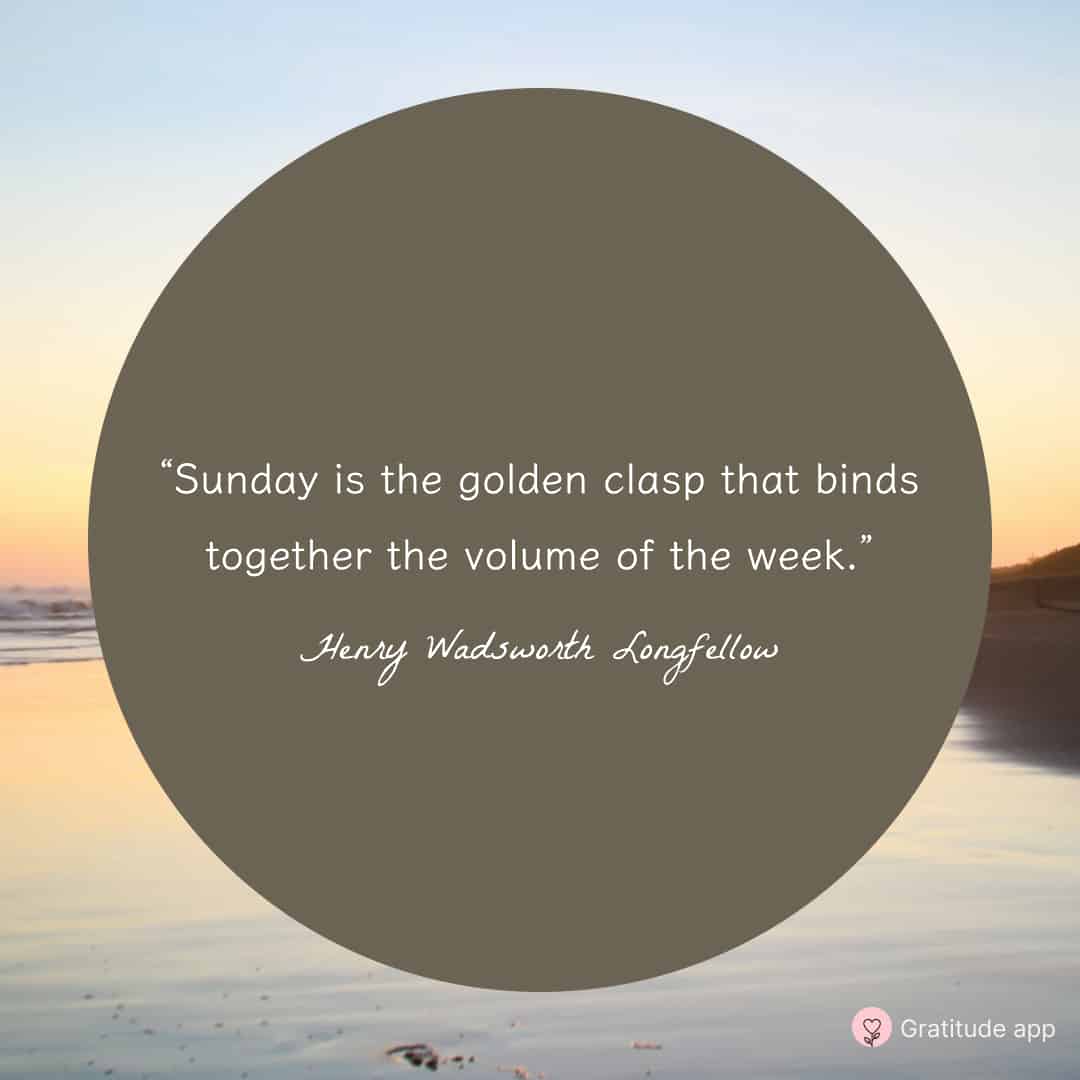 "Sunday is the golden clasp that binds together the volume of the week."
— Henry Wadsworth Longfellow
"Sunday clears away the rust of the whole week."
— Joseph Addison
"Sunday is a day of rest and contemplation. It's a time to refocus, set intentions, and prepare for the week ahead."
— Unknown
"Sunday is a day to recharge and refill the well of creativity."
— Unknown
"Have a great Sunday! Experience life in all possible ways: good-bad, bitter-sweet, dark-light, summer-winter. Experience all the dualities. Don't be afraid of experience, because the more experience you have, the more mature you become."
— Osho
"Most of us spend the first six days of each week sowing wild oats; then we go to church on Sunday and pray for a crop failure."
— Fred Allen
"There is always something new to learn and feel each Sunday."
— Bishop Gerald Causse
"Sunday is the core of our civilization, dedicated to thought and reverence."
— Ralph Waldo Emerson
"After a week of the contained chaos that is my job, I need some solitary running time. On Sundays, I can unwind and reconnect with the natural world."
— Linda Jone
"Do not waste a single Sunday. If you don't waste Sundays, you will be less likely to waste Mondays, Tuesdays, and Wednesdays."
— Matthew Kelly
"It's not that we spend five days looking forward to just two. It's that most people do what they enjoy most on those two days. Imagine living a life where every day is your Saturdays and Sundays. Make every day your weekend. Make every day a play-day…"
— James A. Murphy
Sunday Thankful Quotes
"Ah, Sunday, the day of rest… now that's something to be thankful for!"
— Aaron P. Taylor
"Sundays are like confetti floating in the air in slow motion, in the evening they reach the ground, and you hope a bit of wind could blow on them so they could fly a bit longer."
— Alain Bremond-Torrent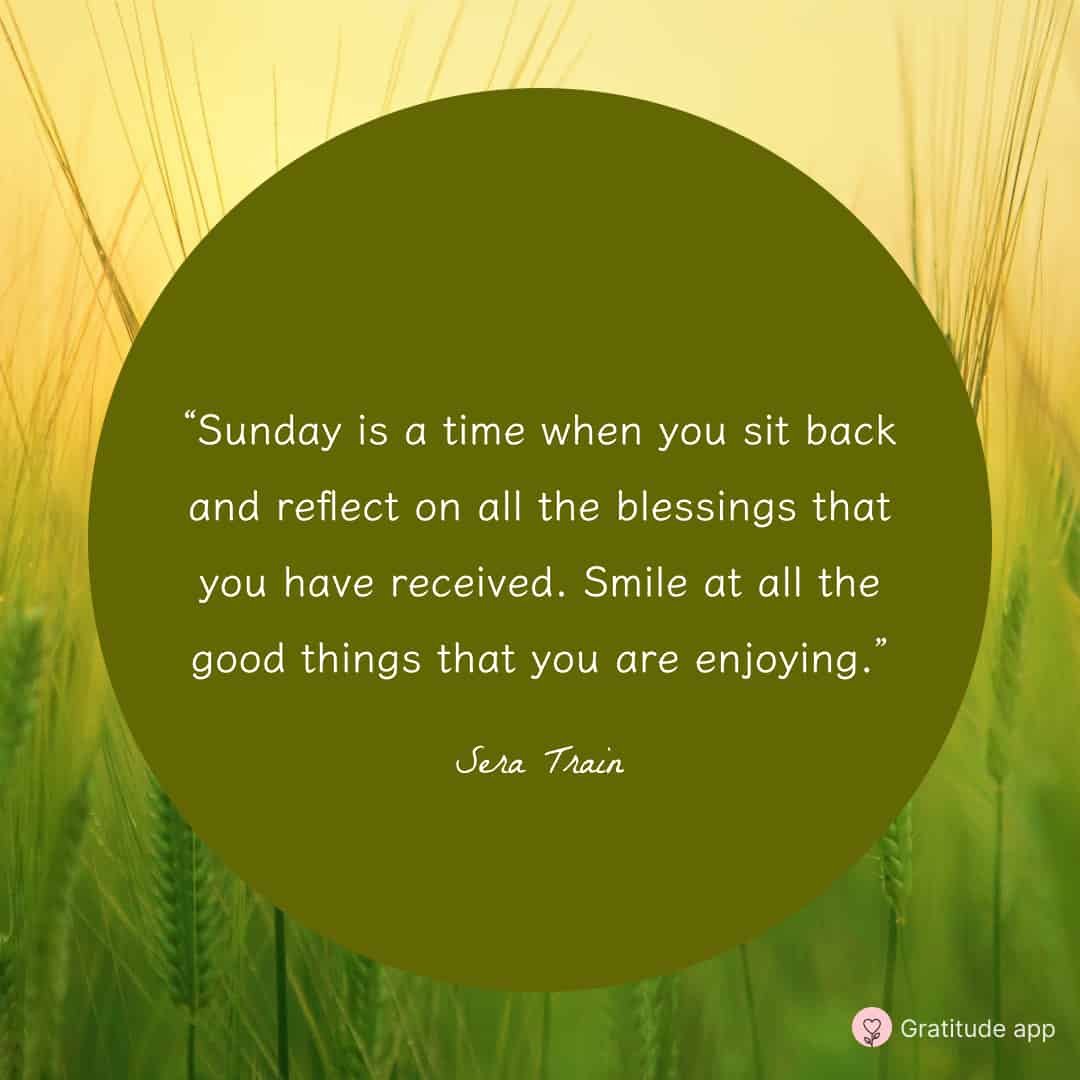 "Sunday is a time when you sit back and reflect on all the blessings that you have received. Smile at all the good things that you are enjoying."
— Sera Train
"On this wonderful Sunday, don't forget to be thankful for the little things in life."
— Anonymous
"Oh dear Sunday, I want to sleep in your arms and have a fun day."
— Santosh Kalwar
"Sunday on the beach, having seashells in the pocket, sand in the shoes, was the day to refuel our souls and be grateful to the blessings."
— Unknown
"Display, a life full of gratitude, and remember to give thanks each day."
— Danielle Duckery
"Spending time in nature feeling connected with the world often elicits gratitude."
— Diana Butler Bass
"We should not measure success by bank accounts filled with money, but rather by moments filled with joy and gratitude. Pursuing your passion vigorously and relentlessly will bring you those moments."
— Dennis Houchin
"The practice of gratitude empowers, heals, inspires, and fosters heartfelt well–being."
— Angeles Arrien
"Appreciation is a wonderful thing. It makes what is excellent in others belong to us as well."
— Voltaire
"We should certainly count our blessings, but we should also make our blessings count."
— Neal A. Maxwell
Continue Reading: 40 Motivational Monday Quotes to Rise Above The Blues
Take the 21-day Happiness Challenge