80+ Christmas Quotes to Celebrate This Festive Season
Get ready for the season of jolly!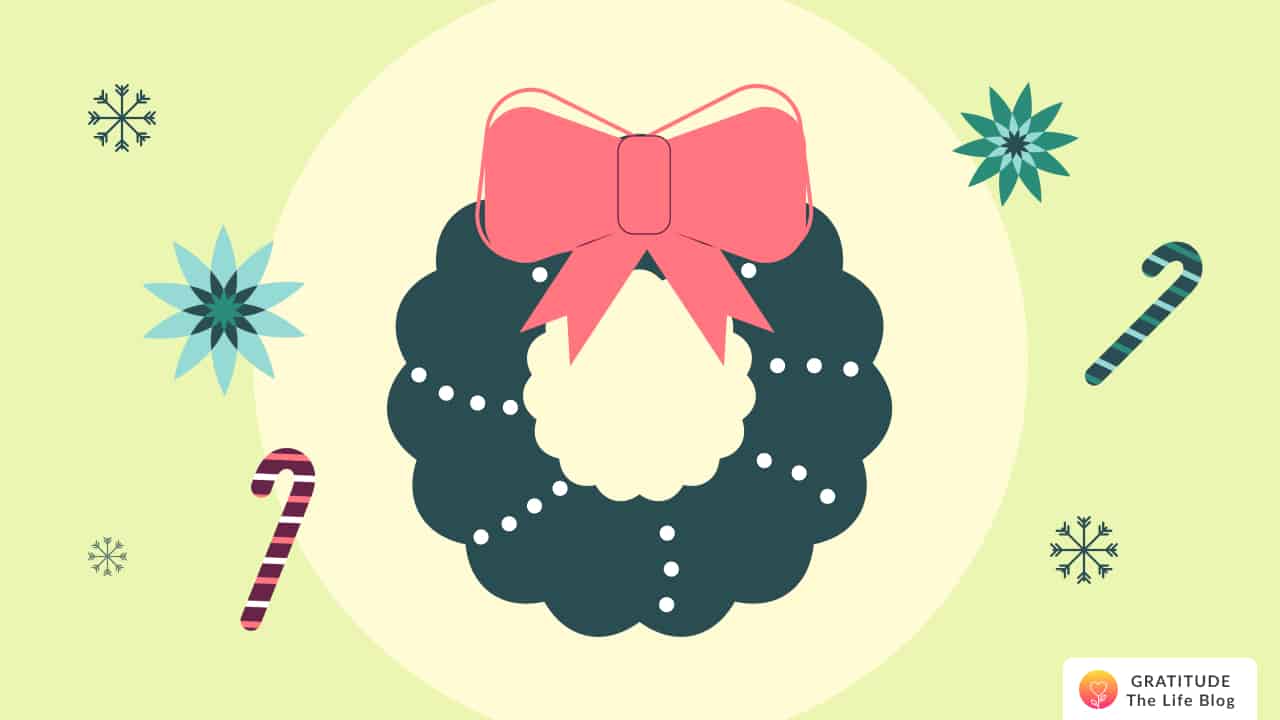 'Tis the season to be jolly and excited. As the holidays are approaching, let's get ready for festivities and merry celebrations.
Festivals are festivals when we celebrate them together. And, Christmas wishes, messages, and quotes are what help us do that.
Think about it, would you ever meet someone on Christmas Day and not say, "Merry Christmas!"? This is the importance of words.
And, to help you find the perfect words to say, here is a list of Christmas quotes that will spark a smile on anyone's face.
We've also made a list of Christmas and new year wishes, Grinch quotes and new year quotes that you can send to all your friends and family.
Alright then, let's get to it!
In this post, you will find:
Inspirational Christmas Quotes
Short Christmas quotes
Funny Christmas quotes
Christmas Quotes for Family and Friends
Christian Christmas quotes
Christmas tree quotes
Santa Quotes
Christmas Quotes
Inspirational Christmas Quotes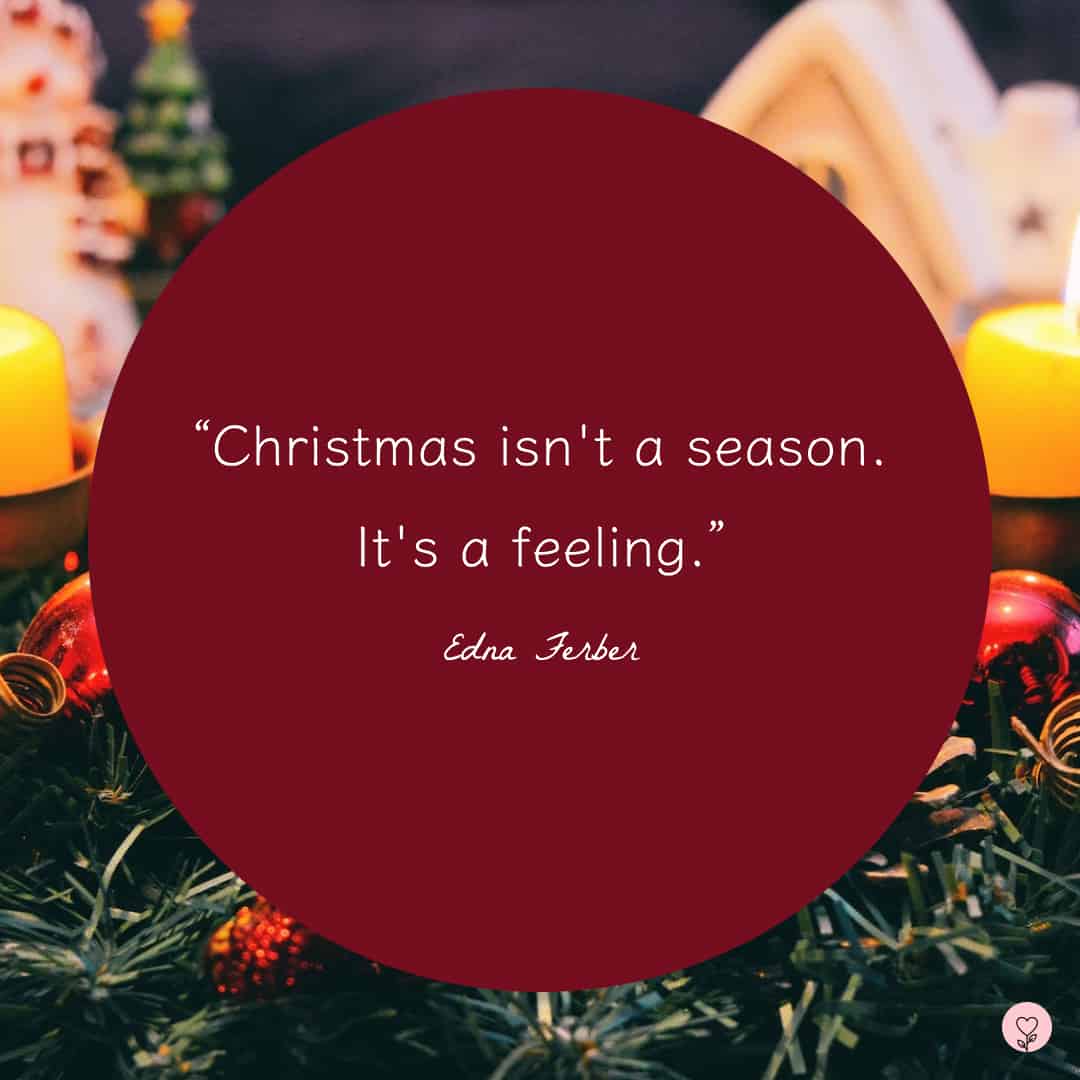 "Christmas isn't a season. It's a feeling."
— Edna Ferber
"Christmas is the spirit of giving without a thought of getting. It is happiness because we see joy in people. It is forgetting self and finding time for others. It is discarding the meaningless and stressing the true values."
— Thomas S. Monson
"Christmas is a season not only of rejoicing but of reflection."
— Winston Churchill
"Christmas is the perfect time to celebrate the love of God and family and to create memories that will last forever. Jesus is God's perfect, indescribable gift. The amazing thing is that not only are we able to receive this gift, but we are able to share it with others on Christmas and every other day of the year."
— Joel Osteen
"Christmas waves a magic wand over this world, and behold, everything is softer and more beautiful."
— Norman Vincent
"Every gift which is given, even though it be small, is, in reality, great, if it is given with affection."
— Pindar
"Christmas is a tonic for our souls. It moves us to think of others rather than of ourselves. It directs our thoughts to giving."
— B. C. Forbes
"The thing about Christmas is that it almost doesn't matter what mood you're in or what kind of a year you've had - it's a fresh start."
— Kelly Clarkson
"I love the excitement, the childlike spirit of innocence, and just about everything that goes along with Christmas."
— Hillary Scott
"Don't let the past steal your present. This is the message of Christmas: We are never alone."
— Taylor Caldwell
"I don't think Christmas is necessarily about things. It's about being good to one another, it's about the Christian ethic, it's about kindness."
— Carrie Fisher
"Christmas, children, is not a date. It is a state of mind."
— Mary Ellen Chase
"I love Christmas, not just because of the presents but because of all the decorations and lights and the warmth of the season."
— Ashley Tisdale
"Christmas is, of course, the time to be home - in heart as well as body."
— Garry Moore
Short Christmas Quotes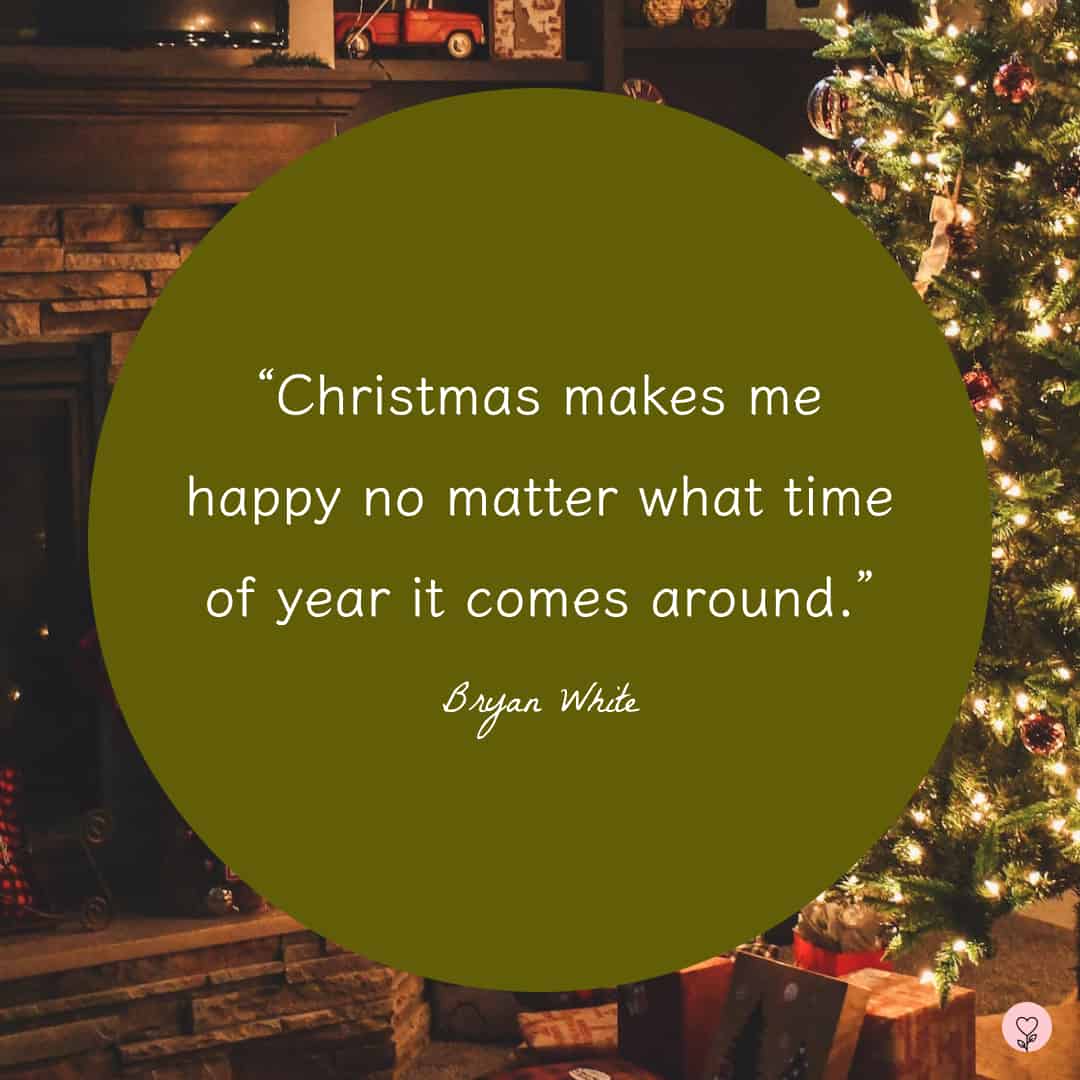 "Christmas makes me happy no matter what time of year it comes around."
— Bryan White
"I save every Christmas card. I keep them all."
— Alison Sweeney
"Christmas is a stocking stuffed with sugary goodness."
— Mo Rocca
"A good conscience is a continual Christmas."
— Benjamin Franklin
"My Christmases have always just been very simple and about family."
— Julie Roberts
"Christmas is a time of year that's so romantic."
— Katharine McPhee
"There's something about a Christmas sweater that will always make me laugh."
— Kristen Wiig
"There would be no Christmas if there was no Easter."
— Gordon B. Hinckley
"For it is in giving that we receive."
— Francis of Assisi
"And know that I am with you always; yes, to the end of time."
— Jesus Christ
"Christmas is the day that holds all time together."
— Alexander Smith
"Christmas is doing a little something extra for someone."
— Charles M. Schulz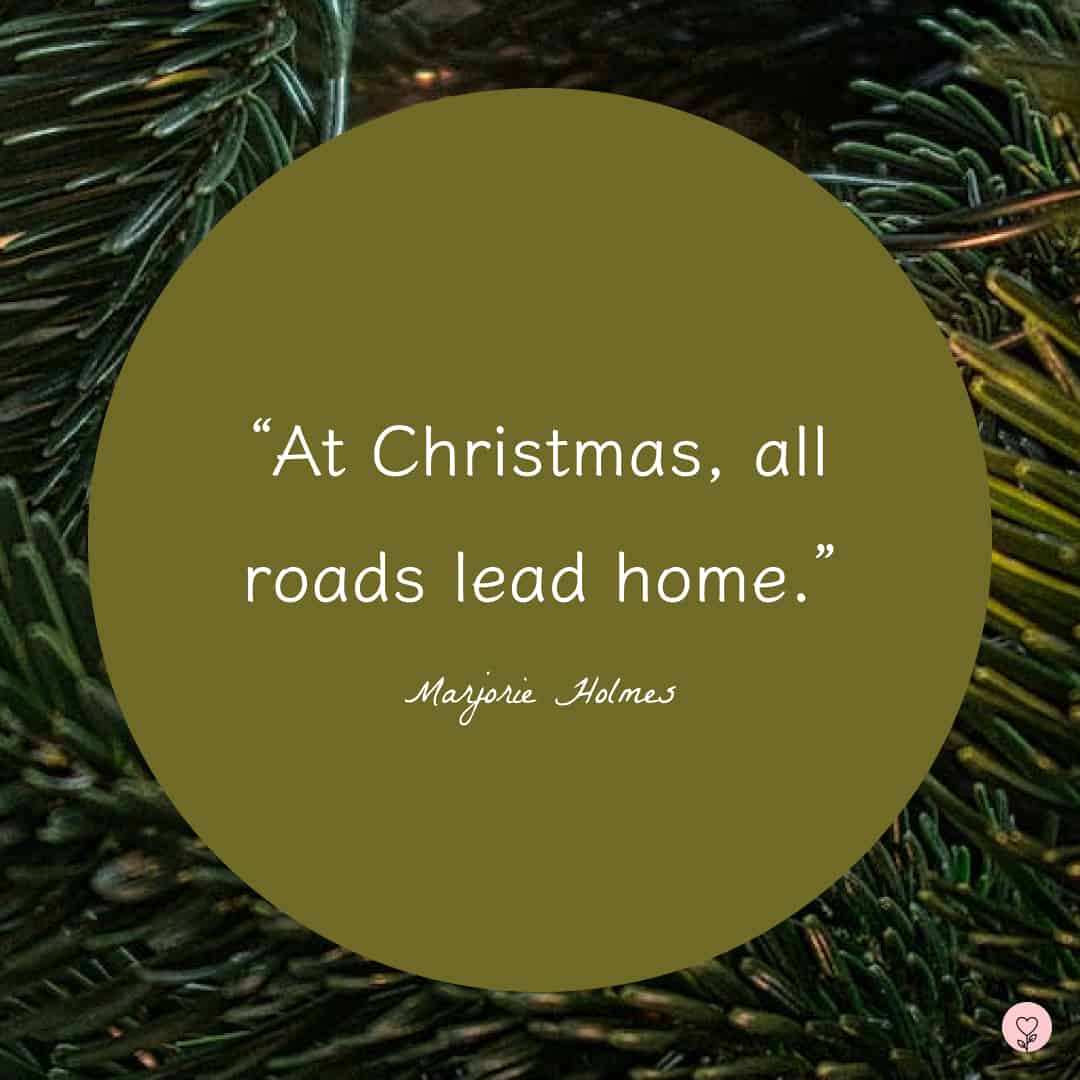 "At Christmas, all roads lead home."
— Marjorie Holmes
"Love the giver more than the gift."
— Brigham Young
"It's Christmas in the heart that puts Christmas in the air."
— W. T. Ellis

Funny Christmas Quotes
"Santa Claus has the right idea - visit people only once a year."
— Victor Borge
"Let's be naughty and save Santa the trip."
— Gary Allan
"I once bought my kids a set of batteries for Christmas with a note on it saying, toys not included."
— Bernard Manning
"A lovely thing about Christmas is that it's compulsory, like a thunderstorm, and we all go through it together."
— Garrison Keillor
"The two most joyous times of the year are Christmas morning and the end of school."
— Alice Cooper
"Mail your packages early so the post office can lose them in time for Christmas."
— Johnny Carson
"Pets, like their owners, tend to expand a little over the Christmas period."
— Frances Wright
"Nothing says holidays, like a cheese log."
— Ellen DeGeneres
"One of the most glorious messes in the world is the mess created in the living room on Christmas day. Don't clean it up too quickly."
— Andy Rooney
"Nothing's as mean as giving a little child something useful for Christmas."
— Kin Hubbard
Christmas Quotes for Family and Friends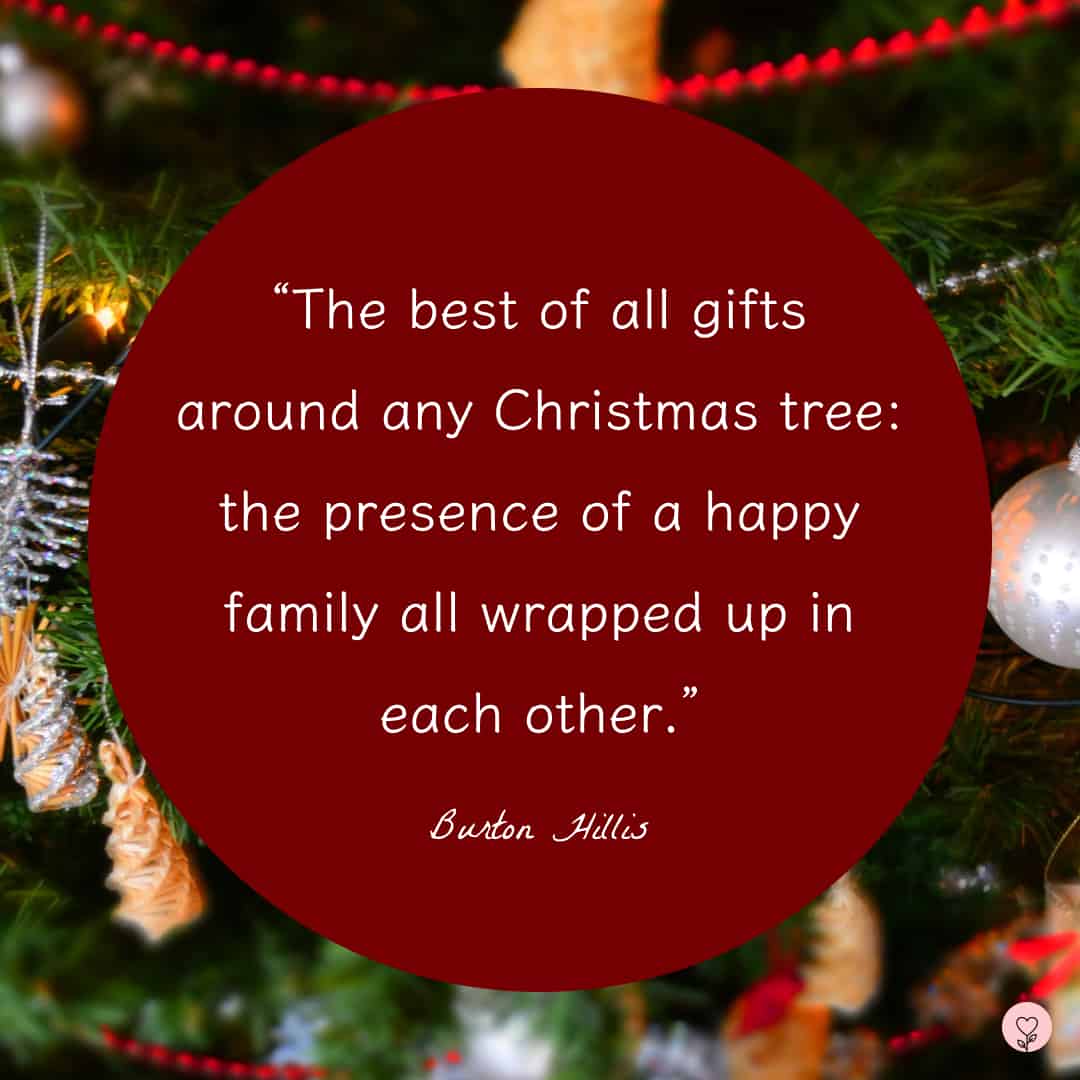 "The best of all gifts around any Christmas tree: the presence of a happy family all wrapped up in each other."
— Burton Hillis
"Christmas is a time when you get homesick - even when you're home."
— Carol Nelson
"Don't get caught up in the wrapping paper and forget that the gift of the Christmas season is simply love."
— Toni Sorenson
"Christmas time is cherished family time. Family time is sacred time."
— Russel M. Nelson
"Christmas Eve, a perfect night to express affection for your family, to forgive those who failed you, and to forget past mistakes."
— Unknown
"If there is love in your heart and your mind, you will feel Christmas all the time."
— Faith Hill
"Christmas will always be as long as we stand heart to heart and hand in hand."
— Dr. Suess
"Christmas is not as much about opening our presents as opening our hearts."
— Janice Maeditere
"Christmas is the spirit of giving without a thought of getting. It is happiness because we see joy in people. It is forgetting self and finding more time for others. It is discarding the meaningless and stressing the true values."
— Thomas S. Monson
"The magical dust of Christmas glittered on the cheeks of humanity ever so briefly, reminding us of what is worth having and what we were intended to be."
— Max Lucado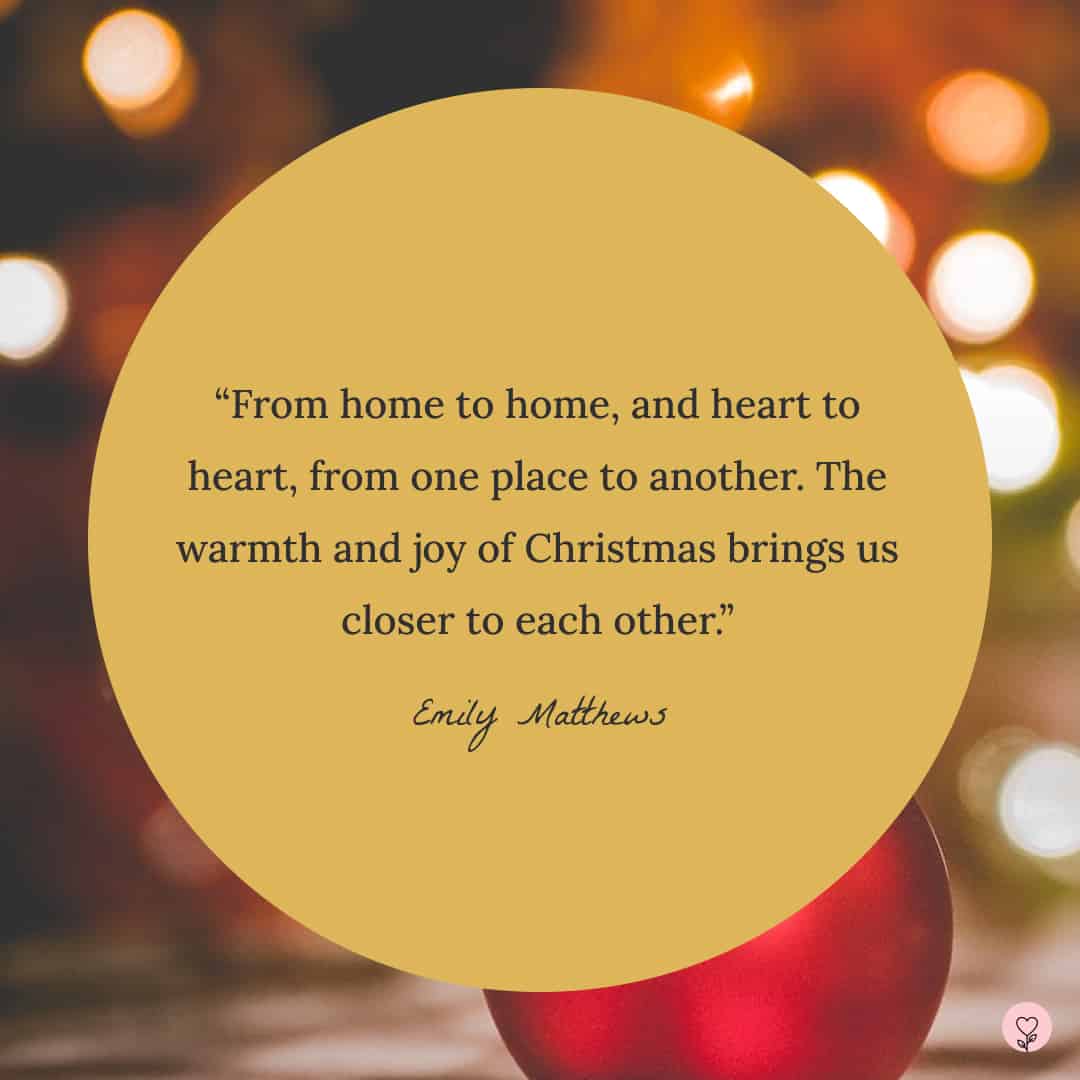 "From home to home, and heart to heart, from one place to another. The warmth and joy of Christmas brings us closer to each other."
— Emily Matthews
Christian Christmas Quotes
"The Word became flesh and made his dwelling among us. We have seen his glory, the glory of the one and only Son, who came from the Father, full of grace and truth."
— John 1:14
"The great challenge left to us is to cut through all the glitz and glam of the season that has grown increasingly secular and commercial, and be reminded of the beauty of the One who is Christmas."
— Bill Crowder
"For it is good to be children sometimes, and never better than at Christmas, when its mighty Founder was a child himself."
— Charles Dickens
"When we were children we were grateful to those who filled our stockings at Christmas time. Why are we not grateful to God for filling our stockings with legs?"
— Gilbert K. Chesterton
"Once in our world, a stable had something in it that was bigger than our whole world."
— C.S. Lewis
"Christmas is joy, religious joy, an inner joy of light and peace."
— Pope Francis
"The giving of gifts is not something man invented. God started the giving spree when He gave a gift beyond words, the unspeakable gift of His Son."
— Robert Flatt
"God never gives someone a gift they are not capable of receiving. If he gives us the gift of Christmas it is because we all have the ability to understand and receive it."
— Pope Francis
"We consider Christmas as the encounter, the great encounter, the historical encounter, the decisive encounter, between God and mankind. He who has faith knows this truly; let him rejoice."
— Pope Paul VI
Christmas Tree Quotes
Pine. The scent of the holidays.
Christmas trees. The star of your living room.
Light up your night with a Christmas tree.
Is it ever too early to put up a Christmas tree?
Memories are lined with the smell of pine.
Beautify your home. Get a Christmas tree.
The glitter and glow bring memories of long ago.
Decorating your Christmas tree is like watching your children grow up once again.
The sparkle in a child's eyes as they decorate the tree outshines any decorations.
Everyone knows how old your kids are by where the ornaments on your Christmas tree are congregated.
Nothing is more festive than watching your tree light up for the season.
Christmas trees bring joy to citizens around the world.
Light up your life by decorating a Christmas tree.
Santa Quotes
Santa Claus is goodness and kindness wrapped in red velvet. He devotes his entire being to bringing children joy.
Santa is the magical spirit of Christmas that sparks the giving in our hearts.
The joy of giving and family are the true gifts that Santa brings.
Santa is the sparkle, shine, and jolly that every holiday needs.
There is no greater sound in the world than the rustle of Santa's sleigh bells on Christmas Eve.
When you hear a ho, ho, ho, it takes you back to the enchanting memories of Santa Claus during your childhood. Santa is more than magic, he's a tradition.
Believing in Santa is believing in the magic of Christmas.
Santa is the magic of making wishes come true.
Santa exists within the hearts of children and adults alike.
The enchanting spirit of Santa Claus brings joy to revelers every Christmas.
Every gift is a little piece of Santa.
Santa works his jolliness right into your heart.
The heart of Christmas is Santa.
Smile! Santa's coming to town.
Find joy in Santa's jolly smile.
Continue Reading: 45+ Merry Christmas and Happy New Year Wishes for 2023