TGIF! 50+ Friday Quotes to Get You Excited for the Weekend
Find joy and inspiration in these Friday quotes as you kick off the weekend.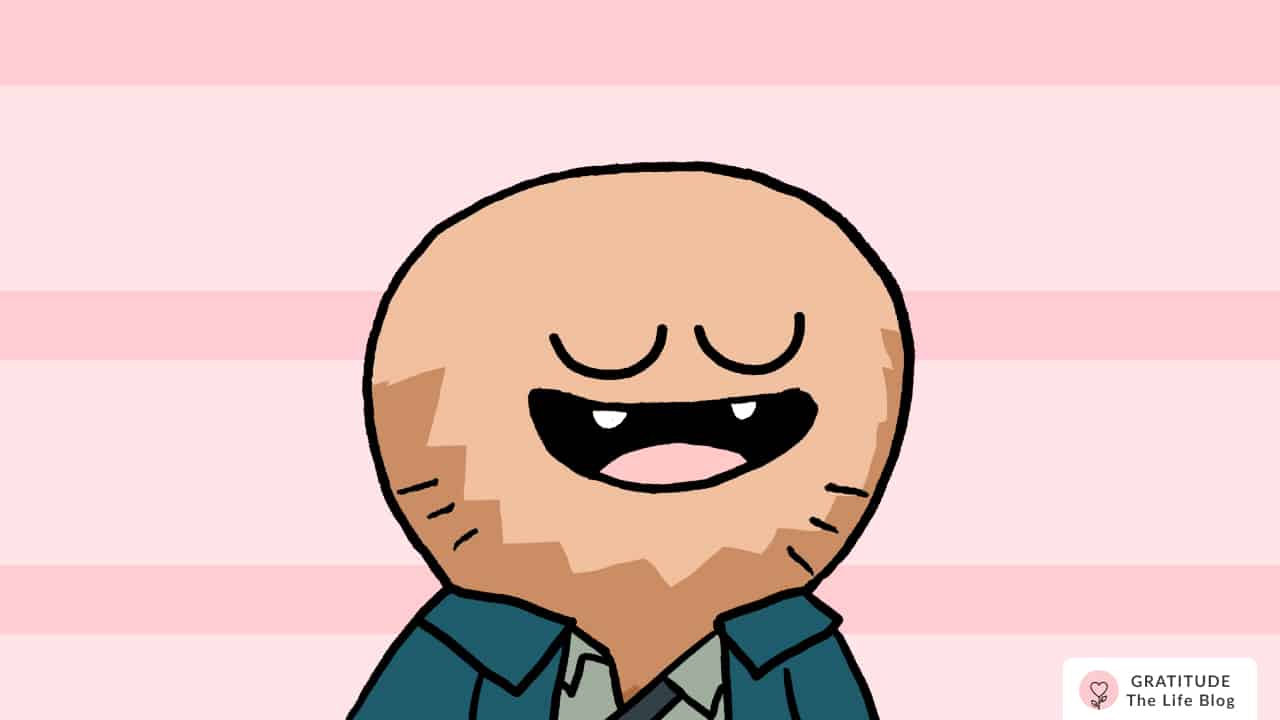 Welcome to our Friday quotes blog post! Friday is the most eagerly awaited day of the week for many people.
It marks the end of a long, busy week and the start of a fun-filled (or sleep-filled) weekend.
The excitement of Friday can be felt in the air as people count down the hours until the workday is over and they can finally relax.
Whether you're a student looking forward to a break from classes, a working professional ready to leave the office behind, or just someone who loves the feeling of the weekend approaching, Friday is a day to be celebrated.
It's a time to let go of the stress and responsibilities of the week and look forward to the possibilities of the next two days.
What's special about Friday?
The end of the work week: For many people, Friday marks the end of a busy and potentially stressful week, so they may look forward to the weekend as a time to relax and recharge.
Time off: Some people may have long weekends or take Friday off as a day of rest or to pursue leisure activities.
Social opportunities: Friday is often a popular night for people to go out with friends or make plans for the weekend, so it may be associated with a sense of social connection and fun.
To help you get into the Friday spirit, we've compiled a list of inspiring and uplifting Friday quotes about this special day.
These words of wisdom and encouragement will remind you to embrace the joy and excitement of the start of the weekend.
So kick back, relax, and let these Friday quotes inspire you to make the most of your well-deserved days off.
Friday Quotes
Friday Motivational Quotes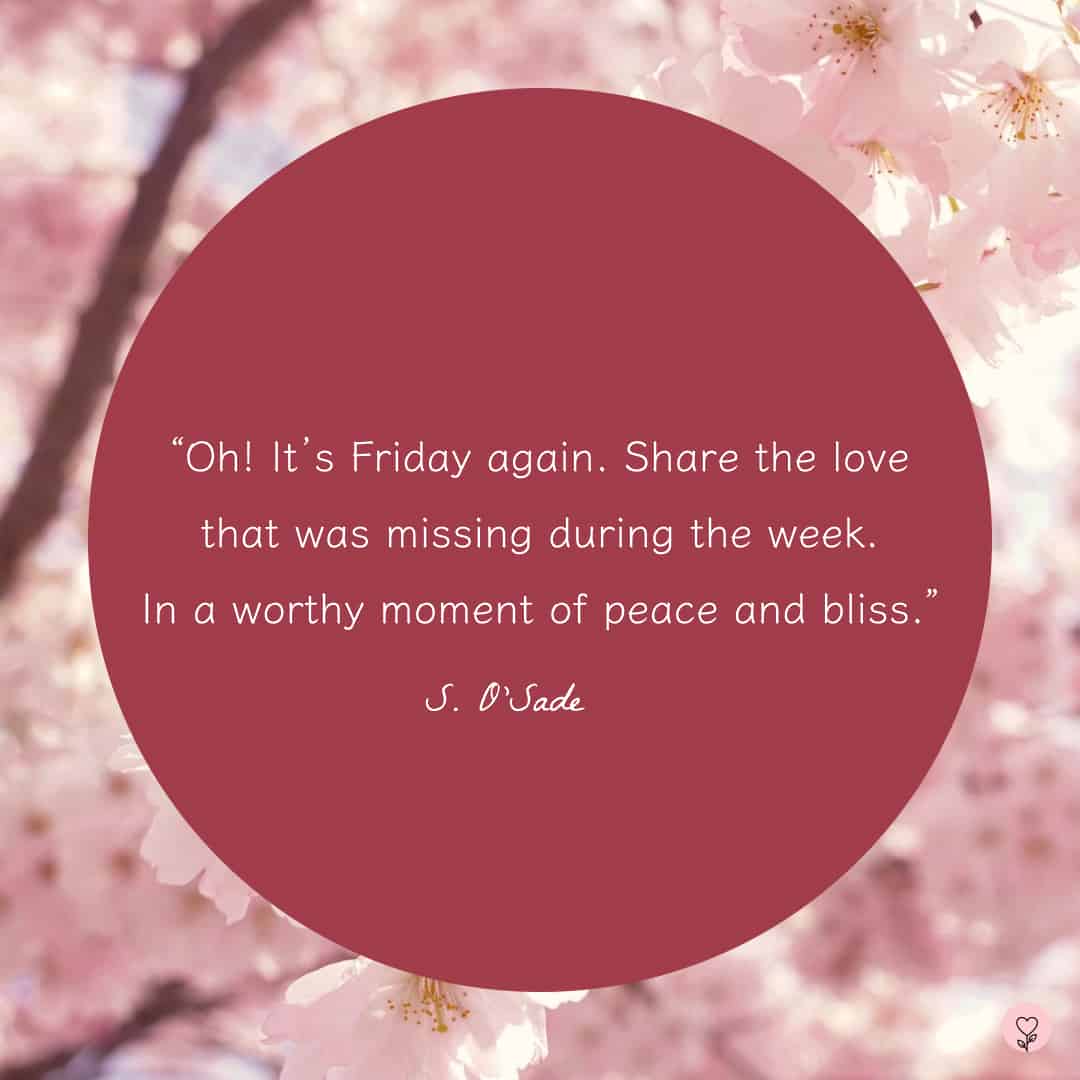 "Oh! It's Friday again. Share the love that was missing during the week. In a worthy moment of peace and bliss."
— S. O'Sade
"I look forward to Fridays because I know I have spent the week offering encouragement, solace, assistance, and good-will to everyone I have met through my journey."
— Byron Pulsifer
"I have never in my life found myself in a situation where I've stopped work and said, 'Thank God it's Friday.' But weekends are special even if your schedule is all over the place. Something tells you the weekend has arrived and you can indulge yourself a bit."
— Helen Mirren
"When you start to do the things that you truly love, it wouldn't matter whether it is Monday or Friday; you would be so excited to wake up each morning to work on your passions."
— Edmond Mbiakading
Here are some relaxing morning affirmations for a wonderful Friday:
"People wait all week for Friday, all year for summer, all life for happiness."
— Raimonda B
"When you leave work on Friday, leave work. Don't let technology follow you throughout your weekend (answering text messages and emails) take a break you will be more refreshed to begin the workweek if you have had a break."
— Catherine Pulsifer
"Don't wait all week for Friday so you can enjoy life. Find a job you love so you can enjoy every day of the week."
— Catherine Pulsifer
"Stop waiting for Friday, for summer, for someone to fall in love with you, for life. Happiness is achieved when you stop waiting for it and make the most of the moment you are in now."
— Unknown
Funny Friday Quotes
"Youth is like a long weekend on Friday night. Middle age is like a long weekend on Monday afternoon."
— Richard Nelson Bolles
"Why is Monday so far away from Friday but Friday is so close to Monday?"
— Unknown
"Although I understand that all days are equal with 24 hours each, most of us agree that Friday is the longest day of the week and Sunday the shortest."
— D.S. Mixel
"Every Friday, I like to high five myself for getting through another week on little more than caffeine, will-power, and inappropriate humor."
— Nanea Hoffman
"There's just one legitimate synonym for Friday: Boom Shakalaka."
— Unknown
"Work starts on Monday. Life begins on Friday."
— Ozama Yasin
"It's Friday. Any plan of being a productive member of society is officially thrown out the window."
— Ronald Wilson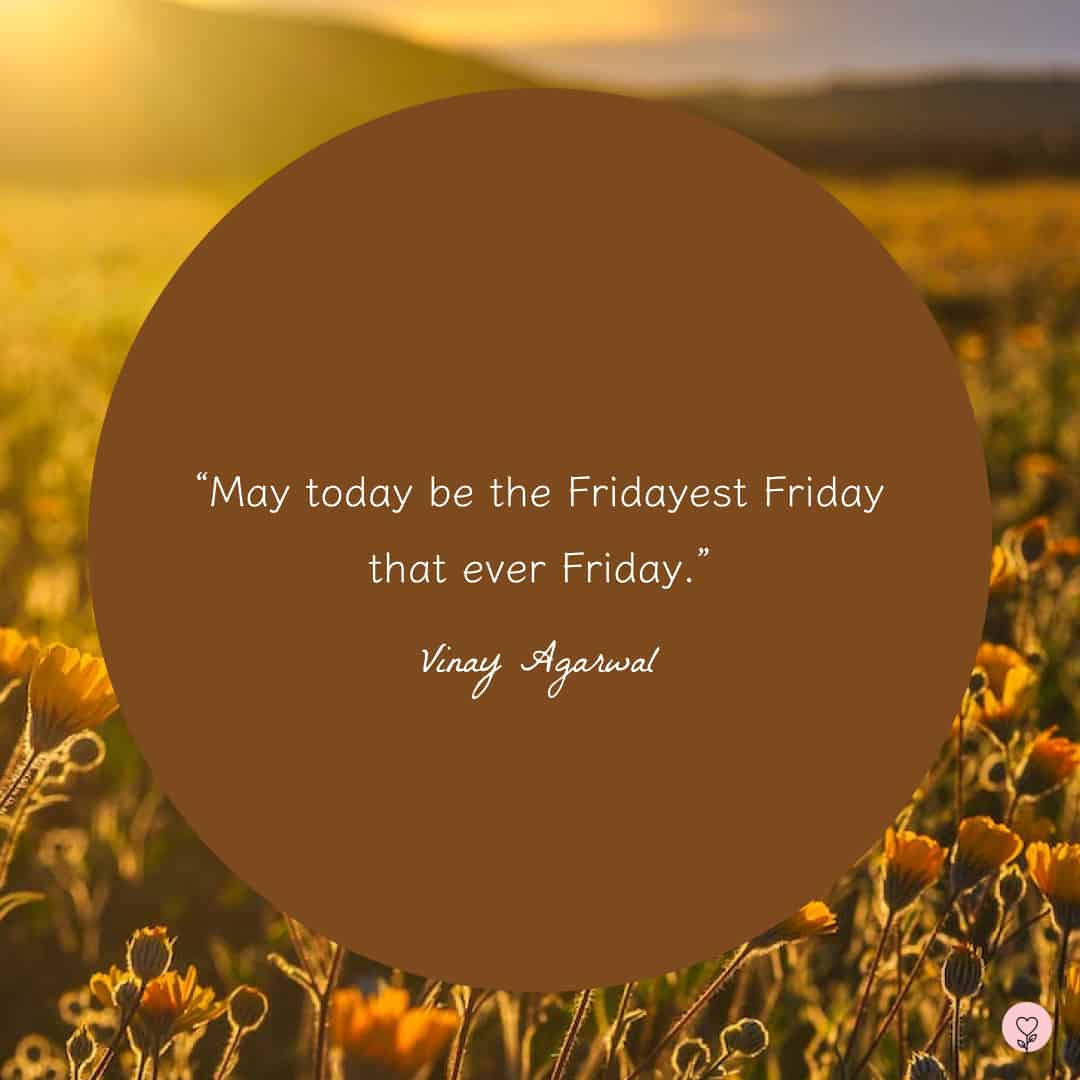 "May today be the Fridayest Friday that ever Friday."
— Vinay Agarwal
"Weekends are a bit like rainbows; they look good from a distance but disappear when you get up close to them."
— John Shirley
"Pretend like it's the weekend … We could pretend it all the time."
— Jack Johnson
"Happy Friday! Here's to all of us who made it through another week of faking adulthood."
— Nanea Hoffman
"The only reason why we ask other people how their weekend was is so we can tell them about our own weekend."
— Chuck Palahniuk
"Tuesday just called and wants to know what happened to Friday!!"
— Neil Leckman
TGIF Friday Quotes
"Fridays are the hardest in some ways: you're so close to freedom."
— Lauren Oliver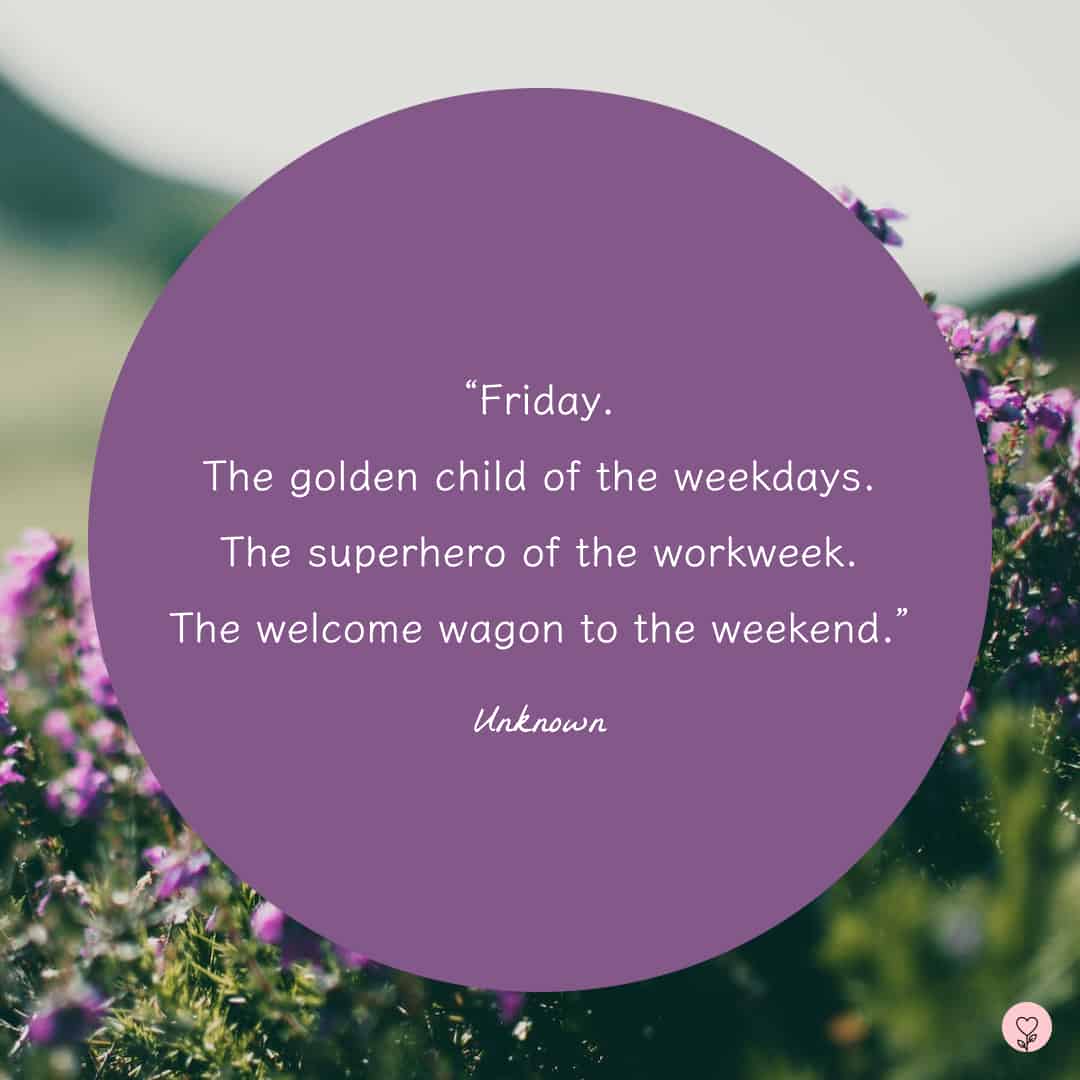 "Friday. The golden child of the weekdays. The superhero of the workweek. The welcome wagon to the weekend."
— Unknown
"Friday sees more smiles than any other day of the workweek!"
— Kate Summers
"Friday afternoon feels like heaven."
— El Fuego
Friday Vibes Quotes
"Employers are at their happiest on Mondays. Employees are at their happiest on Fridays."
— Mokokoma Mokhonoana
"It's always difficult to keep Fridays confined within themselves… they tend to spill over…"
— Parag Tipnis
"On a Friday night, I like to go out because my friends, who have been working normal hours, just want to let go after a stressful week at work."
— Douglas Booth
"Making food is a wonderful way to spend a Friday night."
— Chrissy Teigen
"Who cares about Thursday's happy hour when Friday is upon us?"
— Unknown
"I like going to the movies on a Friday night and seeing something fun."
— Charlie Kaufman
Happy Friday Quotes
"Music always sounds better on Friday."
— Lou Brutus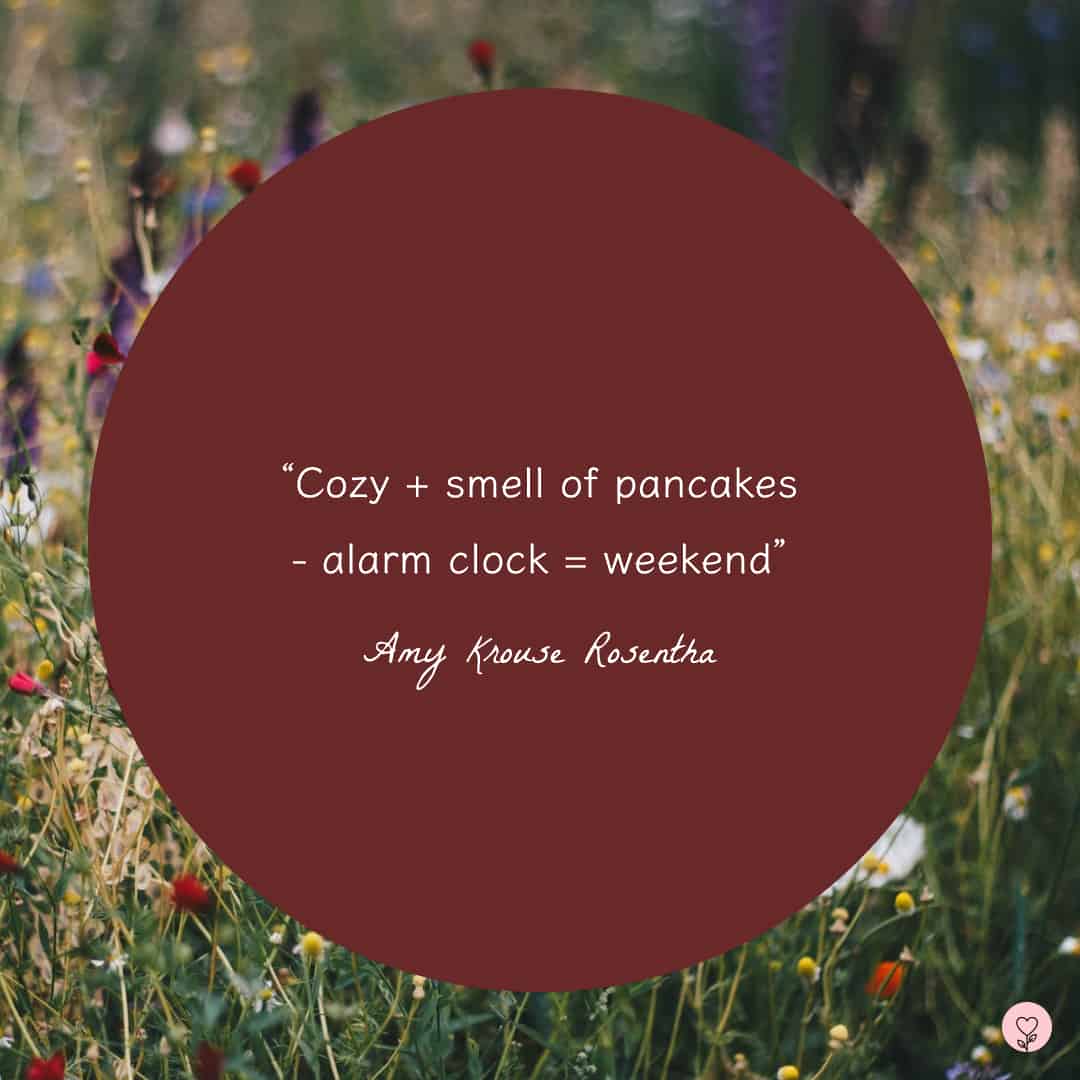 "Cozy + smell of pancakes - alarm clock = weekend"
— Amy Krouse Rosentha
"This Friday, finish your work and be done
Look forward to the weekend and have some fun!"
— Kate Summers
"Wishes for a Happy Friday, and a happy day for every day of the week."
— Catherine Pulsifer
"I believe that it is a mandatory Law of the Universe that on Fridays, you have to do something a little fun."
— Hanna Rhoades
"Isn't it nice to think that tomorrow is a new day with no mistakes in it yet?"
— L.M. Montgomery
"Man starts over again everyday, in spite of all he knows, against all he knows."
— Emil Cioran
"Each new day is a blank page in the diary of your life. The secret of success is in turning that diary into the best story you possibly can."
— Douglas Pagels
"I have always been delighted at the prospect of a new day, a fresh try, one more start, with perhaps a bit of magic waiting somewhere behind the morning."
— J. B. Priestley
"All great beginnings start in the dark, when the moon greets you to a new day at midnight."
— Shannon L. Alder
Friday Morning Quotes
"Friday is about hanging out with friends, having fun."
— Rebecca Black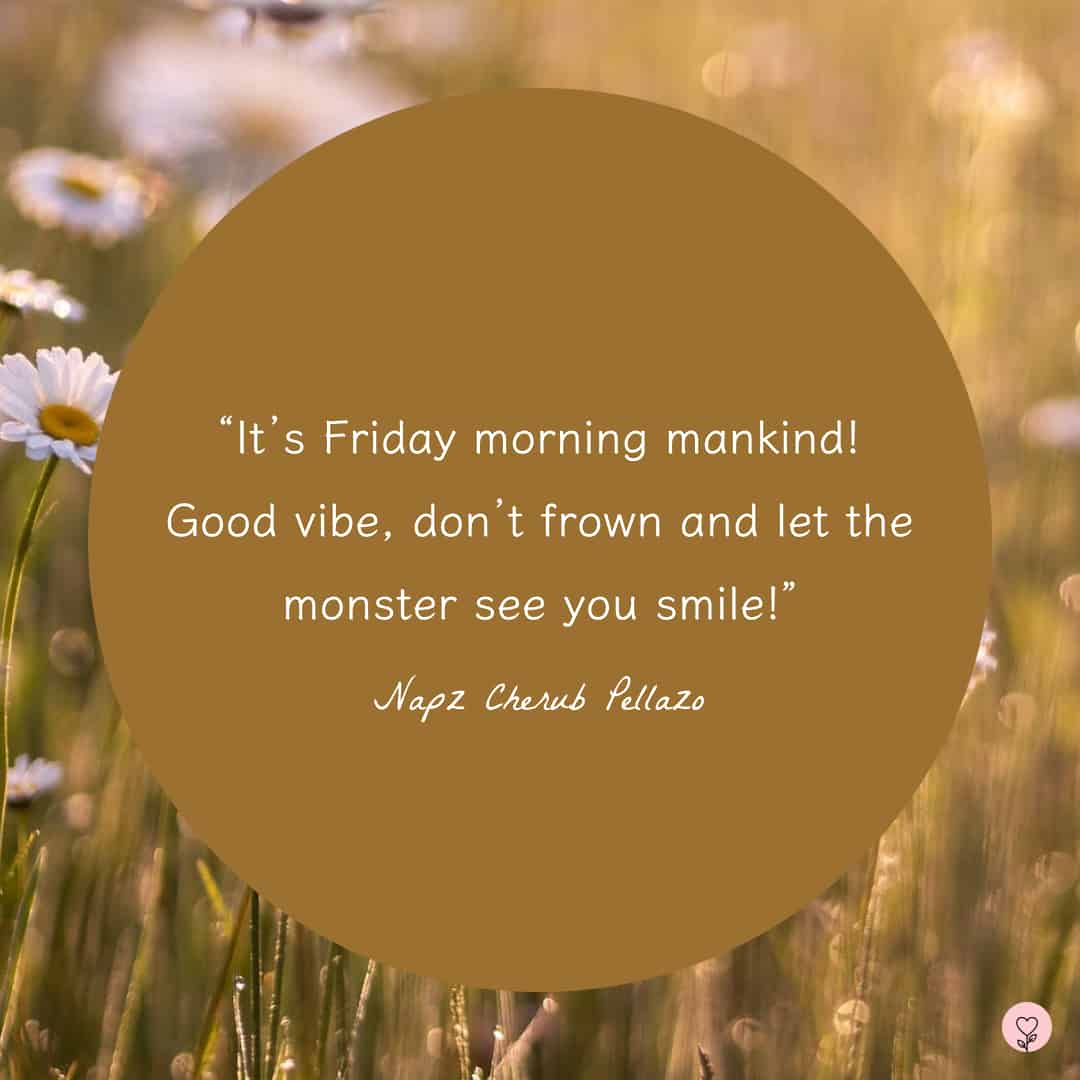 "It's Friday morning mankind! Good vibe, don't frown and let the monster see you smile!"
— Napz Cherub Pellazo
"You're only given a little spark of madness. You mustn't lose it."
— Robin Williams
"Life is not a problem to be solved, but a reality to be experienced."
— Soren Kierkegaard
"It's finally Friday, I'm free again. I got my motor running for a wild weekend."
— George Jones
"Whether the day is for writing, designing, or painting, the consistent practice of a morning routine is the doorway into it all."
— Elle Luna
"Waking up early, connecting with nature, and having my quiet time are priorities to me, and they are non-negotiable."
— Danette May
"In one minute you can change your attitude, and in that minute you can change your entire day."
— Spencer Johnson
"Whether the day is for writing, designing, or painting, the consistent practice of a morning routine is the doorway into it all."
— Elle Luna
"Waking up early, connecting with nature, and having my quiet time are priorities to me, and they are non-negotiable."
— Danette May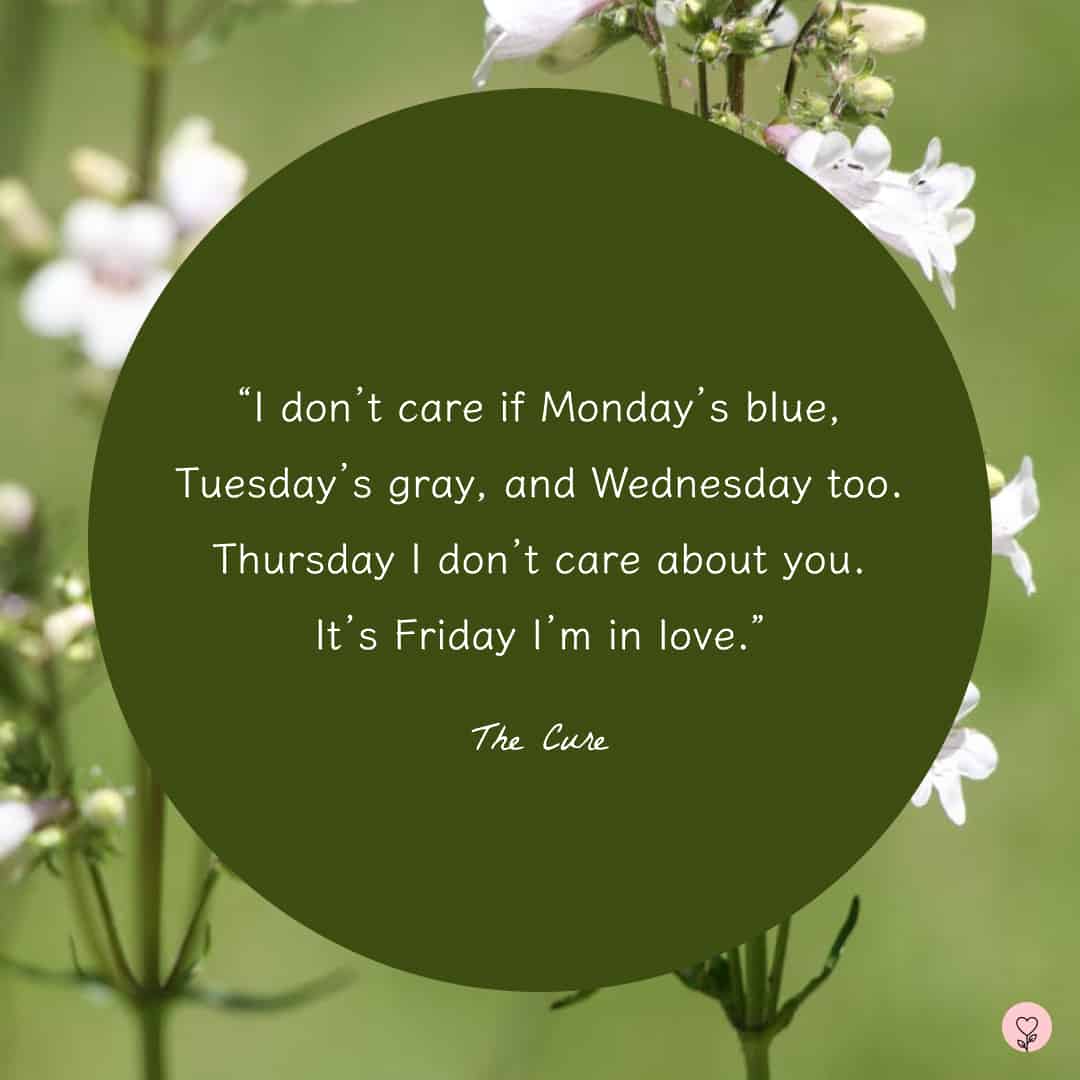 "I don't care if Monday's blue, Tuesday's gray, and Wednesday too. Thursday I don't care about you. It's Friday I'm in love."
— The Cure
Continue Reading: The Best 50 Saturday Quotes to Roll Into The Weekend