14 Easy Writing Tips for Heartfelt Christmas Cards
Pen meaningful notes to your loved ones.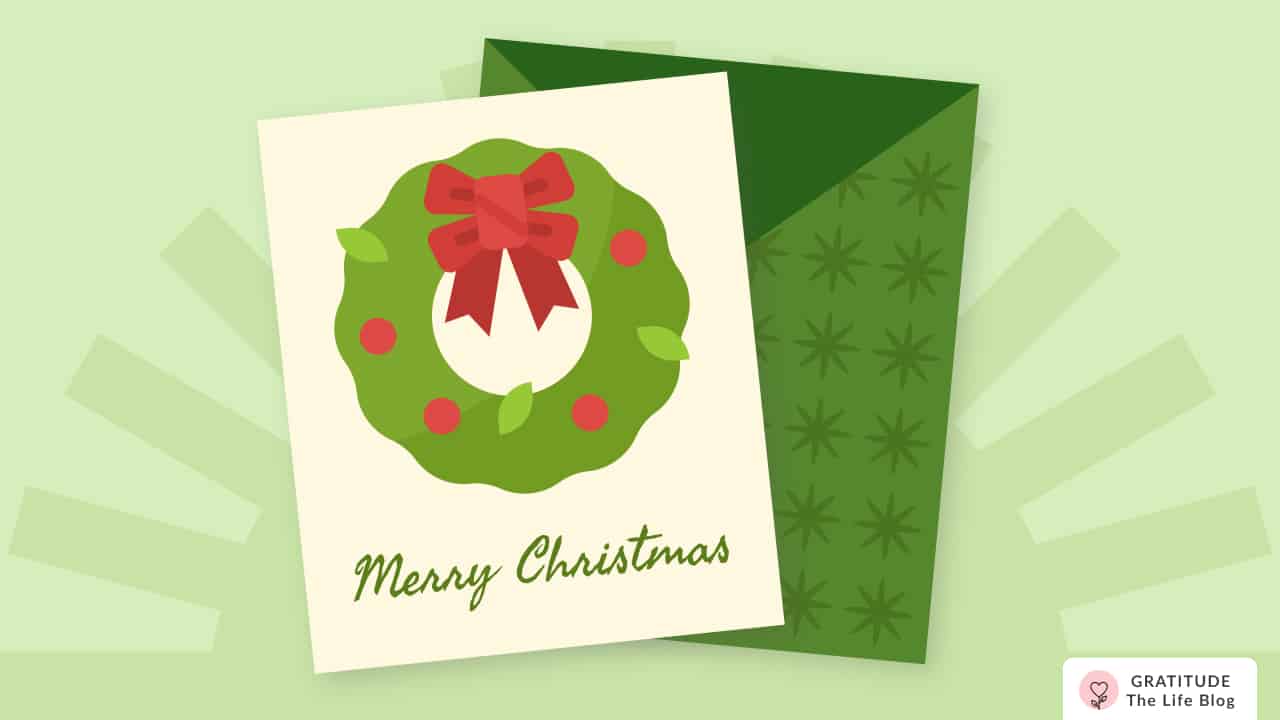 Christmas season has already begun and it's time to sign the Christmas cards and ship them off to their destinations. Christmas cards are a beautiful token of love and gratitude. To help you write a really heartfelt letter that your loved ones will appreciate, I have a few tips!
We all love to receive notes of thanks and well wishes, but when it's our turn to write some, we can be stuck and out of unique ideas. In this post, I'll help you with important points that you should have in your Christmas card note and also give you some examples.
Here we go!
14 Tips for Signing Christmas Cards
1. List everyone you want to send cards to
Getting names off the top of your head may not include everyone who should get the cards. Take out time before you write to know who you have to write to. You can take the help of a family member who's good with names.
Like, I'll definitely not ask my father and definitely ask my mother.
2. Start with a jolly greeting
Instead of the Dear, Dearest, Hello, and more, do something more striking. Here's where I would talk to my father because he talks in superlatives. His Facebook comments sound like this THE MOST ENCHANTING FANTASTISMAL MAGNIFICENT ANGEL. He makes up words as he goes.
Now, you may not choose exactly his route but you can try and make it memorable with some beautiful adjectives that exemplify the person you are writing too.
For example,
To Mesmerizing Natalie
To the ever-sparkling May
To the girl with the brightest smile
To Mitch, the funniest guy in every room
3. Give them good wishes
After greeting them, make sure to wish them a very merry Christmas and express how you hope they are. Write about how you wish their Christmas to be.
4. Share updates about yourself
After wishing for Christmas, you can talk about how everything is on your end, what you've been planning for Christmas, and how you and your family are.
5. Reflect on your time together
A beautiful part of reading a handwritten card is when someone tells you that they are grateful for the time you shared.
Write about a memory that you hold dear with them and how much it means to you.
6. Include a quote (if you want)
Another way to make your Christmas card special is by including a Christmas quote!
Here are a few that you might like:
"Christmas isn't a season. It's a feeling."
— Edna Ferber
"Christmas is the spirit of giving without a thought of getting. It is happiness because we see joy in people. It is forgetting self and finding time for others. It is discarding the meaningless and stressing the true values."
— Thomas S. Monson
"Christmas is a season not only of rejoicing but of reflection."
— Winston Churchill
"The thing about Christmas is that it almost doesn't matter what mood you're in or what kind of a year you've had - it's a fresh start."
— Kelly Clarkson
"I love the excitement, the childlike spirit of innocence, and just about everything that goes along with Christmas."
— Hillary Scott
7. Appreciate them
You can talk more about how you appreciate this person and their presence in your life. Making a letter more personal requires you to make it more specific. Talk about instances when they helped you and what about them you like particularly.
8. Acknowledge their challenges (if it makes sense)
If they have been through hardships this year, it will mean a lot if you talk about that. Pretending to be jolly and ignoring someone's suffering feels the opposite of heartfelt.
You can talk about how sad you are for their suffering and also appreciate how strong they have been.
9. Mention future plans (if any)
As you now go towards ending the note, you can mention if you have any plans with them. If not, you can simply write your hopes for the future and your wish to see them soon.
10. Write carefully to avoid mistakes
You can write the note beforehand in a notebook to get the details right and copy it neatly into the card you wish to send.
11. Keep the language festive
As it is a Christmas card, try to fit in words that feel true to the holiday season. Some examples are sparkle, sprinkle, cheer, and jolly.
12. End with a cheery salutation
Finish your note with a happy ending. Wishing them a happy new year is perhaps the best way to go.
13. Properly address the letters
Make sure that you get the address, zip/pin code, and phone number right. Try to write in block letters. Don't use cursive unless it's very very clear.
Also, don't forget to include your address details too. If you have a printer at home you can print your details and stick them on the envelopes so you don't have to write them again and again.
14. Send letters on time
Take into account how busy post offices get during festivities. Send out your letters at least at the start of December. If you are short on time already, you can opt for other postal services that could be more expensive but also much quicker.
💌 Example note
To the incomparable Àurea,
A very Merry Christmas to you and everyone at home! I hope this card brings a big smile to your beautiful face and more holiday magic to your day.
As I sit down to write this, my heart is filled with gratitude for the timeless moments we've shared this year. You are truly one of the best friends I have.
I wish you a Christmas brimming with love, laughter, and the simple joys that make this time of the year so special. Your presence in my life has been an unending source of comfort and joy, and I want you to know how deeply I appreciate you.
This year has had its tough moments and your strength through it all was so inspiring. You truly are a force of nature. There is a quote that comes to my mind:
"Don't let the past steal your present. This is the message of Christmas: We are never alone."
— Taylor Caldwell
I am always here for you, Àurea. Thank you for being a shining light in my life. Can't wait to see you in April!!
Sending you a big hug and all the festive cheer in the world!
Wishing you a beautiful New Year,
Aarushi
And, that's it! I hope you enjoy writing your Christmas cards and sending them to the wonderful people in your life. Remember that a card is not a piece of paper but a small piece of love in your heart. Merry Christmas!
Continue Reading: 100+ Merry Christmas Wishes & Sayings for Holiday Cards