60+ Thursday Quotes to Motivate You Through The Day
Sail through the day seamlessly with these motivating words.
Welcome to our latest blog post on Thursday quotes!
Thursday marks the halfway point of the week, and it can often be a busy and hectic day as we work to tie up loose ends and prepare for the weekend ahead.
In this post, we've gathered a collection of Thursday quotes to help you get through the day with a positive mindset and a sense of motivation.
From the words of famous writers and thinkers to the wisdom of everyday people, these quotes will remind you to stay focused, keep moving forward, and find joy in the present moment.
So take a few minutes to read through our favorite Thursday quotes, and let them inspire and motivate you as you tackle the rest of your week.
Thursday Quotes
Motivational Thursday Quotes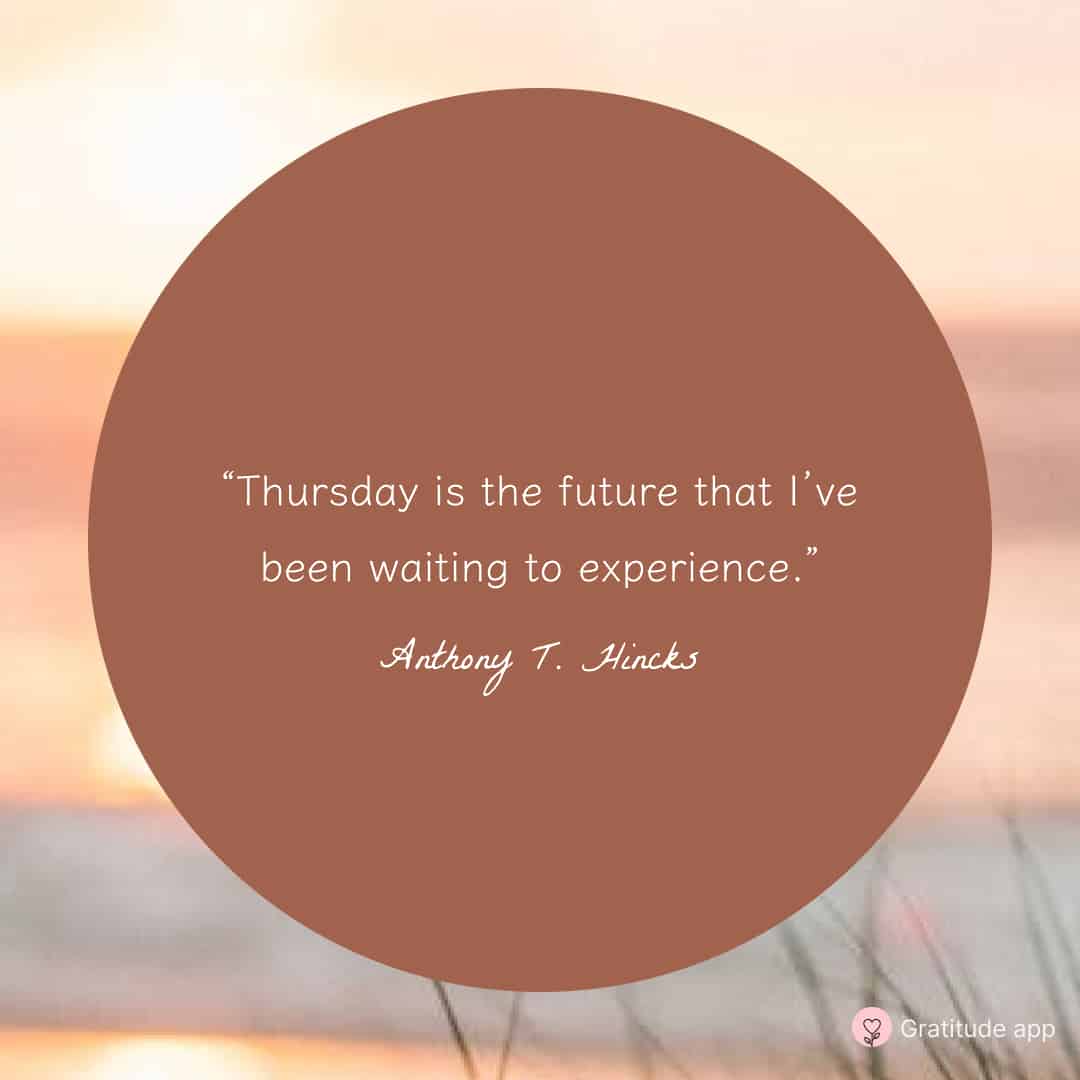 "Thursday is the future that I've been waiting to experience."
— Anthony T. Hincks
"Do something today that your future self will thank you for."
— Sean Patrick Flanery
"Opportunities don't just happen, you create them."
— Chris Grosser
"If you ever think about giving up, remember why you held on for so long."
— Hayley Williams
"You can quit anything on a Thursday."
— Bob Goff
"Thursday is full of timeless thoughts and marshmallow dreams."
— Anthony T. Hincks
To help you feel more in control of your day and make the best out of it, here are confidence affirmations for you:
"Your whole life is a manifestation of the thoughts that go on in your head."
— Lisa Nichols
"A person is what he or she thinks about all day long."
— Ralph Waldo Emerson
"Destiny is not a matter of chance; it is a matter of choice."
— William Jennings Bryan
"The only way to do great work is to love what you do. If you haven't found it yet, keep looking. Don't settle. As with all matters of the heart, you'll know when you find it."
— Steve Jobs
"Holding on is believing that there's only a past; letting go is knowing that there's a future."
— Daphne Rose Kingma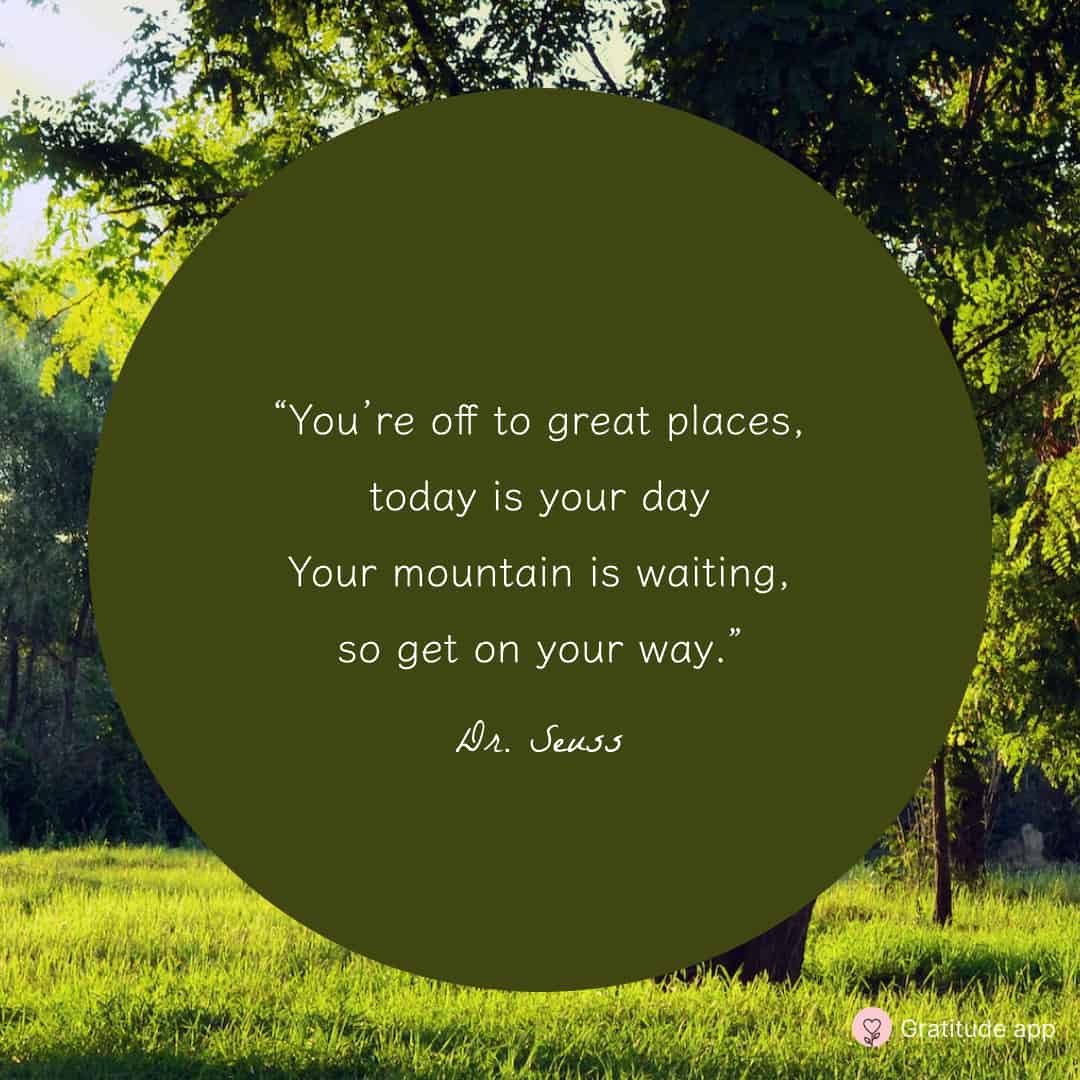 "You're off to great places, today is your day.
Your mountain is waiting, so get on your way."
— Dr. Seuss
"The first step towards getting somewhere is to decide you're not going to stay where you are."
— JP Morgan
"Forgiveness says you are given another chance to make a new beginning."
— Desmond Tutu
"It's a wise man who understands that every day is a new beginning, because boy, how many mistakes do you make in a day?"
— Mel Gibson
"I live my life in widening circles that reach out across the world."
— Rainer Maria Rilke
"Challenges are gifts that force us to search for a new center of gravity. Don't fight them. Just find a new way to stand."
— Oprah Winfrey
"The greatest glory in living lies not in never falling, but in rising every time we fall."
— Nelson Mandela
"When the winds of change blow, some people build walls and others build windmills."
— Chinese Proverb
Thursday Morning Quotes
"Today you are you, that is truer than true. There is no one alive who is youer than you."
— Dr. Seuss
"Thursday morning and the sun is early
Thursday morning and the trees are singing."
— Giles, Giles & Fripp
"Thursday, I forecast as mostly sunny. It's a much-needed break."
— John Farley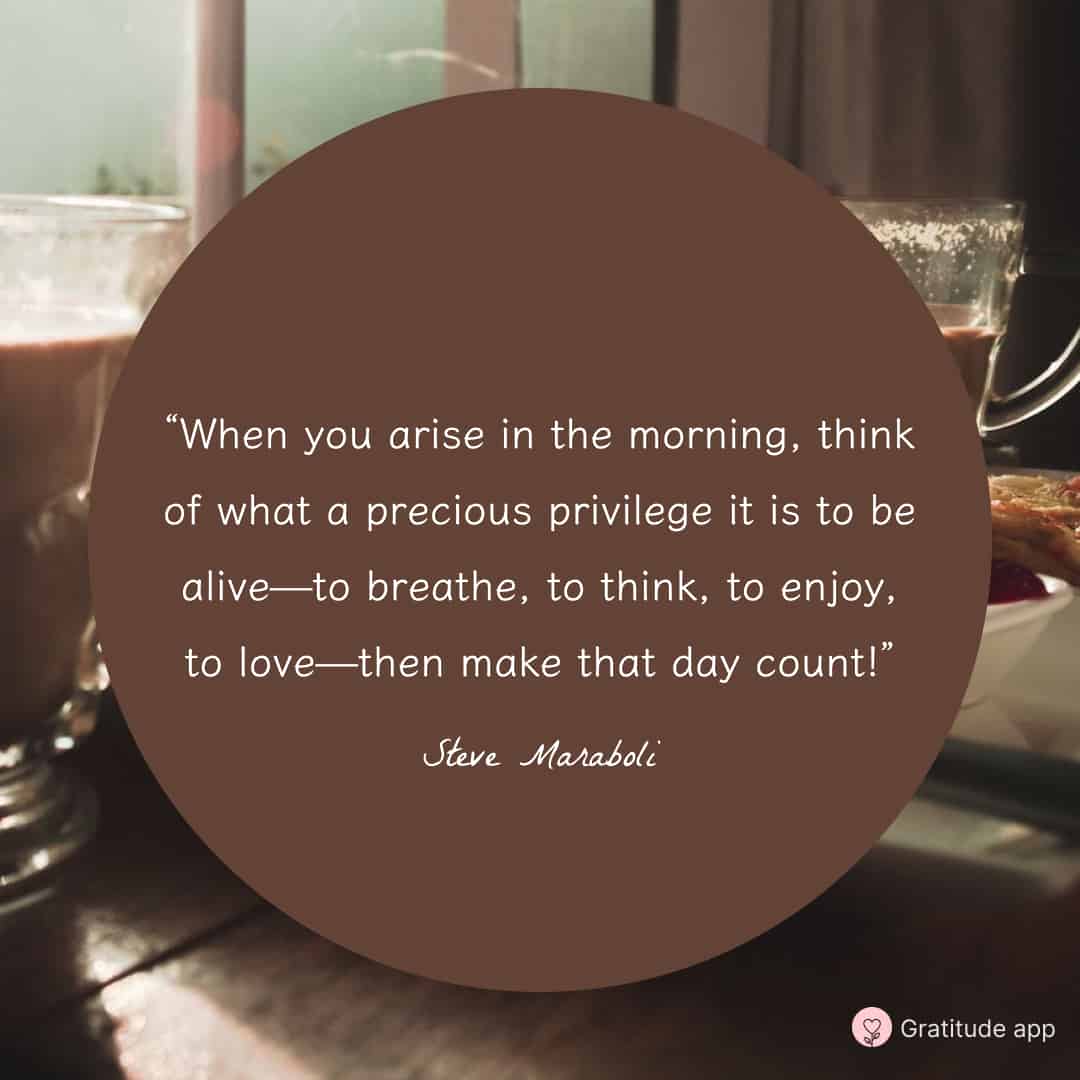 "When you arise in the morning, think of what a precious privilege it is to be alive—to breathe, to think, to enjoy, to love—then make that day count!"
— Steve Maraboli
"Be willing to be a beginner every single morning."
— Meister Eckhart
"Every morning was a cheerful invitation to make my life of equal simplicity, and I may say innocence, with Nature herself."
— Henry David Thoreau
"Morning not only forgives, it forgets."
— Marty Rubin
"I drink a cup of sunlight every morning to brighten myself."
— Debasish Mridha
"There is nowhere morning does not go."
— Leah Hager Cohen
"Every morning is a reminder to let go of the past and embrace the present."
— Tonmoy Acharjee
"My first thought in the morning is thanksgiving."
— Lailah Gifty Akita
"Let the Morning Sky shade be your favorite color!"
— Somya Kedia
Happy Thursday Quotes
"Happy Thursday! Greet your problems and decisions with peace and calm."
— Tracey Edmonds
"Some people call it Thursday, I like to call it Friday Eve."
— Unknown
"It's Thursday and it really feels like a Thursday. Sometimes things just work out."
— Demetri Martin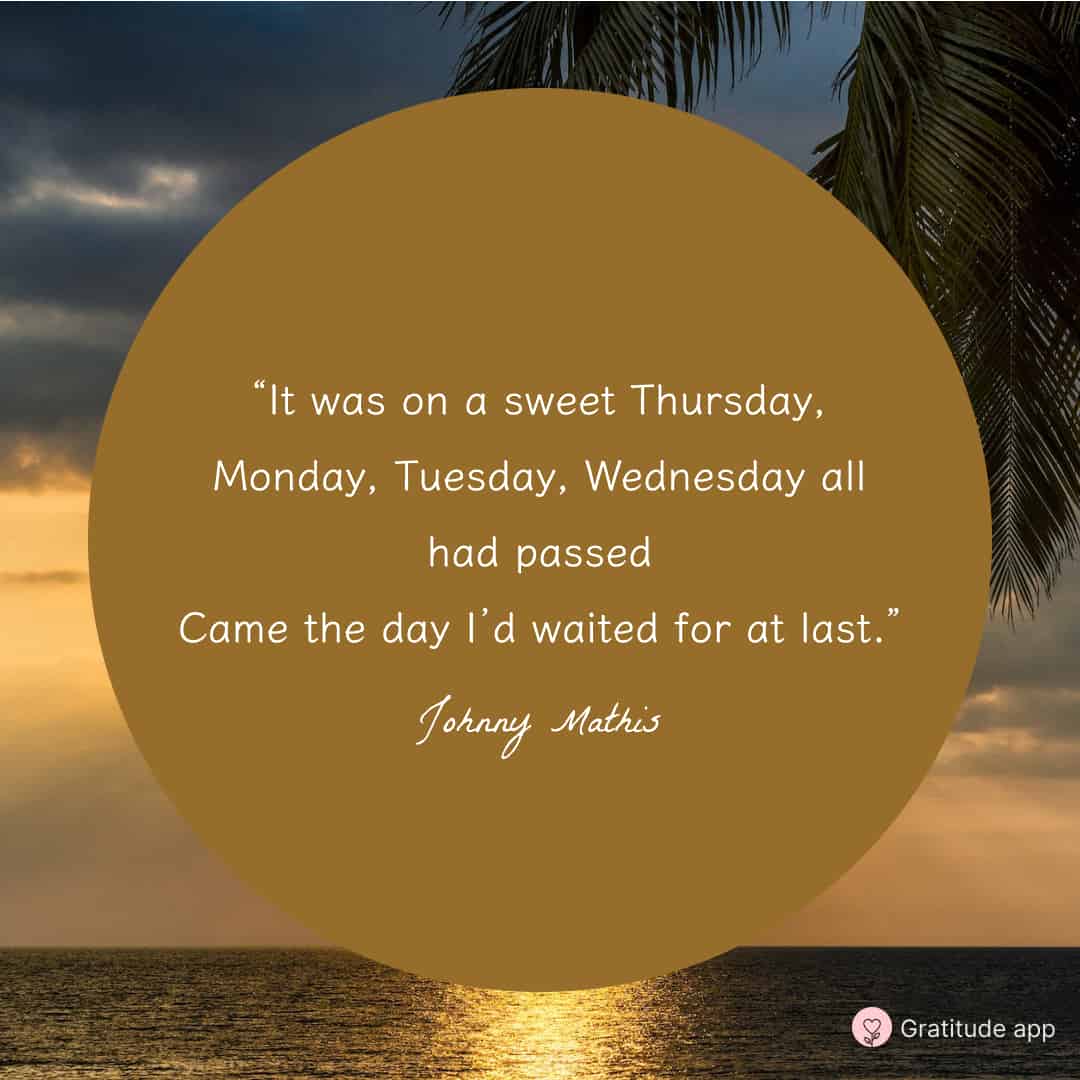 "It was on a sweet Thursday,
Monday, Tuesday, Wednesday all had passed
Came the day I'd waited for at last."
— Johnny Mathis, Sweet Thursday
"Wednesday can only dream of becoming a Thursday."
— Anthony T. Hincks
"One of the greatest regrets in life is being what others would want you to be, rather than being yourself."
— Shannon L. Alder
"I am only one, but I am one. I cannot do everything, but I can do something. And because I cannot do everything, I will not refuse to do the something that I can do."
— Edward Everett Hale
"And no one will listen to us until we listen to ourselves."
— Marianne Williamson
"Let others determine your worth and you're already lost because no one wants people worth more than themselves."
— Peter V. Brett
"Believe in yourself! Have faith in your abilities! Without humble but reasonable confidence in your own powers, you cannot be successful or happy."
— Norman Vincent Peale
Thankful Thursday Quotes
"The struggle ends when the gratitude begins."
— Neale Donald Walsch
"Gratitude is an appreciation for every moment in your life. It is a feeling of abundance."
— Brenda Nathan
"I turned my attention to gratitude and discovered that the more I cultivated a sense of appreciation for all that I had, the happier and less fearful I was."
— M. J. Ryan
"'Count your blessings' is such a common expression that it has become a catchphrase. Yet it contains powerful truth and meaning: Be grateful for what you have – and for what you don't have."
— Robert W. Bly
"We should not measure success by bank accounts filled with money, but rather by moments filled with joy and gratitude. Pursuing your passion vigorously and relentlessly will bring you those moments."
— Dennis Houchin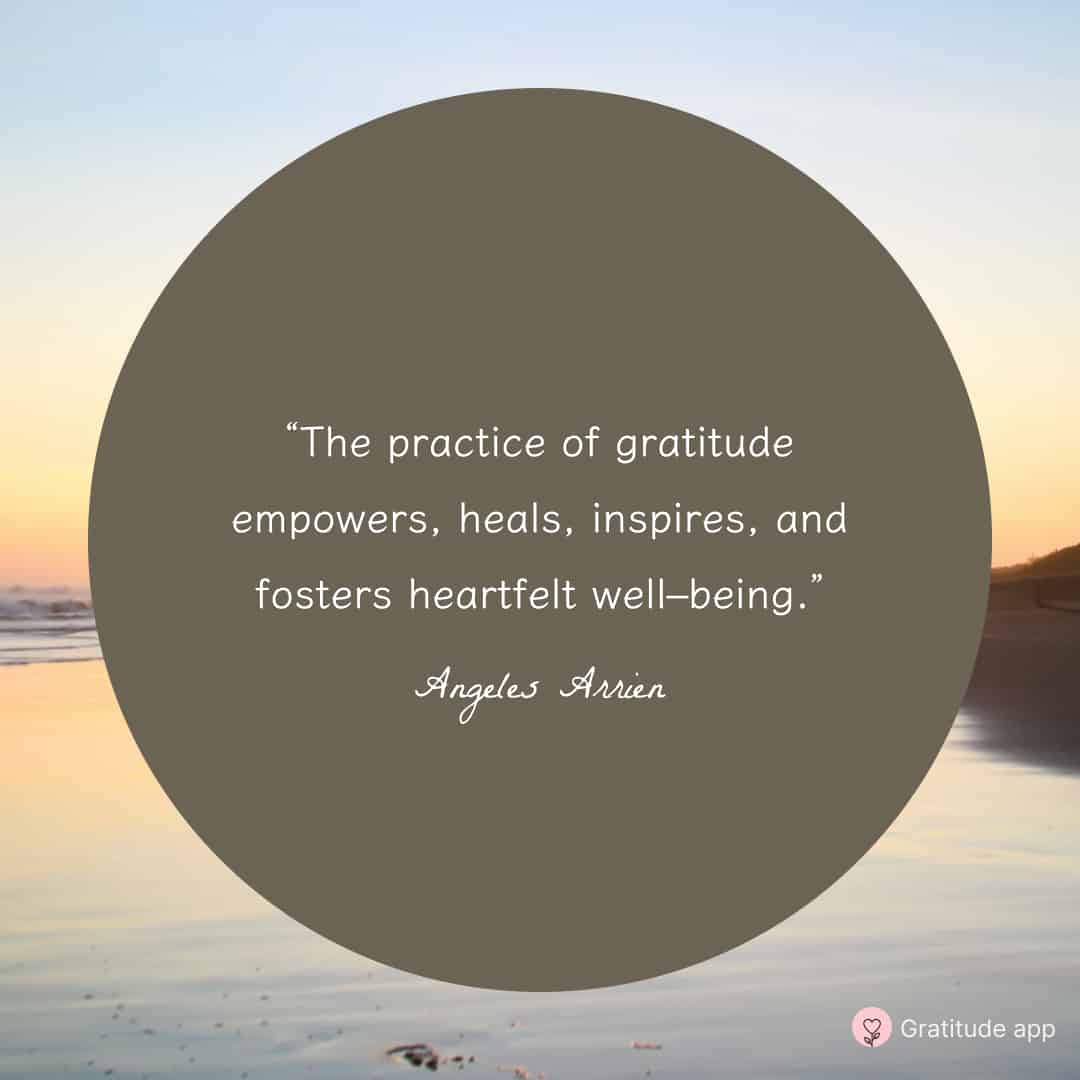 "The practice of gratitude empowers, heals, inspires, and fosters heartfelt well–being."
— Angeles Arrien
"It takes a lot of courage to have an attitude of gratitude during the dark times. But once you have it, it empowers you."
— Joshua Tongol
"Thankfulness is the beginning of gratitude. Gratitude is the completion of thankfulness. Thankfulness may consist merely of words. Gratitude is shown in acts."
— Henri Frederic Amiel
"Walk as if you are kissing the Earth with your feet."
— Thich Nhat Hanh
"We must find time to stop and thank the people who make a difference in our lives."
— John F. Kennedy
"Gratitude is not only the greatest of virtues but the parent of all others."
— Marcus Tullius Cicero
"Appreciation is a wonderful thing. It makes what is excellent in others belong to us as well."
— Voltaire
"We should certainly count our blessings, but we should also make our blessings count."
— Neal A. Maxwell
"The unthankful heart discovers no mercies; but the thankful heart will find, in every hour, some heavenly blessings."
— Henry Ward Beecher
"Not what we say about our blessings, but how we use them, is the true measure of our thanksgiving."
— W.T. Purkiser
"The miracle is not to walk on water. The miracle is to walk on the green earth, dwelling deeply in the present moment and feeling truly alive."
— Thich Nhat Hanh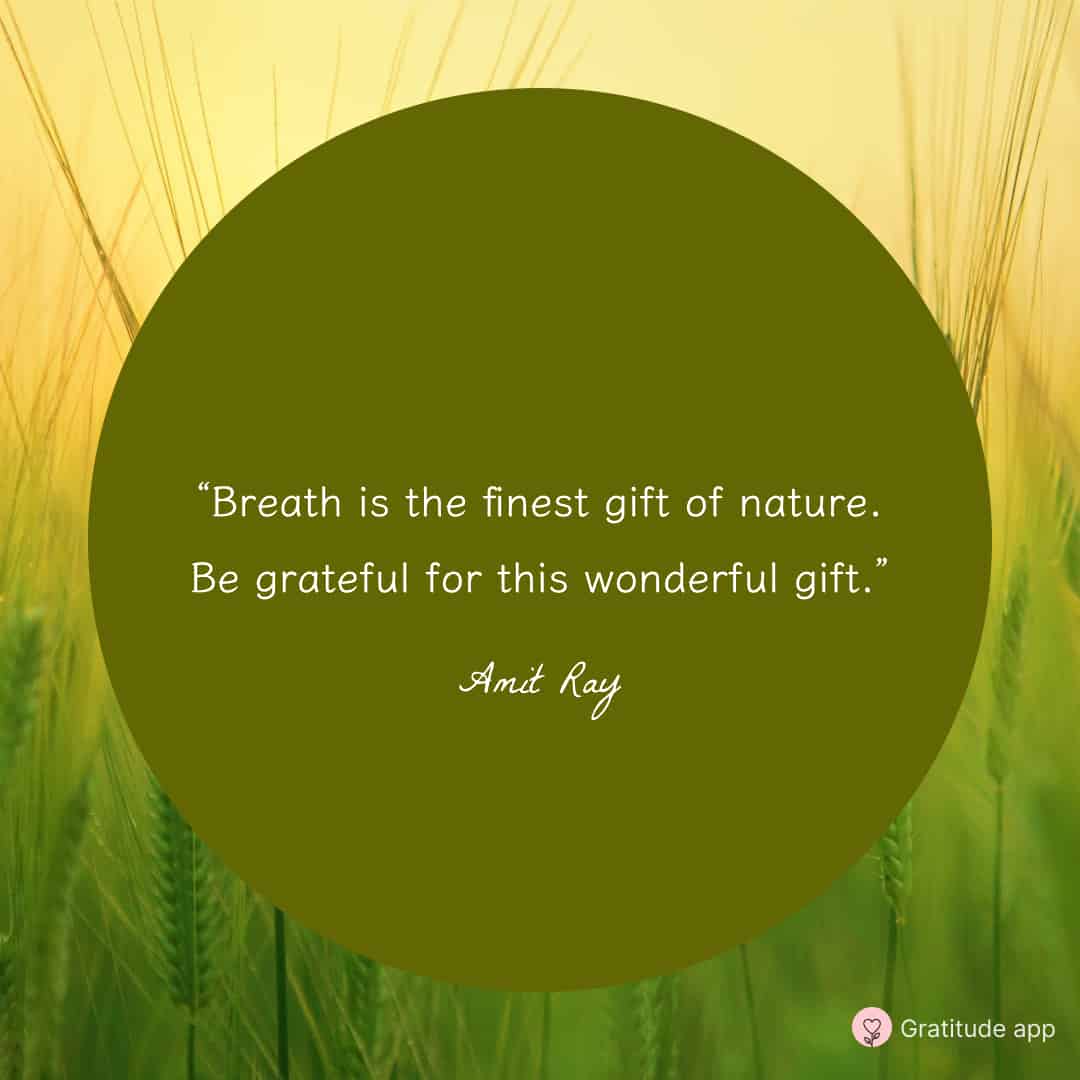 "Breath is the finest gift of nature. Be grateful for this wonderful gift."
— Amit Ray
"It's a funny thing about life, once you begin to take note of the things you are grateful for, you begin to lose sight of the things that you lack."
— Germany Kent
"In every class of society, gratitude is the rarest of all human virtues."
— Wilkie Collins
"Life is a web of intersections and choices. Your 1st choice is to recognize an intersection. Your 2nd choice is to be grateful for it."
— Ryan Lilly
Continue Reading: TGIF! 50+ Friday Quotes to Get You Excited for the Weekend
Take the 21-day Happiness Challenge