110 Vision Board Ideas For All Areas of Life
Here is a list of 110 goals for all areas of life to help you create your vision board seamlessly.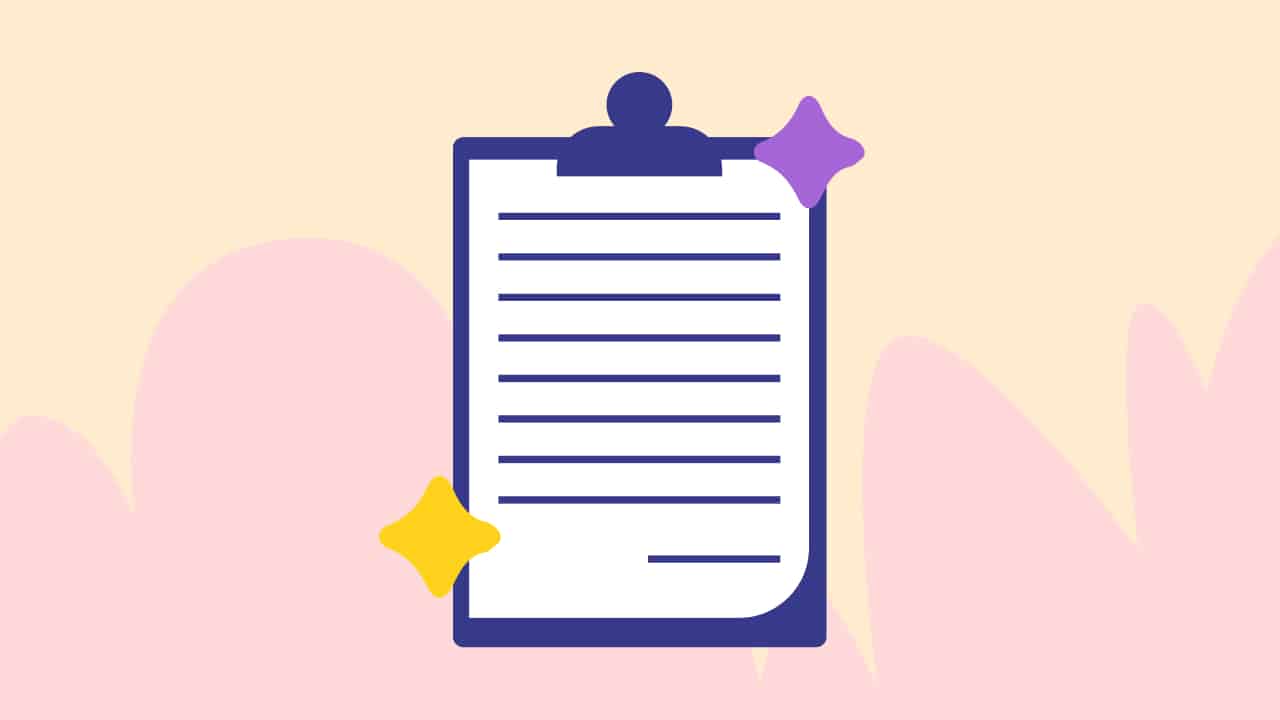 The vision board, also called a dream board, is a method of putting your goals out into the Universe in the form of photographs and words. Imagine a glorious photo collage that displays you living your most ambitious, most outrageous dreams.
While it's easy to create, for the most part, sometimes getting vision board ideas about what goals to set for each area of your life can be tricky. You have to be really specific. Not to worry, though. We got you covered!
But, before you start, let's prep your mindset to be confident and empowered so that you don't hesitate in setting goals for yourself, but truly believe in your power and endless capabilities.
As you're here, you'll love our course on making your most effective vision board.
Winner Mindset
You are about to lay the foundation of that perfect life that is waiting for you. You can have anything that you want. Think of yourself as that invincible superhero in a movie, standing on top of a skyscraper, your majestic red cape flowing with the wind.
As you create your vision board, really believe in the infinite power of the Universe that is in you. Choose impossible, audacious goals that no one would dare to dream. Go crazy, go limitless.
Nothing can stop you from living your dream life. There are no boundaries. Everything that you want is out there for you to have. You are the creator of your future and you can shape it any way that you want.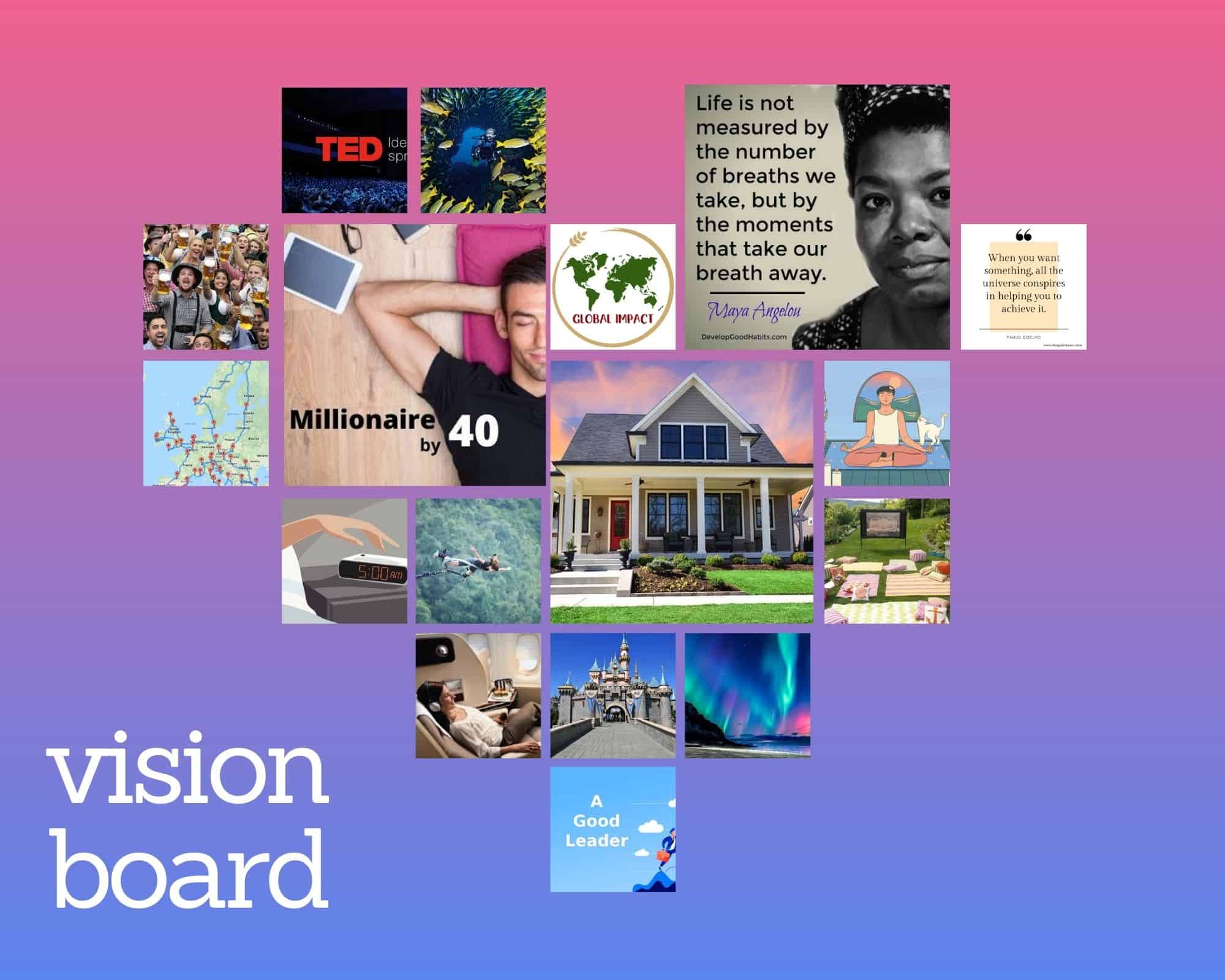 Let's get started! Here is a list of 110 goals for 11 areas of life to help you create your vision board seamlessly.
110 Vision Board Ideas
Health
Athletic Body
30 Min Meditation
Eat Plant-based for Life
10K Marathon by Dec 1
Be Obsessively Grateful
5 AM Club
10K Steps Everyday
Forever 55 kgs
Race Triathlon by Jan 1
HYDRATE
Career
Give TED talk
Lead unicorn startup
Forbes magazine cover
Become CEO
Lunch with Bill Gates
Employ 10,000 people
Customers in every country
Google internship
Get paid $1000/hr
Perform at Madison Square Garden
Travel
Travel Business Class
Northern Lights in Iceland
Drink beer at Oktoberfest
Road Trip across Europe
Solo-trip to Thailand
Disneyland
Scuba-dive in Costa Rica
Bungee jump in New Zealand
Snorkel with manta rays in Bora Bora
Visit New York Public Library
Dream Home
Cottage-style Bungalow
Office Workspace
Antique Furniture
Lush Garden
Small Library
Painting Workshop in Garage
Beachside Home
BBQ Parties in Backyard
Pastel-themed Interiors
Home Theatre
Relationships
Healthy Family
Meet Friends Weekly
Family Trips
Attentive Listening
More Time with Parents
Have Meals Together
More Date Nights
Attend Family Functions
Be Patient
Take More Photographs
Business
$500,000 Monthly Sales
#1 Rank on Google Search
20x Profits
Customers Love Us
1M Instagram Followers
Industry Leader
Word-of-Mouth Marketing
1M Blog Subscribers
Quarterly Company Retreats
Global Office Locations
Finances
Debt-free living
Financial Independence by 45
Become a millionaire by 40
Passive Income From Side Hustle
Abundance Mindset
Well Insured
Minimalist Lifestyle
Invest in Startups
Value Investing in Companies
Giving back to a worthwhile cause
Education
Study Abroad
Ace Deadlines
Effective Time Management
Learn New Language
Read 4 Books Weekly
Valedictorian
Hired Before Graduation
Earn PhD
Admission in Harvard
SAT Score Above 1250
Wedding
Married by 25
Magical Photoshoot
Beachside Engagement
Themed Wedding
First Dance to 'Lover'
150 Guests Only
Honeymoon in Bali
Handmade Gown
Performances by Family
Bachelorette in Europe
Faith & Spirituality
Active in Church Services
Living Abundantly
Volunteer at Local Organization
Participate in Spiritual Retreat
Confirm your calling
Epitome of Kindness
Mentor one person
Prayer Walk Every Week
Host a Bible Study
Read and Collect Spiritual Books
Material Possessions
All Apple Products
Audi A6
Real Estate Investments
Signed Vinyl Albums
Handwritten Books
Sony Mirrorless Camera
Platinum Jewellery
Rolex Watch
Elie Saab Gown Collection
Commercial Property
That was quite an extensive list, right? I hope it will be useful for you.
Ready to create your board now? Create your vision board in the Visbo - Vision Board app today.
Continue Reading: How to Select Perfect Photos for Your Vision Board
Take the 15-day New Year Challenge