How to Say Thank You Meaningfully
How to think and what to say as we express gratitude.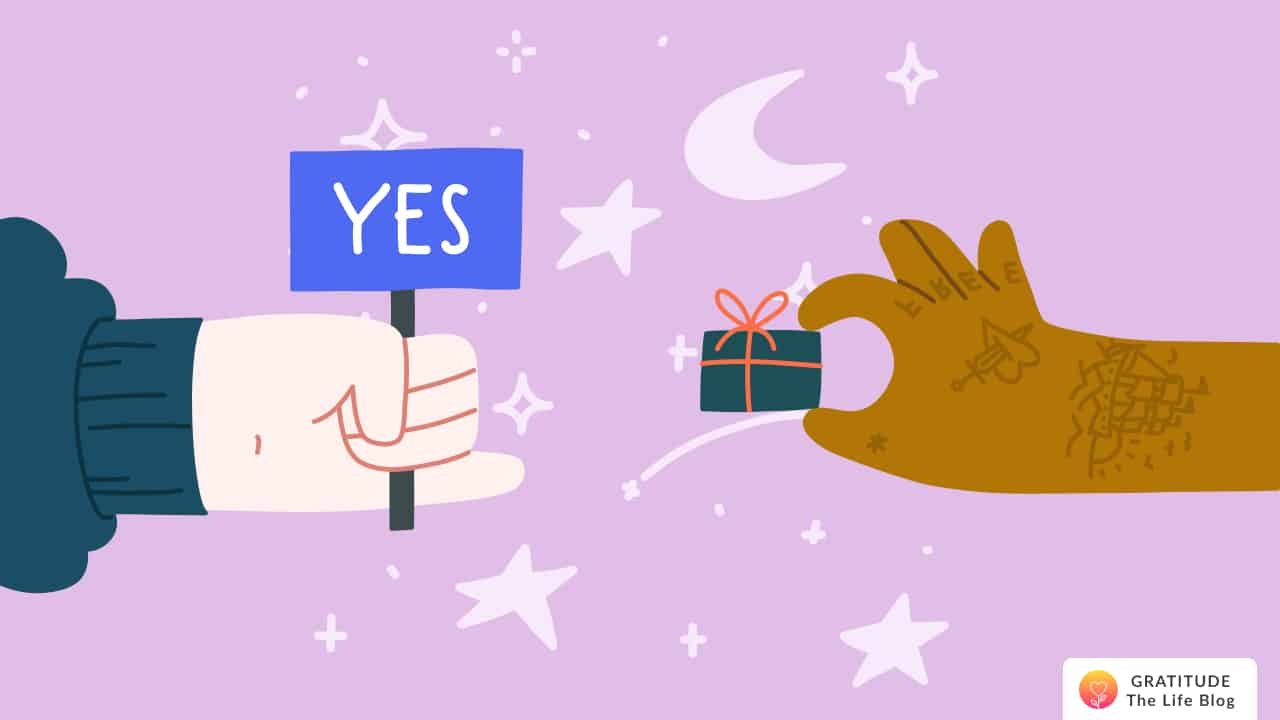 "At times, our own light goes out and is rekindled by a spark from another person. Each of us has cause to think with deep gratitude of those who have lighted the flame within us." – Albert Schweitzer
This is going to be a fun post for me to write. As I've worked on The Attitude of Gratitude Course, how to say thank you meaningfully falls right up my alley.
In this post, I want to share a few tips on how to think before and as you express gratitude so that the feelings are genuine, eloquent, and make the person feel special.
But, more importantly, I will be sharing the verbiage that you can use to get inspired from or use directly.
Expressing gratitude is a big part of the whole gratitude process. All of us interact with each other and support one another in that way. And, it's an important aspect of building healthy relationships in all areas of life. When we appreciate people, they feel valued and happier.
You know, there are so many people that we can be grateful for as we open our eyes to how everything we have is possible because of the effort of so many people into creating it.
So, before we even say the words to express gratitude, let's understand how we should feel about it.
The one common roadblock that I see and sometimes experience here is the fear of judgment or lack of sufficient response from the other person. Listen, it's totally valid.
We're here showing humility and the softness of our hearts so it's natural to feel protective of ourselves. But, this shouldn't stop us from doing a wonderful thing.
What we must realize is that this grateful feeling is ours and the other person has been kind to us. So we deserve to express how we feel, and they deserve to be appreciated for it.
Not expressing gratitude because of their uncertain response is not right. Let's open up doors for more cherishable moments for ourselves and others.
Another tip is not about how to express really, but how to realize that there are so many that we can be thankful for. It's a technique called Gratitude Trail. This technique is a part of The Attitude of Gratitude Course.
Here, we pause and reflect on how even the little, obvious things in our lives have been blessings created by people we don't even know.
For example, your mobile phone. It was ideated, designed, manufactured, packed, transported, and sold by so many different people! Even the apps on your phone have been the result of many other groups of people. And, we never think about them.
Similarly, the food that we eat is the cumulative effort of so many. Where would we be without the collective effort, time, and energy of people around the world? We have a lot of people to be grateful for, it's a beautiful truth.
How to say thank you meaningfully - What to say
Now, here are the various examples of how you can go about expressing your gratitude. These come from the Thank You Cards I write in the Gratitude app. Thousands of people send these cards to their loved ones from our app every day. Here we go:
"Thank you! For trying to make things easier for me. You help me out as much as you can and assure me that you're always there. It really means a lot."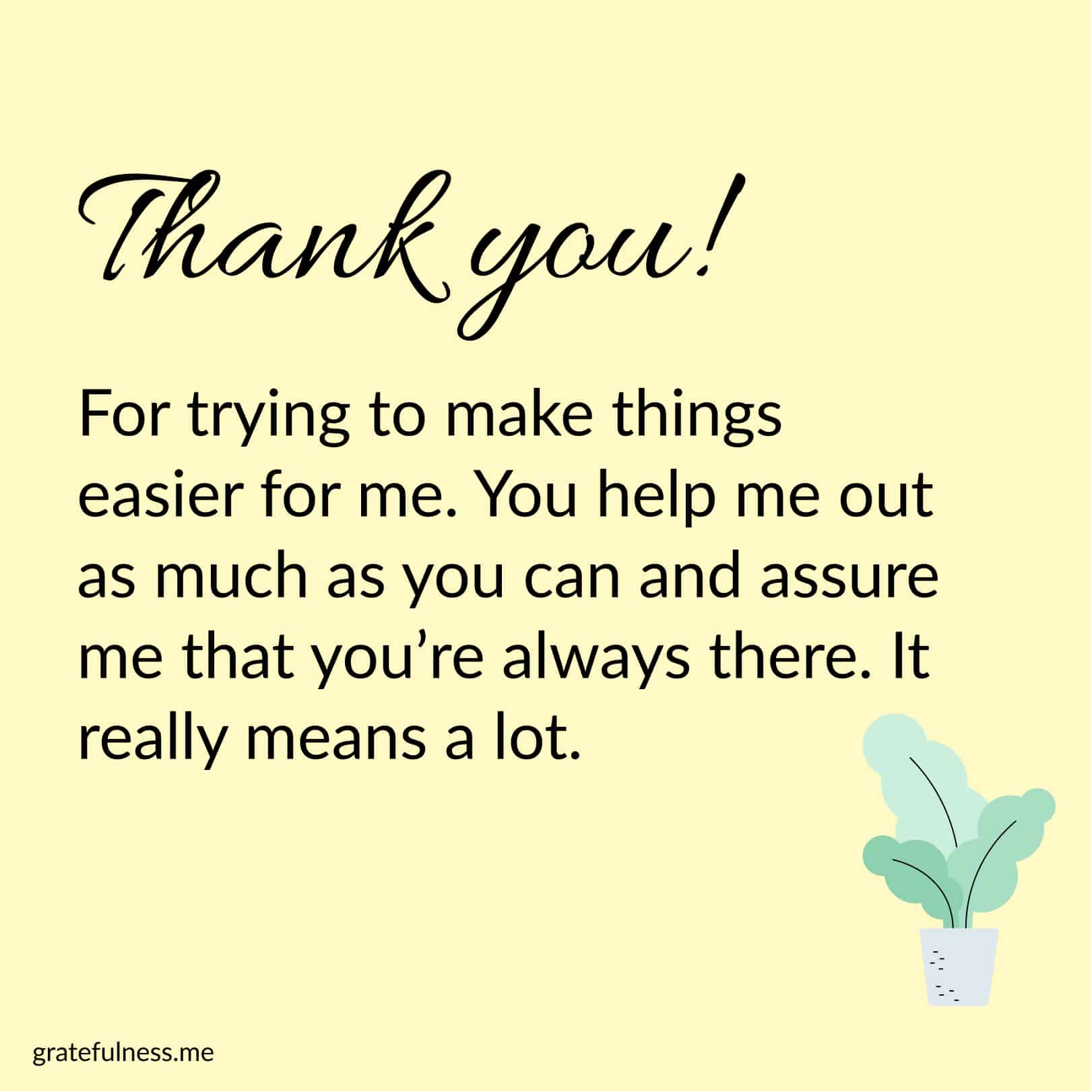 "Thank you! For being a beacon of light in my times of confusion and sorrow. You are a gift to my life and this world."
"Thank you! For standing up for me and being someone I can rely upon. I really trust you and it means the world to me that you're always there to support me."
"Thank you! For reminding me of what is important and what I truly deserve. I know I can count on you and it really helps me."
"Thank you! For always being there, always. I don't have much to give you except infinite love and gratitude. Thank you…"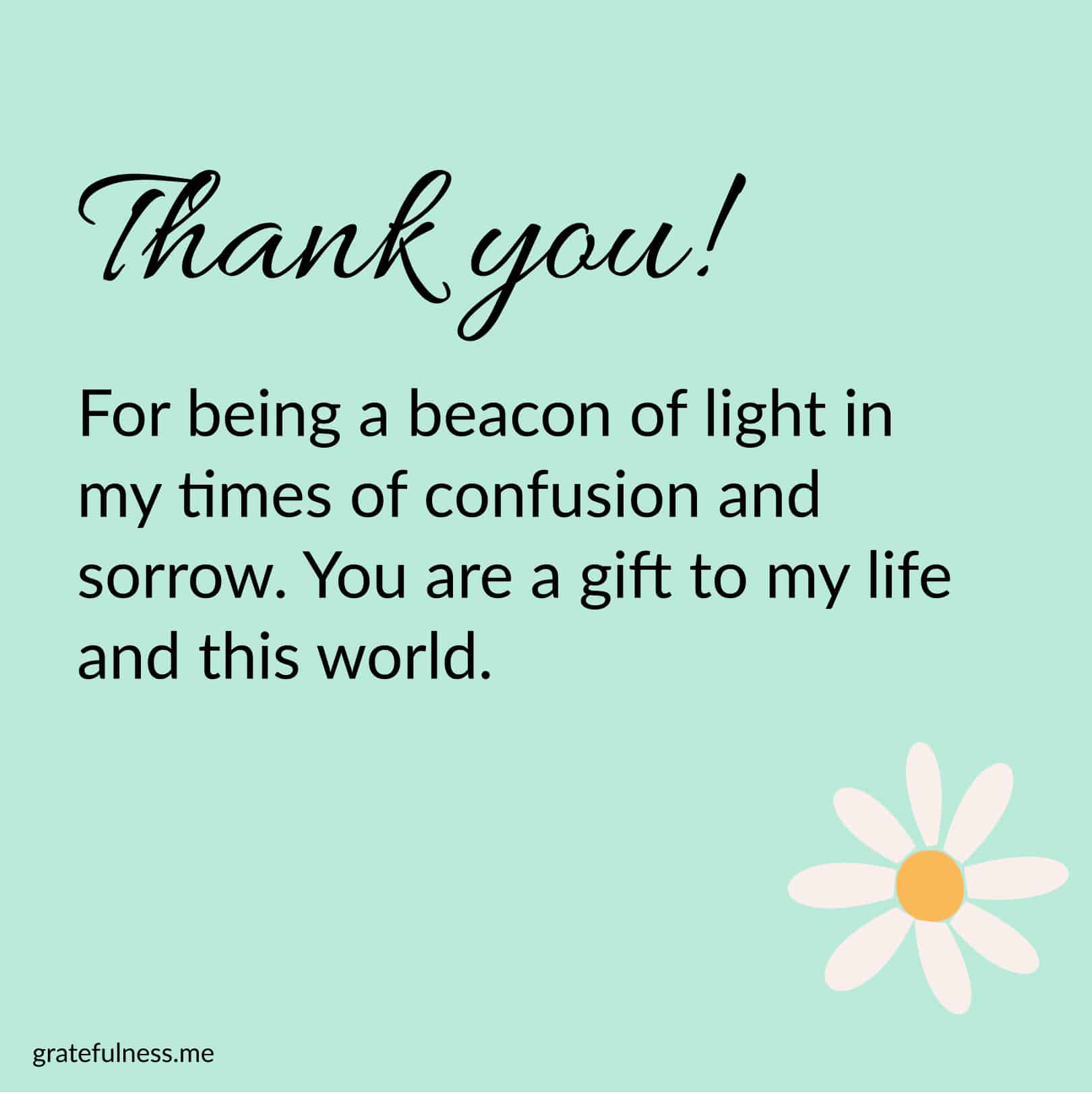 "Thank you! For always having the patience to listen to me, even when I might be repeating many of the same worries. You give me space to be myself."
"Thank you! For having the big heart to listen to my experiences and lessons. I told you things I never told anyone. I'm so grateful that I can trust you."
"Thank you! For so many golden, evergreen memories. Really, becoming your friend is one of the best things that happened to me. I love you!"
"Thank you! For understanding me and also giving me the advice that I need. I've always found your words helpful in times of need."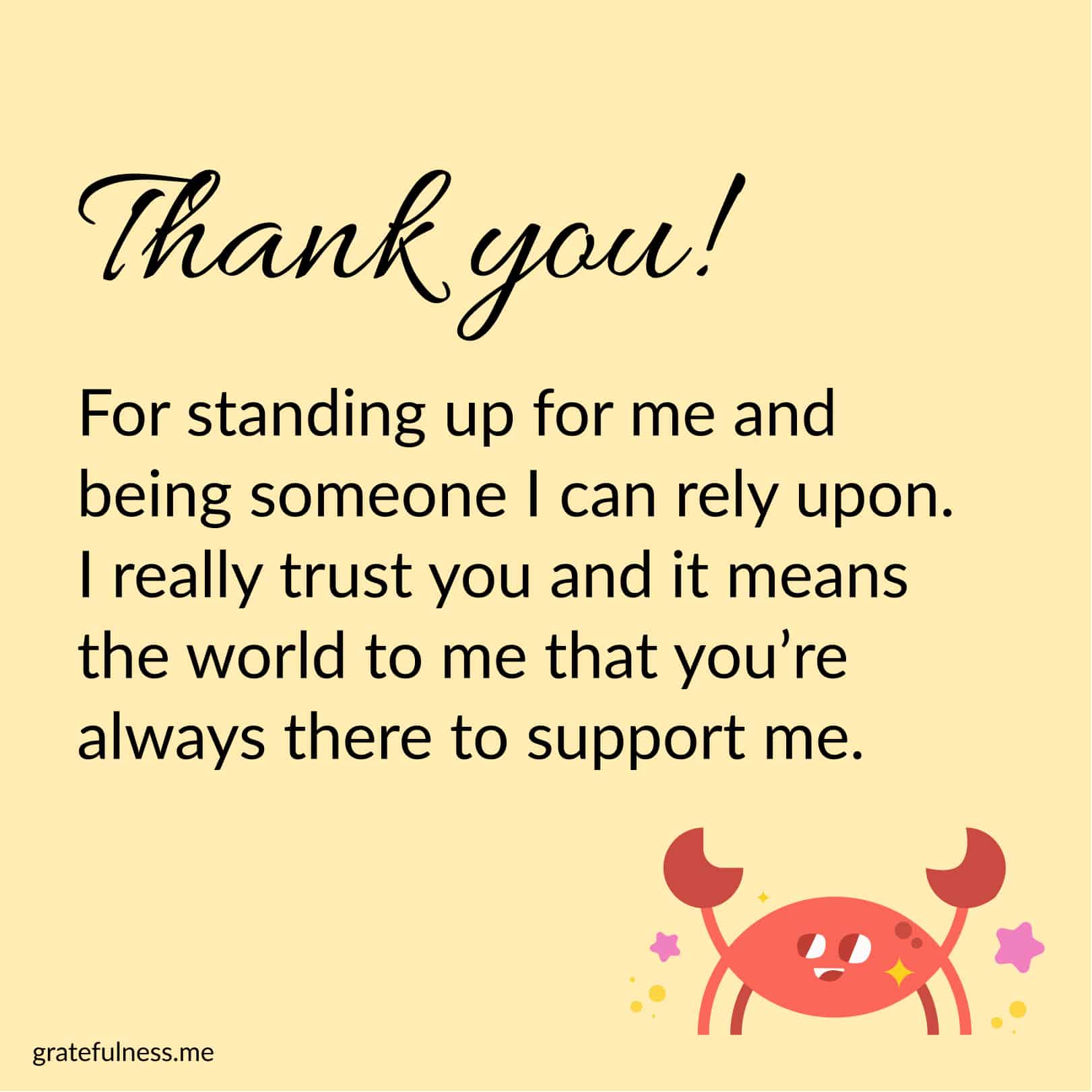 "Thank you! For being my movies and TV-series partner. I love planning binge runs with you. It's one of my most favorite things to do!"
"Thank you! For being my most consistent friend. Maybe I can't be sure of everything, but I know that we will always be friends."
"Thank you! For having an open mind and never rejecting opinions. One grows with you. I learn how to become a wiser person with you."
"Thank you! For being the light of my days. I become quite stressed and worried but when I'm with you, I take a sigh of relief and comfort."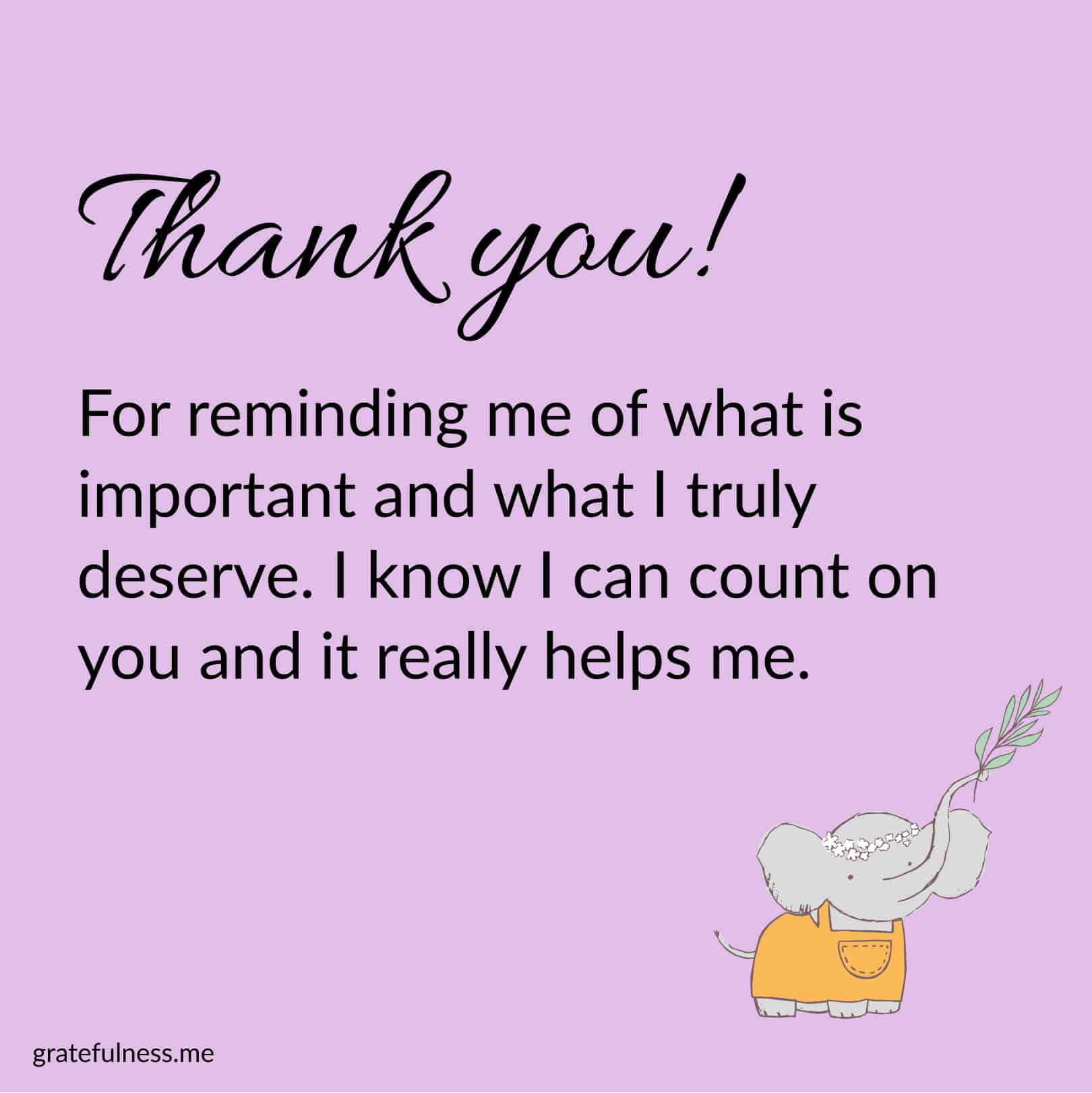 "Thank you! You make sure that you're there for me. You give so much energy and time. I am so grateful for everything that you've done for me."
"Thank you! For seeing the potential that you do in me. I feel so encouraged and confident because you believe in me."
"Thank you! For being a great figure to look up to. I feel secure under your guidance. And I know that with you, I will always be safe. I value you the most."
"Thank you! For understanding me and forgiving me on many accounts. I am doing better because of how kind and generous you are."
"Thank you! For providing me with boundless love, care, and support. I know I can always rely on you. It's a priceless gift."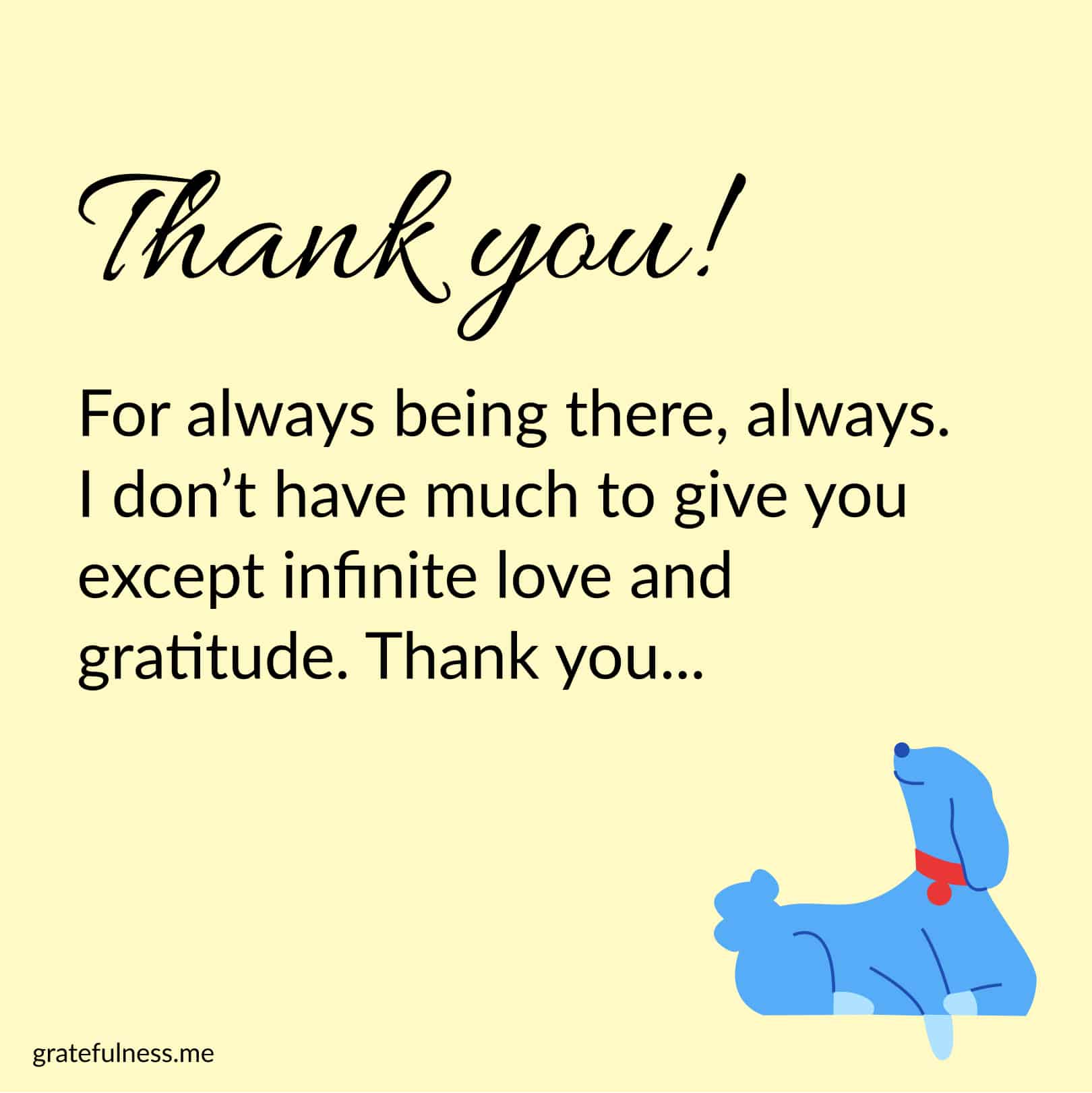 "Thank you! For remembering everything! You remind me of important things and I never fall off track. Your memory is incredible."
"Thank you! For taking me out on drives. I am so fond of singing in the car with you and waving my hand out the window. It's beautiful..."
And, that's it! I hope you found this post helpful and learned how to say thank you meaningfully. Expressing gratitude is like a flowing river that makes the soil of humility fertile for more and more flowers of joy. I hope you always have people thank and appreciate. Take care :)
🤝 Continue Reading: Express Your Gratitude to These 15 People in Your Life