Meaningful Ways to Say "I Appreciate You" - It's Meaning and Why
Why is it important to tell others that we appreciate them?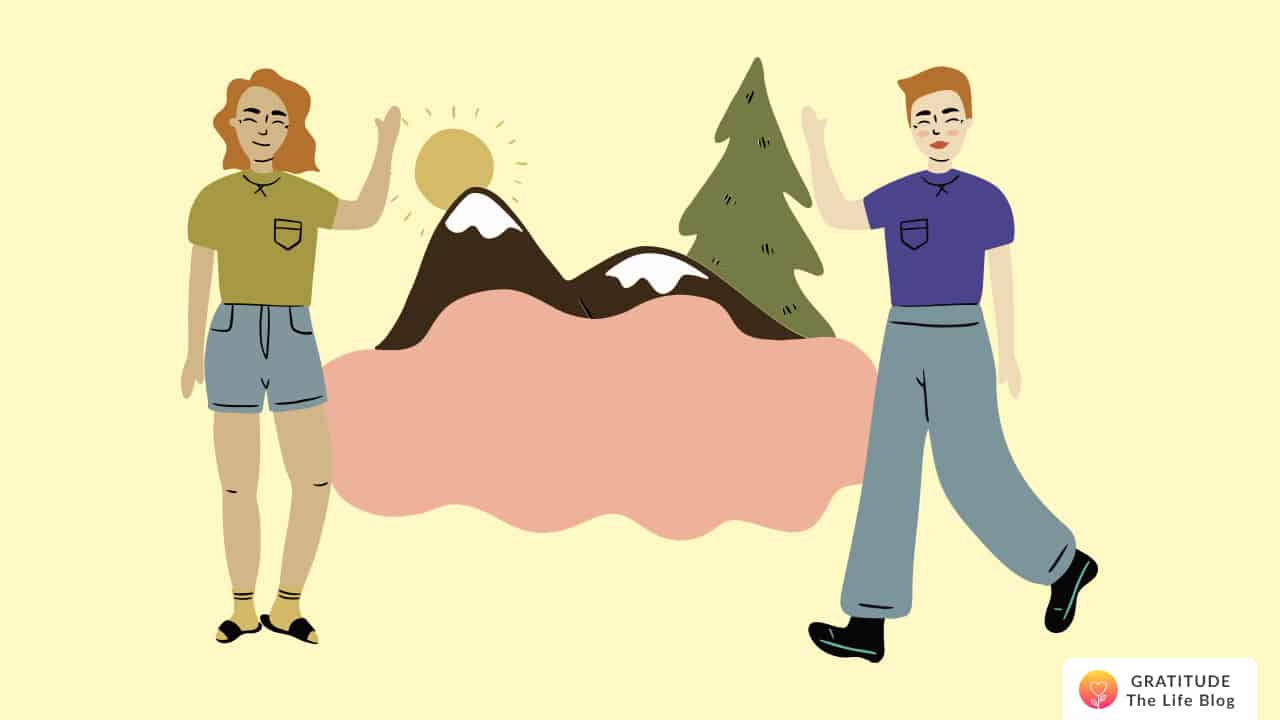 Gratitude is wonderful. As we keep practicing it, we notice the changes that it brings to our lives, and how it makes us happier with time. But, this is largely limited to us.
By saying, "I appreciate you" to the people in our lives, we open doors of gratitude in our and their life. It's a win-win!
The best way to spread gratitude around is to be vocal about it and express it as much as you can to the people in your life. So, let's learn more about this, its meaning, how to say it, and the people to whom we can say, "I appreciate you" :)
I appreciate you
Meaning of I appreciate you
The meaning of "I appreciate you" is to let someone know that because of them something valuable happened in our lives.
It is to acknowledge the effort that they've made for us and to appreciate them for it, to know that it's not taken for granted.
Gratitude for others is an important part of the whole gratitude practice that maximizes the quality of our life and the joy of living it.
We are all so indebted to the people around us, and it's our duty to tell them that we appreciate them for it.
Think about how many people have supported us, and brought us where we are. In every moment, we are supported by people. All those things around us, all the wisdom that we have, it is because of other people and nature.
There is colossal gratitude that we can feel for them. This realization hurls an ocean of humility in us, which in turn makes it easier and more natural to feel grateful.
Take a moment and look around, all that you see is the work of other people. Whatever we own was made and brought to us by people.
No business can succeed if there are no customers. We all live in a society and we are all connected through gratitude.
So, if you want to tell someone that you're grateful for them, go ahead. It is beautiful to do so.
Don't worry about what they will think or how they'll respond, this feeling is yours and as soon as you express it, your job is done. And, you know, more often than not, this will lead to something to be cherished.
Alright then! Let's now look at some examples of how we can express appreciation to people in our lives.
Examples of how to say "I appreciate you"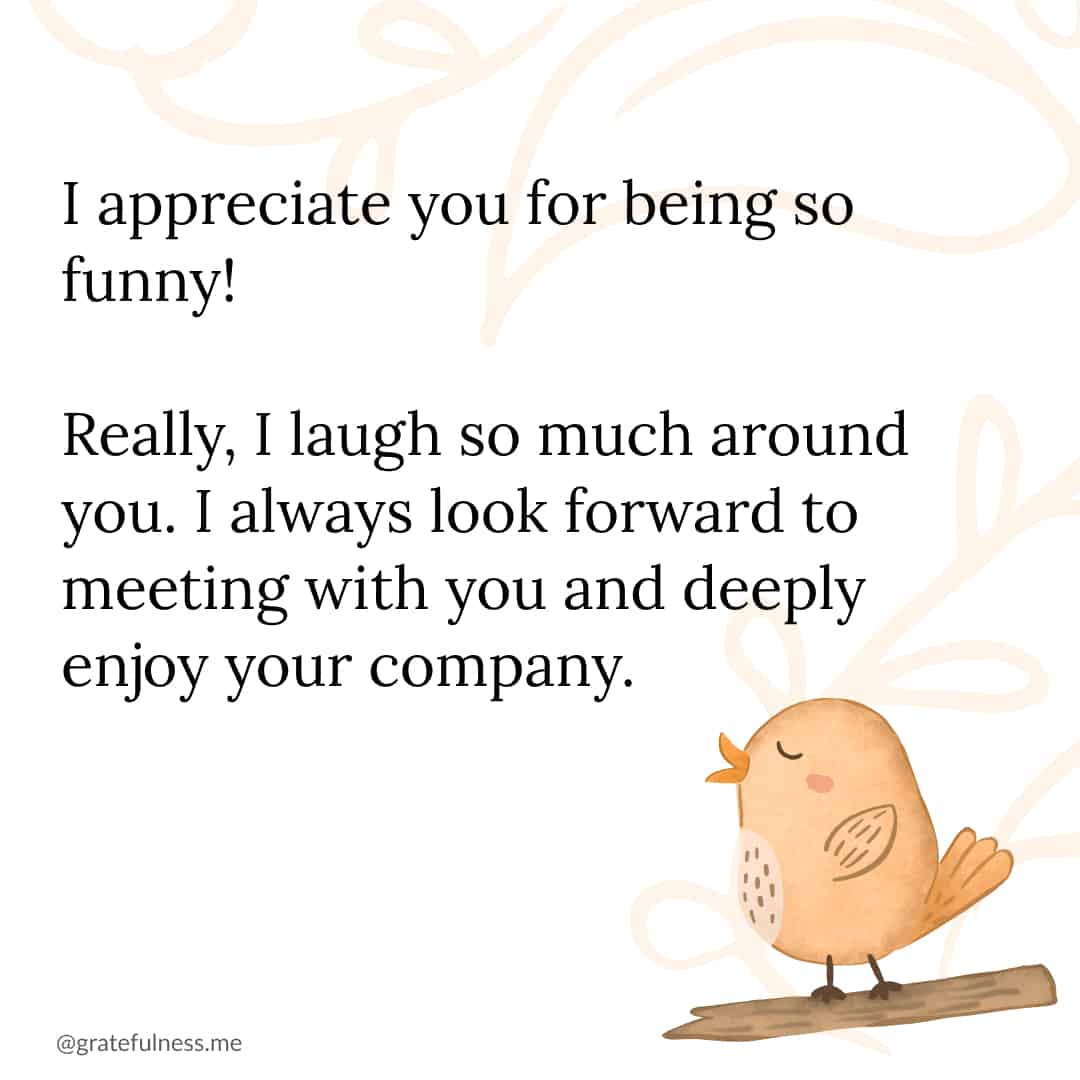 Sometimes we're at a loss of how exactly to tell someone that we appreciate them. There are many indirect ways to do so, but words are the most impactful medium of your gratitude most times.
Think about why you are grateful for someone, what have they done for you in your life, and how that makes you feel.
Focus on 'What' first - What do you want to appreciate them for?
Then, talk about 'Why' - Why did it mean something to you? How did it help you? How did it make you feel?
There's no need to worry about choosing the perfect words or being shy about your feelings. This is a wonderful gesture. And, since they did something nice for you, it's only fair to do the same for them, isn't it?
Here are some examples of how you can say "I appreciate you" to someone. You will see that some examples are detailed and some are not. It depends on the situation and how you would want to express your feelings.
I appreciate you for always being there, always. I don't have much to give you except infinite love and gratitude.
I appreciate you for understanding me and also giving me the advice that I need. I've always found your words helpful in times of need.
I appreciate you for the way you listen to me.
I appreciate you for the amazing food you make for us.
I appreciate you for being who you are.
I appreciate you for being a great figure to look up to. I feel secure under your guidance. And I know that with you, I will always be safe. I value you the most.
I appreciate you for taking me out on drives. I am so fond of singing in the car with you and waving my hand out the window.
People you can say "I appreciate you" to
Here is a list of 15 people that you can appreciate for the ways that they help you. This is only scraping the surface of how many people we can be thankful for, but let's start here:
The person who makes you laugh hysterically and can lighten up your mood in a matter of minutes.
Your caregiver who goes out of their way to provide you with what you need and loves you unconditionally.
The person in your life that has pushed you to do more and go out of your comfort zone.
The person you can call whenever you're in a sticky situation. They're always there to help you out.
The person who, with just their presence and pure heart, has made you a better person and work over your faults.
The most positive person you know. They're always looking for the best in every situation and staying merry even when things are rough.
Someone you feel most accepted with. You can be your truest self with them, and there are no filters present.
Someone that you talk the most to. Words fly out of your mouth ceaselessly with them, and hours pass by without notice.
The person who has been with you through the years and almost every struggle in your life.
The person who inspires you greatly. You look up to them and take their example as a guiding light.
The person that you meet the most often and might forget to appreciate.
The person that you trust the most. You can confide in all your dark fears, insecurities, and problems to them.
The person whose beautiful smile gives you immense joy.
The person that you don't know so well but appreciate a lot because of their wonderful personality.
A friend that you haven't caught up with for a long while but share evergreen memories with.
So, there you are! I hope you enjoyed reading this. To share your gratitude with others, writing gratitude letters is a great way to go about it. I encourage you to give it a shot! It'll really make the other person feel special 🍀
Go on then, sprinkle the sparkle of gratitude on the people in your life, and make their day shine brighter with your words.
😇 Continue Reading: How to Say Thank You Meaningfully