70+ Happy Tuesday Quotes for Motivation & Joy
A very happy Tuesday to you!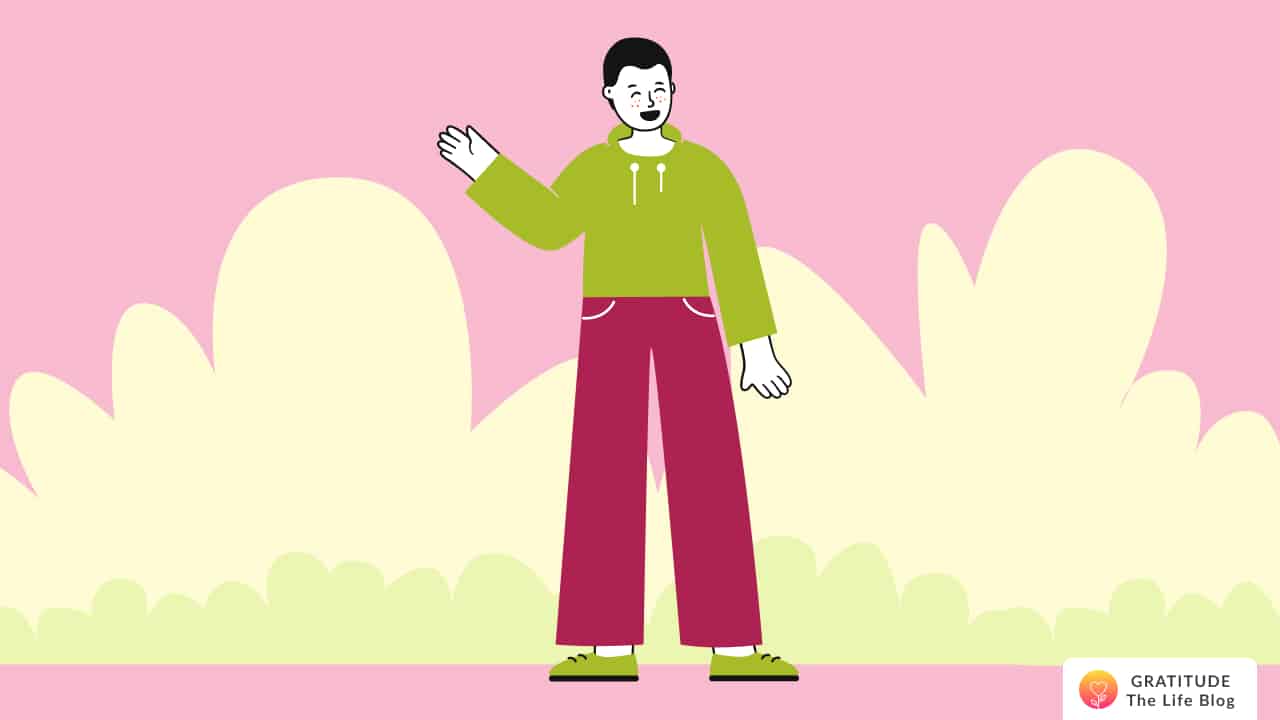 Happy Tuesday!
Tuesday is the second day of the week, and for many people, it marks the halfway point to the weekend.
Whether you're looking for a little mid-week pick-me-up or simply want to start your day off on a positive note, reading happy Tuesday quotes can be a great way to boost your mood and get into a good frame of mind.
In this post, we will explore a selection of happy Tuesday quotes that will put a smile on your face and help you make the most of your day.
Tuesday Quotes
"Tuesday is my favorite day of the week. That's cleaning day."
― Jim Miller
"Monday always passes and there will always be a Tuesday with a beautiful blue sky with few clouds."
― Unknown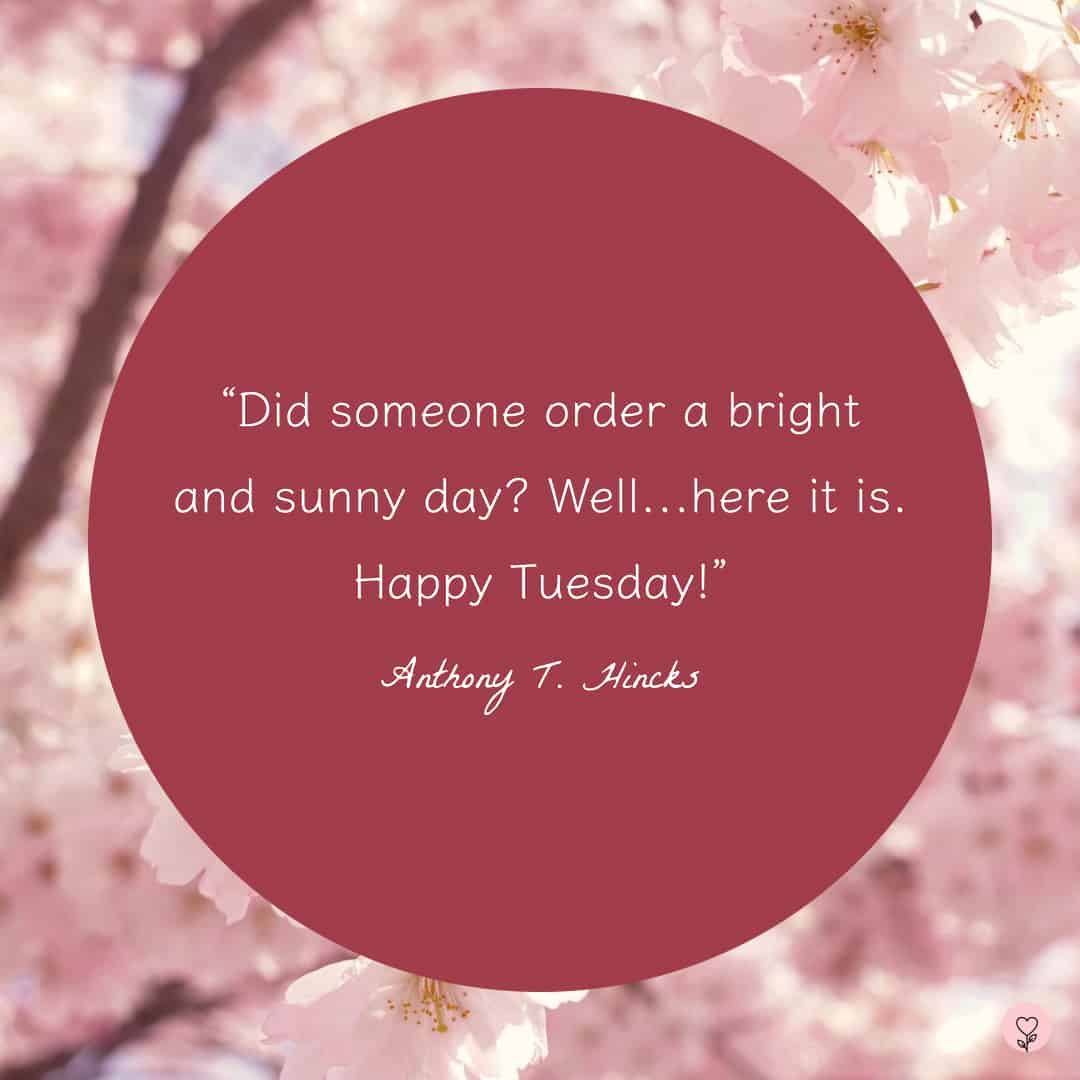 "Did someone order a bright and sunny day? Well…here it is. Happy Tuesday!"
― Anthony T. Hincks
"It's TUESDAY! And since it's CHOOSEDAY: choose to smile, choose to be happy, choose to love, choose to bless, choose to be a blessing, choose to be humble, choose to be patient,  choose to be kind… And above all Choose God to guide your life. HAPPY TUESDAY!"
― Unknown
"Happy Tuesday! You got to admit, at least it sounds better than happy Monday." ― Unknown
"Tuesdays are a chance for a new beginning and a new perspective, so make them count."
― Unknown
To help you feel more in control of your day and make the best out of it, here are confidence affirmations for you:
"On this Tuesday, remember that an attitude is contagious so remember to have a good one."
― Unknown
"We never know what a week from next Tuesday is going to hold. It may be an ordinary day filled with quite regular activities and demands. Most of the time that is exactly what a week from next Tuesday will hold."
― Matthew Rich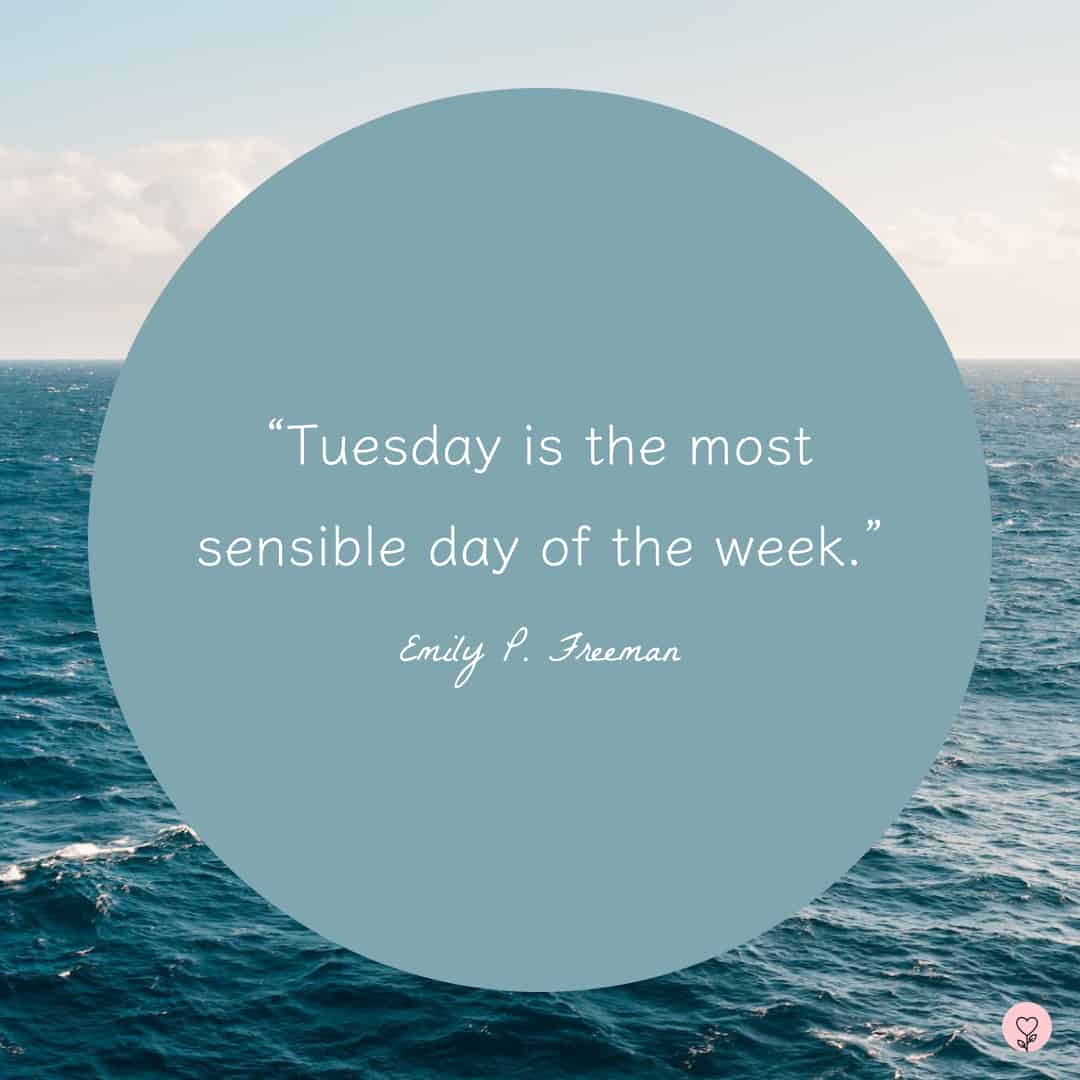 "Tuesday is the most sensible day of the week."
― Emily P. Freeman
"How would your Tuesday be different if you conducted yourself with complete love and consideration?"
― Byron Pulsifer
"Tuesday is a good day, you survived Monday. And tomorrow is Wednesday, halfway through your work week!"
― Kate Summers
"Tuesdays are really just Mondays dressed in their Sunday best."
― Unknown
"Always keep a bottle of wine in the fridge for special occasions. You know, like a Tuesday."
― Unknown
"Good morning Tuesday! Please enter and pour out that shower of blessings into our lives, renew our spirits, our strength, our faith, and our hope."
― Unknown
"No matter what your Tuesday is, don't worry because Friday is on its way."
― Anonymous
"Start your day with these words: today is going to be a good Tuesday! And this morning is going to be an awesome one."
― Anonymous
"Don't just dream it be it, because anything is possible. Happy Tuesday."
― Anonymous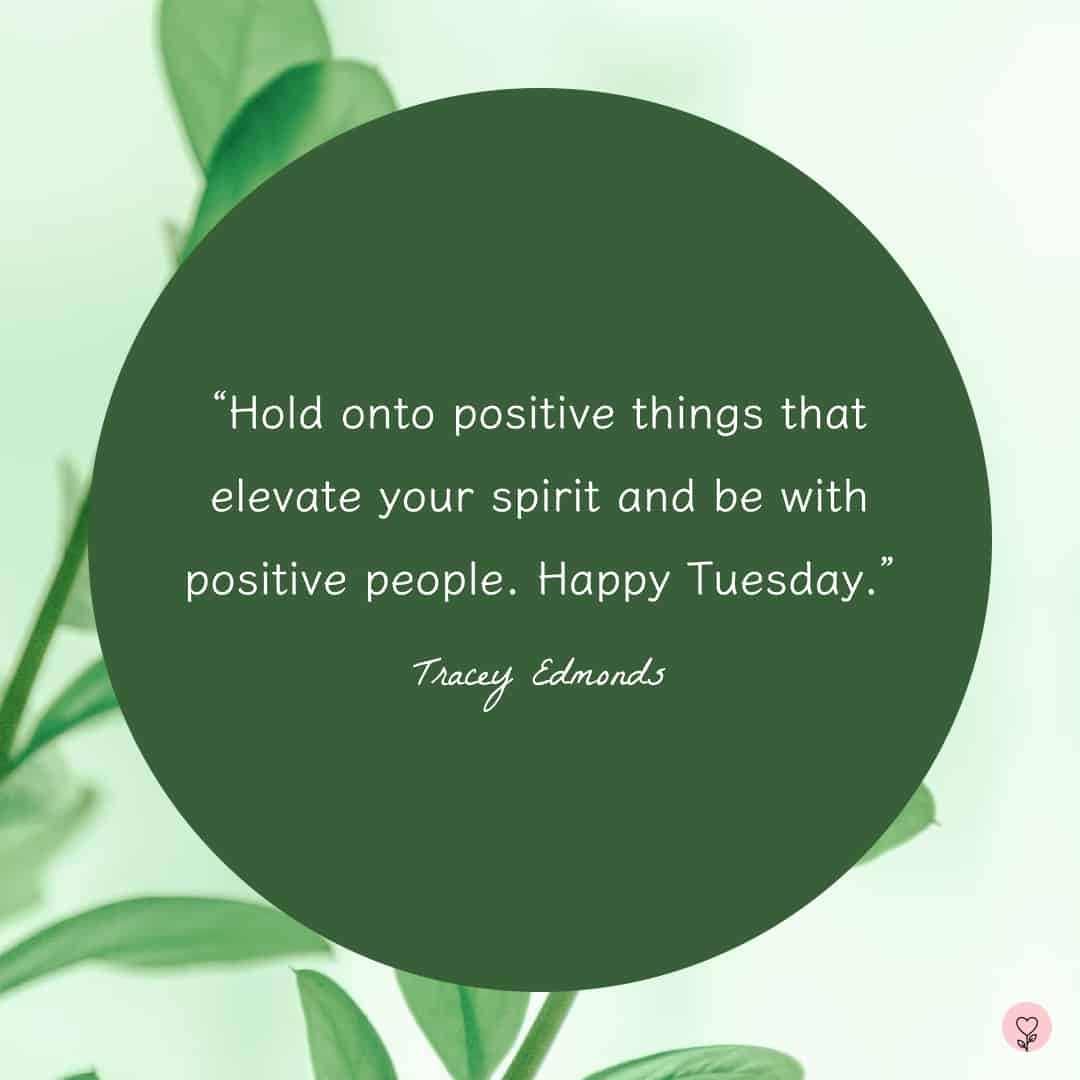 "Hold onto positive things that elevate your spirit and be with positive people. Happy Tuesday."
― Tracey Edmonds
"Today is not just Tuesday, it is Transformation Tuesday. That means that success does not just come to you, you have to go out and get it. So what are you waiting for?"
― Anonymous
"You are today where your thoughts have brought you; you will be tomorrow where your thoughts take you."
― James Allen
"I challenge you to let every day be a Friday. Give yourself permission to be happy every day."
― Joel Osteen
"Life is change. Growth is optional. Choose wisely."
― Karen Kaiser Clark
"Let your courage inspire the world around you."
― Steve Maraboli
"It's the possibility of having a dream come true that makes life interesting."
― Paulo Coelho
"Our greatest weakness lies in giving up. The most certain way to succeed is always to try just one more time."
― Thomas A. Edison
Tuesday Morning Quotes
"Be yourself; everyone else is already taken."
― Oscar Wilde
"Be who you are and say what you feel, because those who mind don't matter, and those who matter don't mind."
― Bernard M. Baruch
"Imperfection is beauty, madness is genius and it's better to be absolutely ridiculous than absolutely boring."
― Marilyn Monroe
"To be yourself in a world that is constantly trying to make you something else is the greatest accomplishment."
― Ralph Waldo Emerson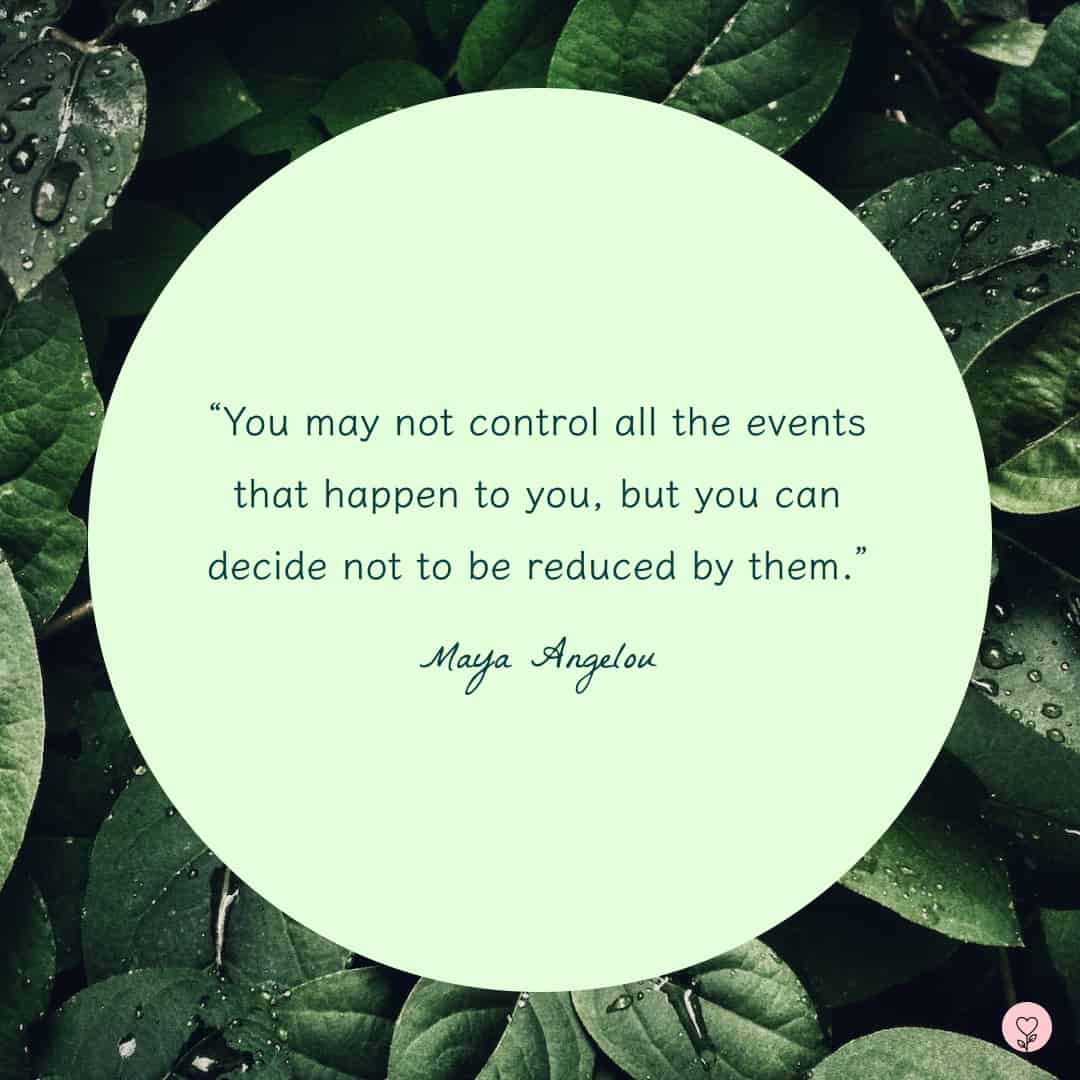 "You may not control all the events that happen to you, but you can decide not to be reduced by them."
― Maya Angelou
"Follow your heart, listen to your inner voice, stop caring about what others think."
― Roy T. Bennett
"Follow your inner moonlight; don't hide the madness."
― Allen Ginsberg
"A girl should be two things: who and what she wants."
― Coco Chanel
"Don't compromise yourself - you're all you have."
― John Grisham
"To shine your brightest light is to be who you truly are."
― Roy T. Bennett
"When you are content to be simply yourself and don't compare or compete, everyone will respect you."
― Lao Tzu
"I hope you realize that every day is a fresh start for you. That every sunrise is a new chapter in your life waiting to be written."
― Juansen Dizon
"Each day is a miracle that intoxicates me. I want more. I greet every morning like a new pleasure. And yet I am keenly aware of all life's artifices. Getting dressed, wearing make-up, laughing, having fun-isn't all that just playing a role? Am I not more profound, carrying the burden of those twenty years when I 'wasn't alive', than all those who rushed around in vain during that time?"
― Malika Oufkir
Tuesday Motivation Quotes
"He believed in himself, believed in his quixotic ambition, letting the failures of the previous day disappear as each new day dawned. Yesterday was not today. The past did not predict the future if he could learn from his mistakes."
― Daniel Wallace
"There is no tomorrow and there was no yesterday; if you truly want to accomplish your goals you must engulf yourself in today."
― Noel DeJesus
"Never mind those failures till yesterday. Each new day is a sequel of a wonderful life; gifted with hopes to succeed."
― Aniruddha Sastikar
"Love is being able to view a situation without adding duality to it."
― Alaric Hutchinson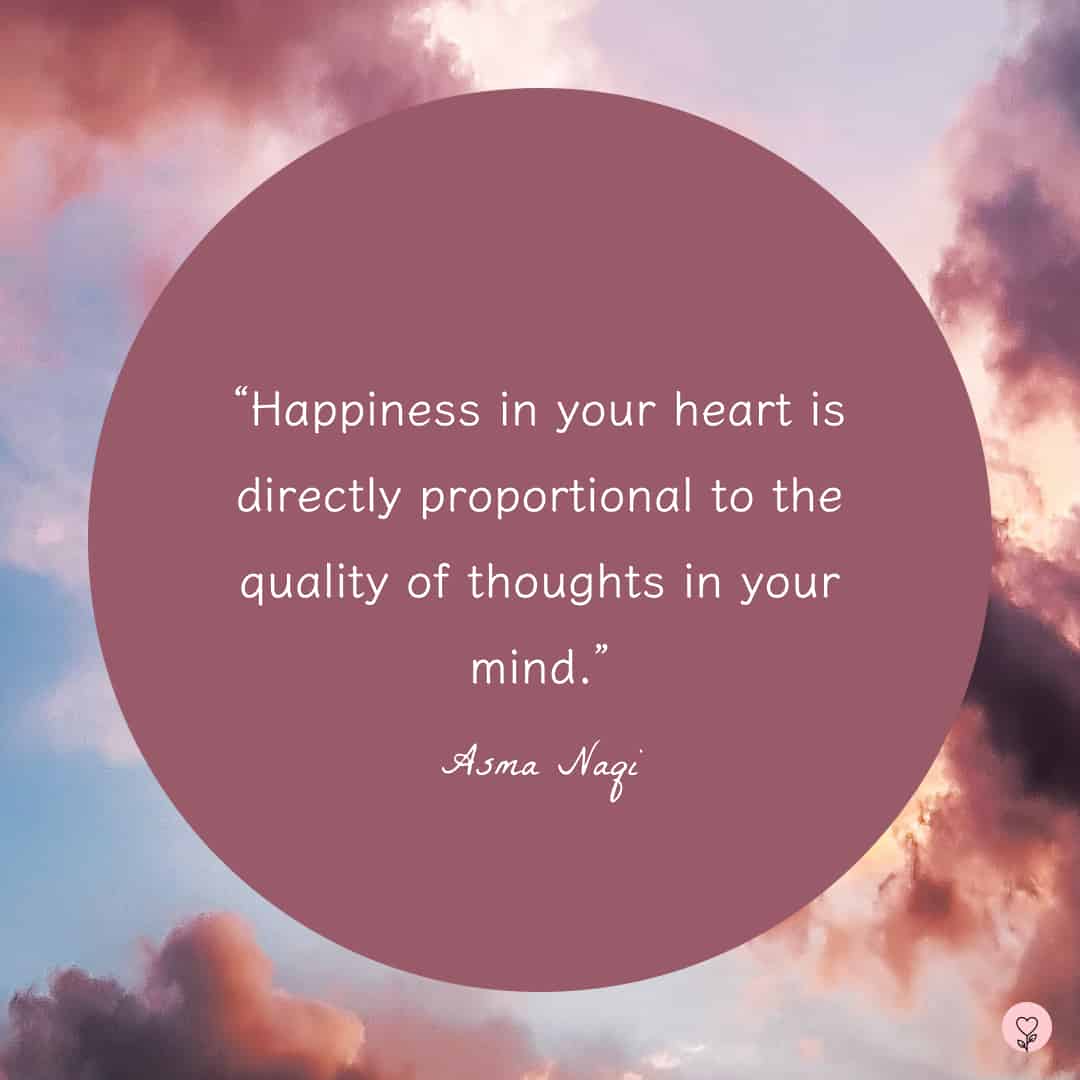 "Happiness in your heart is directly proportional to the quality of thoughts in your mind."
― Asma Naqi
"Happiness is not something you postpone for the future; it is something you design for the present."
― Jim Rohn
"Happiness does not come from doing easy work but from the afterglow of satisfaction that comes after the achievement of a difficult task that demanded our best."
― Theodore Isaac Rubin
"Thousands of candles can be lighted from a single candle, and the life of the candle will not be shortened. Happiness never decreases by being shared."
― Buddha
"Some days are just bad days, that's all. You have to experience sadness to know happiness, and I remind myself that not every day is going to be a good day. That's just the way it is!"
― Dita Von Teese
"At any moment, you have a choice that either leads you closer to your spirit or further away from it."
― Thich Nhat Hanh
"True self-acceptance shows up at that moment when you realize that peace cannot co-exist with war. The moment you choose to stop being your own enemy and to love yourself instead."
― Rebecca Ray
"Believe in your infinite potential. Your only limitations are those you set upon yourself."
― Roy T. Bennett
"Accept who you are; and revel in it."
― Mitch Albom
"The eyes of others our prisons; their thoughts our cages."
― Virginia Woolf
"When someone tells me "no," it doesn't mean I can't do it, it simply means I can't do it with them."
― Karen E. Quinones Miller
Tuesday Blessings Quotes
"We are only as strong as we are united, as weak as we are divided."
― J.K. Rowling
"In the depth of winter, I finally learned that within me there lay an invincible summer."
― Albert Camus
"Nobody can hurt me without my permission."
― Mahatma Gandhi
"Anyone can hide. Facing up to things, working through them, that's what makes you strong."
― Sarah Dessen
"Some people believe holding on and hanging in there are signs of great strength. However, there are times when it takes much more strength to know when to let go and then do it."
― Ann Landers
"Life is made of so many moments that mean nothing. Then one day, a single moment comes along to define every second that comes after. Such moments are tests of courage, of strength."
― Sabaa Tahir
"Life is made of so many moments that mean nothing. Then one day, a single moment comes along to define every second that comes after. Such moments are tests of courage, of strength."
― Sabaa Tahir
Tuesday Thankful Quotes
'To get happier, try gratitude, giving back, savoring, encouraging your optimism, and celebrating progress.'
― Jonathan Harnum
"Be thankful for everything that happens in your life; it's all an experience."
― Roy T. Bennett
"Sometimes the little things in life mean the most."
― Ellen Hopkins
"It is always better to look at the bright side of life."
― Lailah Gifty Akita
"The two words that will change your life are "thank you". Like a candle that can light a thousand more without shortening its own life, appreciation is a gift that, when given, can set the whole world aglow."
― Stacey Lee
"Display, a life full of gratitude, and remember to give thanks each day."
― Danielle Duckery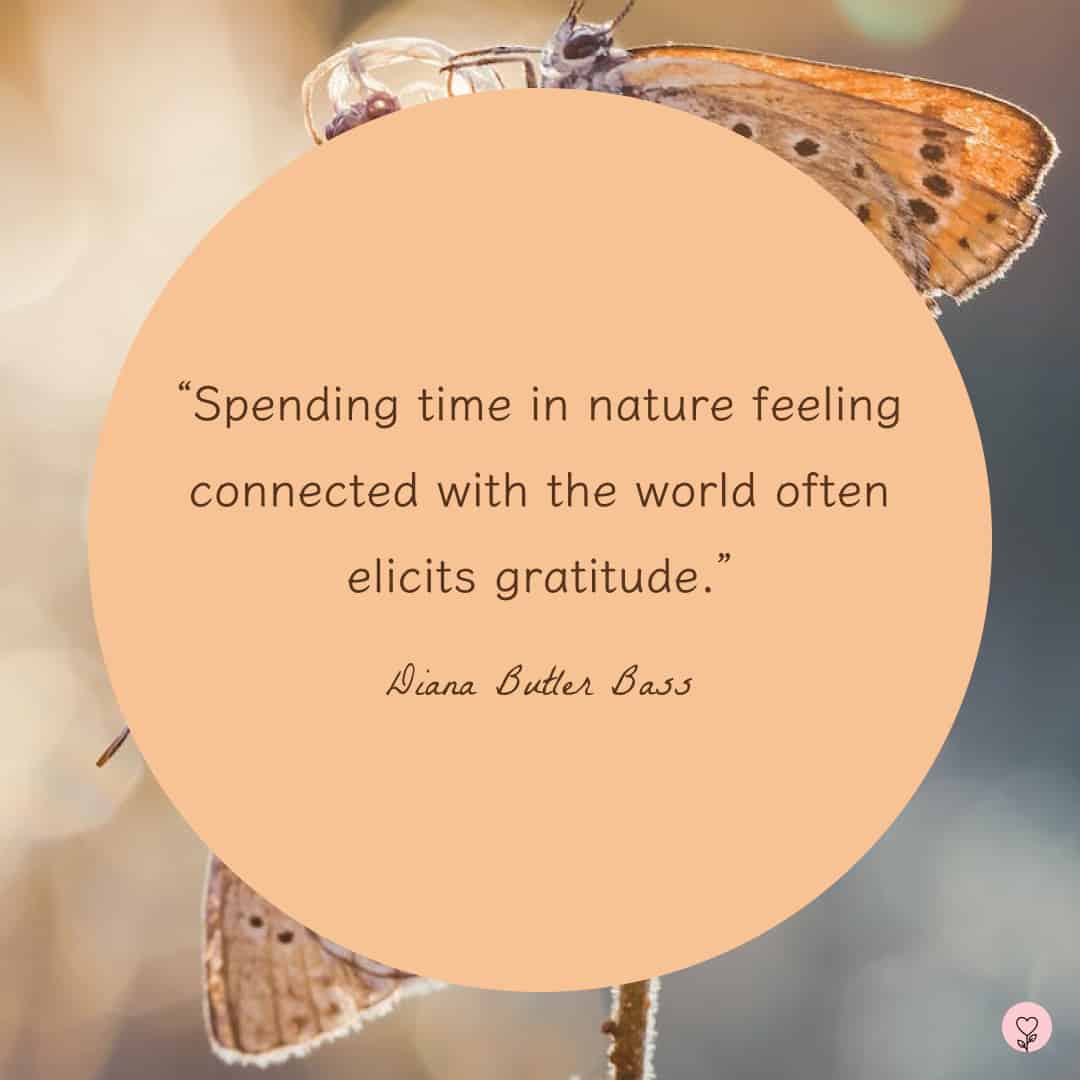 "Spending time in nature feeling connected with the world often elicits gratitude."
― Diana Butler Bass
"I turned my attention to gratitude and discovered that the more I cultivated a sense of appreciation for all that I had, the happier and less fearful I was."
― M. J. Ryan
"'Count your blessings' is such a common expression that it has become a catchphrase. Yet it contains powerful truth and meaning: Be grateful for what you have – and for what you don't have."
― Robert W. Bly
"We should not measure success by bank accounts filled with money, but rather by moments filled with joy and gratitude. Pursuing your passion vigorously and relentlessly will bring you those moments."
― Dennis Houchin
"The practice of gratitude empowers, heals, inspires, and fosters heartfelt well–being."
― Angeles Arrien
Continue Reading: Hump Day Blues? 50+ Wednesday Quotes to Get You Through
Take the 21-day Happiness Challenge